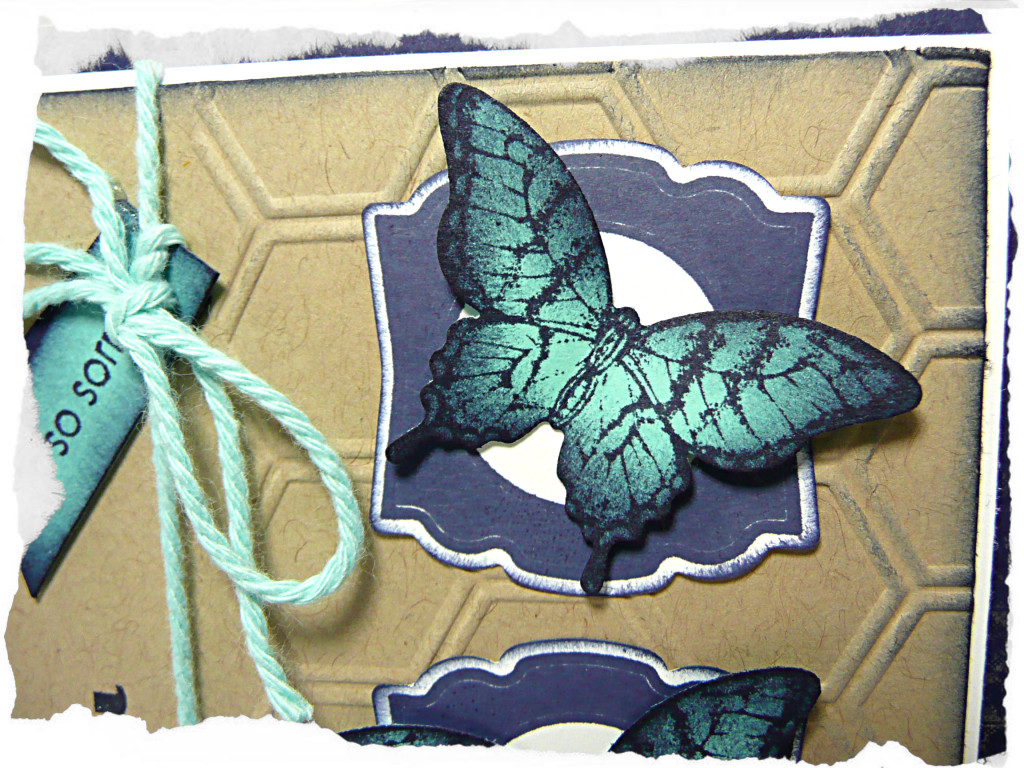 Welcome to my blog where I share my love of designing with paper, ink and tools from Stampin' Up! It's another As You See It Challenge card today and it's an Assortment Challenge!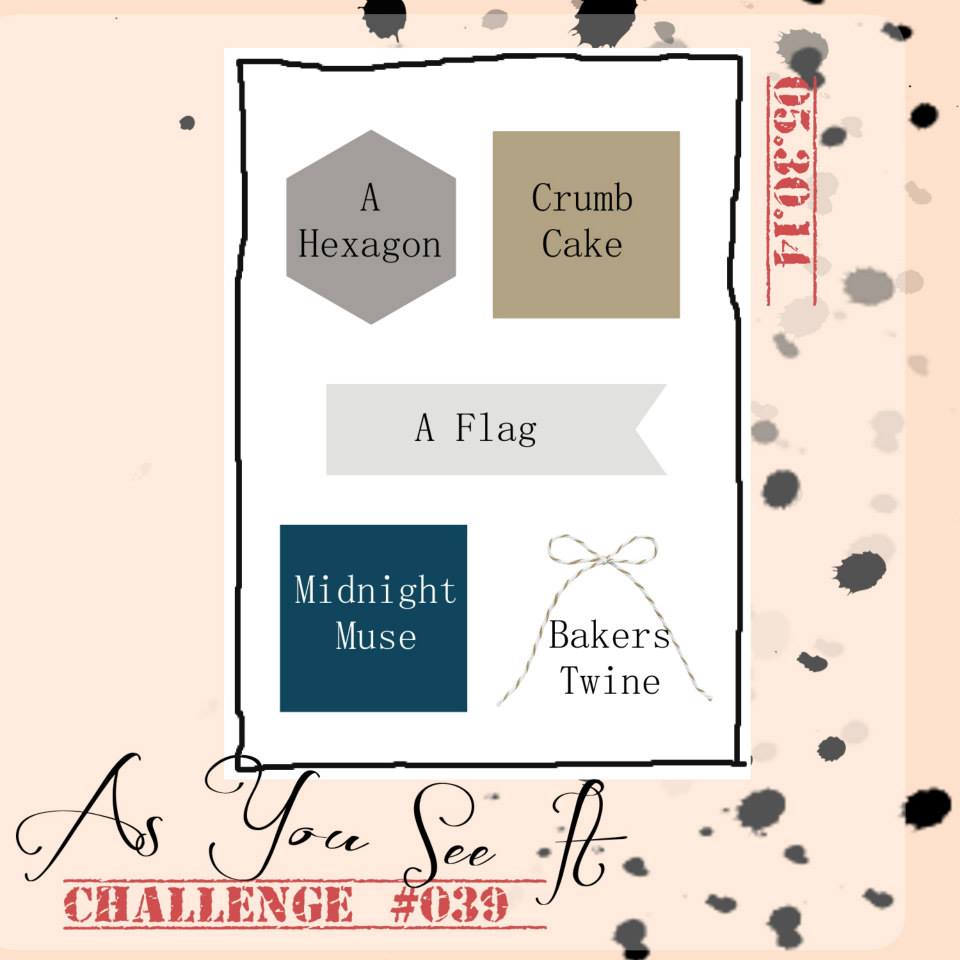 Sadly, the Midnight Muse cardstock fully retires on June 1st, so I chose to use Night of Navy as a replacement, though I loved Midnight Muse!
Here's the card that I designed as a sample for the challenge this week.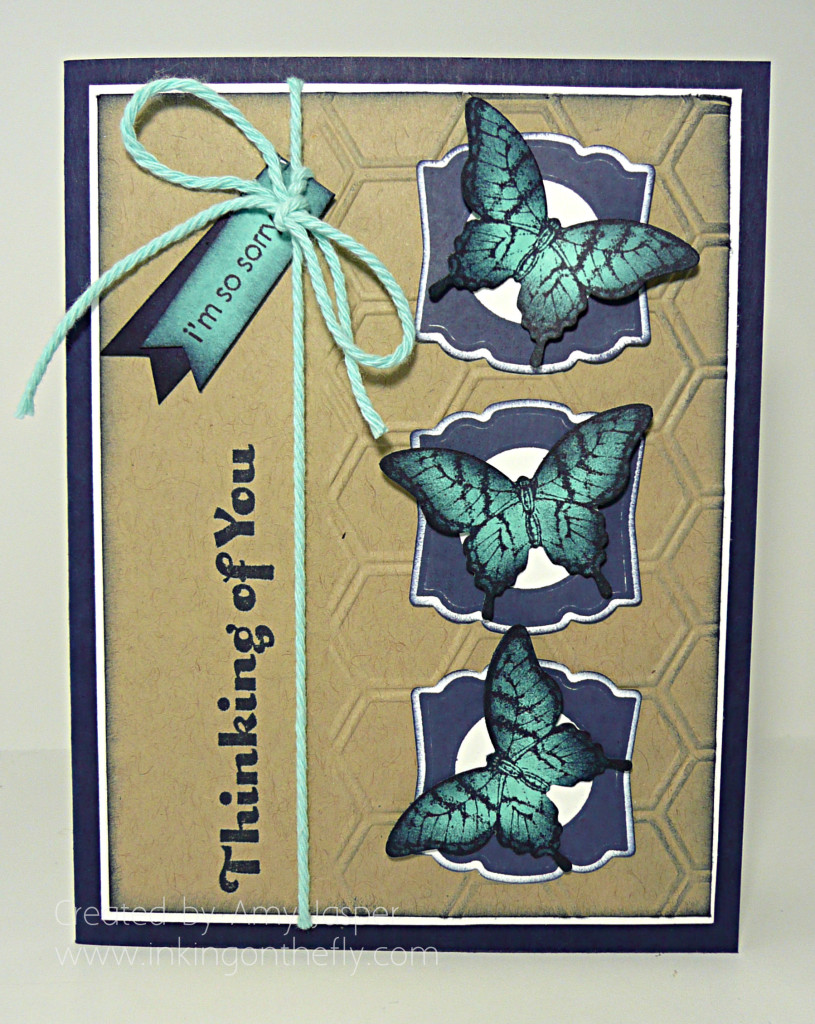 I used the Night of Navy for my card base, with a layer of Whisper White to mat the Crumb Cake Honeycomb embossed (there's my hexagon!) cardstock. I sponged that Crumb Cake cardstock with a shadow of the Night of Navy ink. The sentiment "thinking of you" from the Four You stamp set is stamped in Night of Navy.  The "i'm so sorry" sentiment from the Teeny Tiny Wishes stamp set is also stamped using Night of Navy ink on the flags/tags. The edges of the flags are sponged with Night of Navy ink. Behind each butterfly image is a piece of Whisper White cardstock with a stamp from the Label Love stamp set that was stamped in Night of Navy ink and punched out with the coordinating Artisan Label punch, then sponged lightly with Night of Navy ink around the edges.
I wanted to use the Coastal Cabana baker's twine (from my Sale-a-bration supply) for some additional pop of interest and I'm pleased to be able to say that it is in the new catalogue! Yay for coloured twine! I find that twine is just a bit more versatile than ribbon. It can add colour and a linear focus without drawing your eye too much away from other areas of your project.
The Baker's Twine is balanced by the colour in the butterflies and the flag. I stamped the butterflies from the Papillon Potpourri on Coastal Cabana cardstock with Night of Navy ink, then punched them out with my large Butterfly Punch and sponged Night of Navy ink around the edges. I love them!! They are such a rich and gorgeous two-tone blue. Quite a bit like this tropical Blue Morpho (aka Emperor) butterfly:
A few quick facts that I learned about this beautiful insect when I was looking for a photo to show you:
The underside of its wings are brown with eye spots – also beautiful, but less striking compared to the blue on top
wing span is from 3″ to 8″ wide! (not the biggest butterfly, though, which has a wingspan of over 12″)
A beautiful creature to get a little side-tracked on, lol!
Back to the challenge!! I hope you'll give this challenge a try. It's a different stretch to incorporate all of the elements for this assortment challenge, but you will have fun with it, I'm sure! So, make a project, upload it to a site where it can be viewed by anyone (your blog or Pinterest, or other publicly accessed sites), then link it up to Challenge #39 on the As You See It Challenge blog and show us your creative mojo.
"Pardon me, Miss, but I'm afraid your creative mojo is showing"
Don't forget to leave a reply to this post have your name entered into a draw for a Stampin' Up Care Package!
Yay, free stuff!!