Welcome to my blog where I share with you my love of designing using Stampin' Up! paper, inks, stamps, and tools. Today I show you how I step up my 10 minute card.
It's Friday! Time for a challenge that is super fun, but probably one of the hardest for me. On the one hand, I love the 10 minute speed challenges because they force me to produce a card quickly and help to reroute some of my fussy creative brain waves. On the other hand, I find it very difficult to take my hands off at or around the 10 minute mark because there are things to keep fussing with, lol!
I also wanted to participate in the Paper Players sketch this week. I think I've only participated in one or two challenges other than the As You See It Challenge blog for which I am a designer. It felt like it was time 🙂
I wanted to turn the Paper Players sketch on its side.  For my shades of green, I used the new Mossy Meadow with the lovely Pear Pizzazz. With the Basic Black and the Black and White Designer Series Paper, I thought it turned out pretty good after 9 minutes and 56 seconds (phew, that colouring with the Old Olive Blendabilities nearly put me over!)
Though there is really nothing wrong with this card, I wanted to add some pop, so I thought I would use the opportunity to show you how you can step up a simple card with some colour.
Here's the stepped up card that I used in the Paper Players challenge: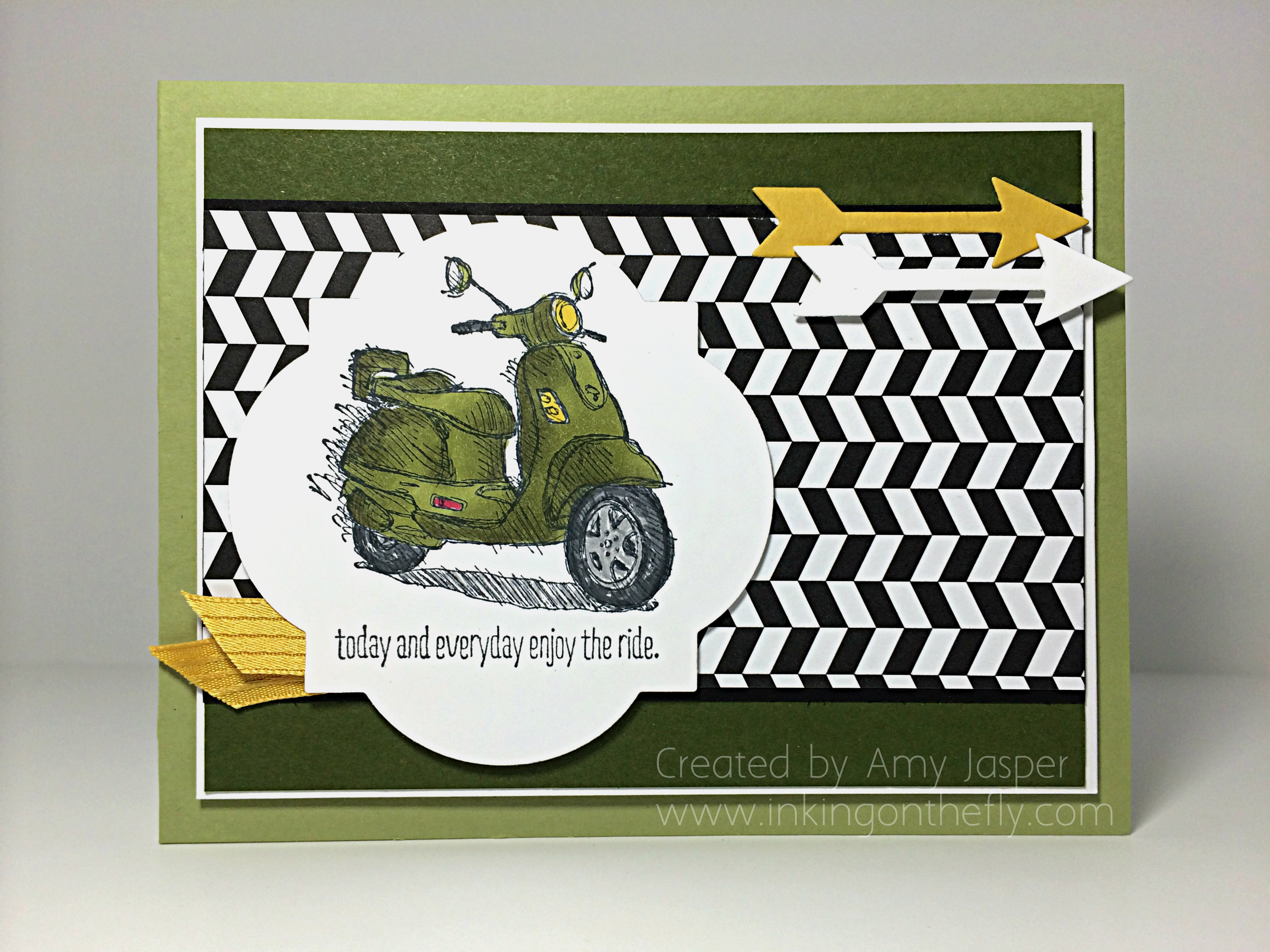 Yes, this card feels complete. This card pleases my eye. This card did not take less than 10 minutes!
You can see that I added some Daffodil Delight and Cherry Cobbler to the scooter lights using my Blendability pens. I also shaded the tires with Basic Grey and Smoky Slate Stampin' Up Markers (the tires on the speed challenge card were darkened with a black pen that I had nearby – no time to find my markers, lol!). I even added a bit of Smoky Slate marker to the shadow of the scooter.
Here's a close up of the two side-by-side, so you can see the difference: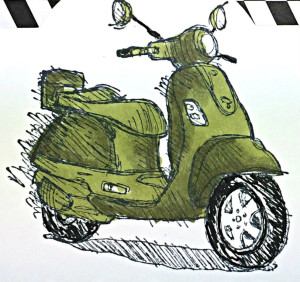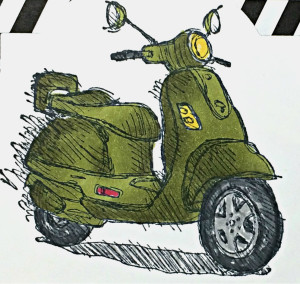 You know, now that I see them side-by-side, they both look alright.
As for the rest of the stepped up card, I used some Hello honey satin ribbon and a couple of arrows from my Label Card Thinlits – one in Whisper White and one in Hello Honey cardstock.
The card has a few layers up on Dimensionals, which don't always show up in my photos. If you look closely, you might notice that the entire center piece, framed in Whisper White, is lifted up on Stampin' Up! Dimensionals. As is the Window Framelit image and the Whisper White arrow. I cannot emphasize how much of an improvement Dimensionals add to a project. If you don't have them, GET THEM!!
I hope you will try the As You See It challenge this week. You might even consider the next Paper Players challenge, too. They just might help reroute your creative brain and get the artsy mojo flowin'!
Amy