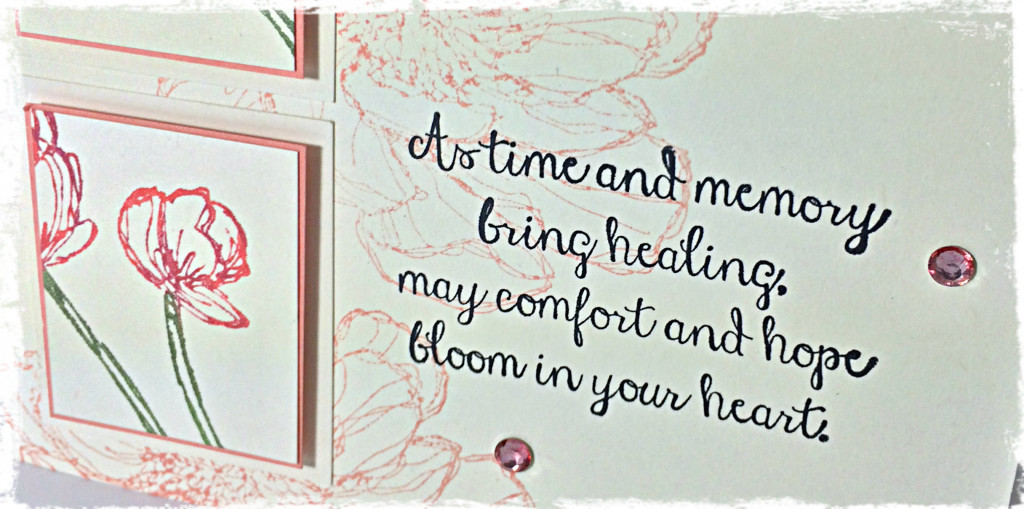 Welcome to my blog where I share my love of designing with Stampin' Up! ink, paper, stamps and tools!
Are you up for something a little different from my usual style? My design today is clean, simple and pretty (at least I think so). The As You See It Challenge blog has a sketch challenge for you this week. I knew right away how I wanted to play with those little rectangles to the left of the design and it would involve flowers!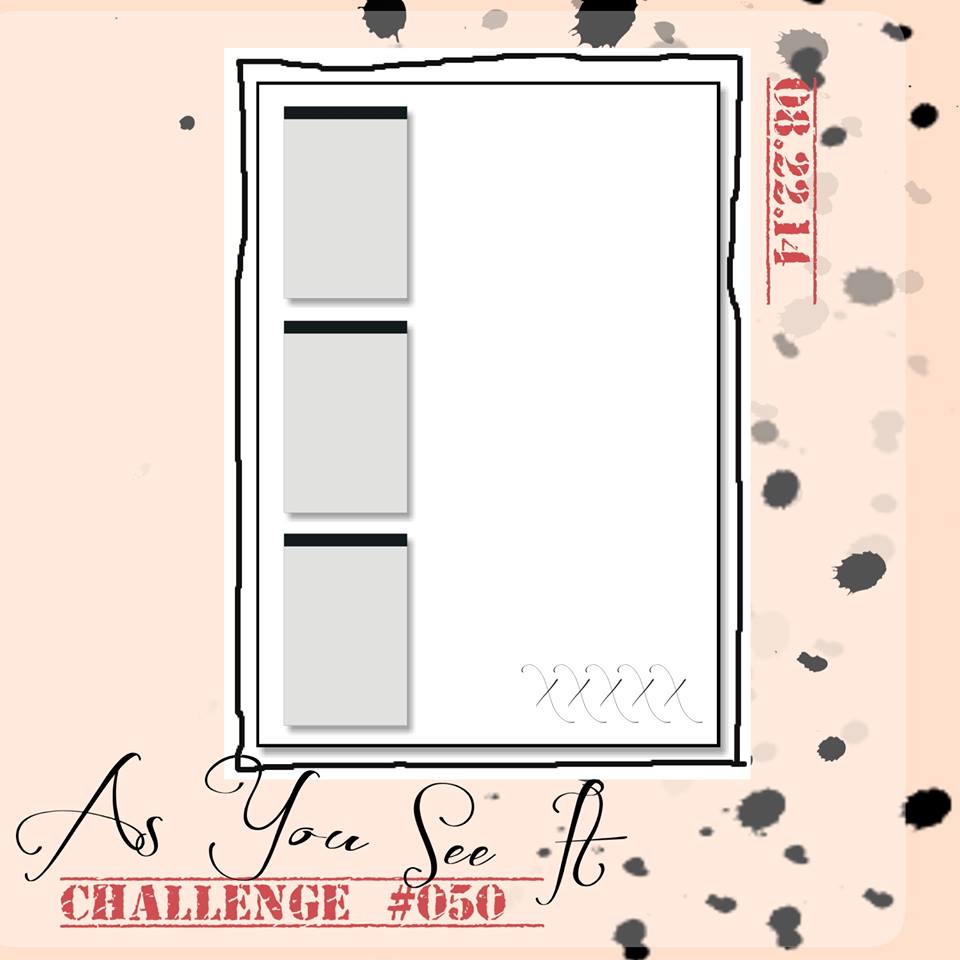 I wanted my card to be simple and elegant. I had intended on keeping it neutral in colour, but ended up giving it a splash of Crisp Cantaloupe – still soft, still elegant, but adds a touch of feminine grace, too.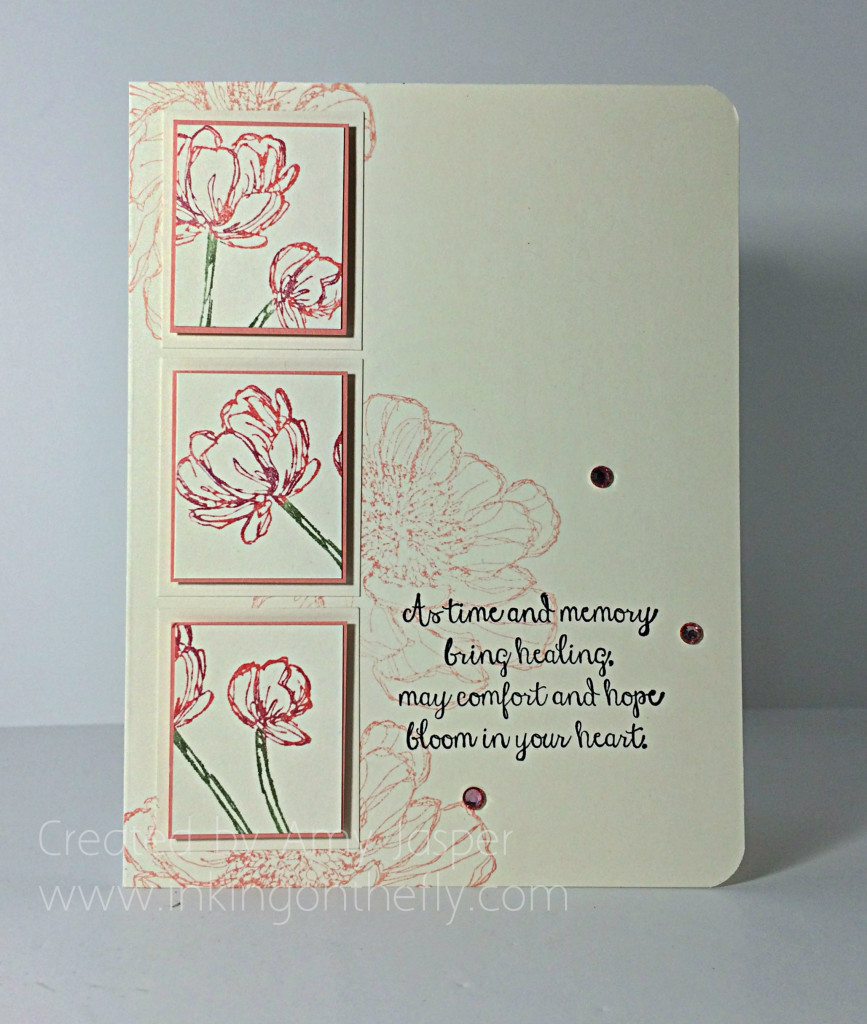 I love the Rhinestones!! I coloured them with the medium Calypso Coral Blendability marker. Before I added them, the card was too heavy on the left side. They add balance.
The stamp set I used is the Bloom with Hope hostess set. It is a beautiful set, but you can only purchase it with your hostess dollars when you host a workshop. I'd love to do this card with you and your guests so you can get this gorgeous collection of stamps for free!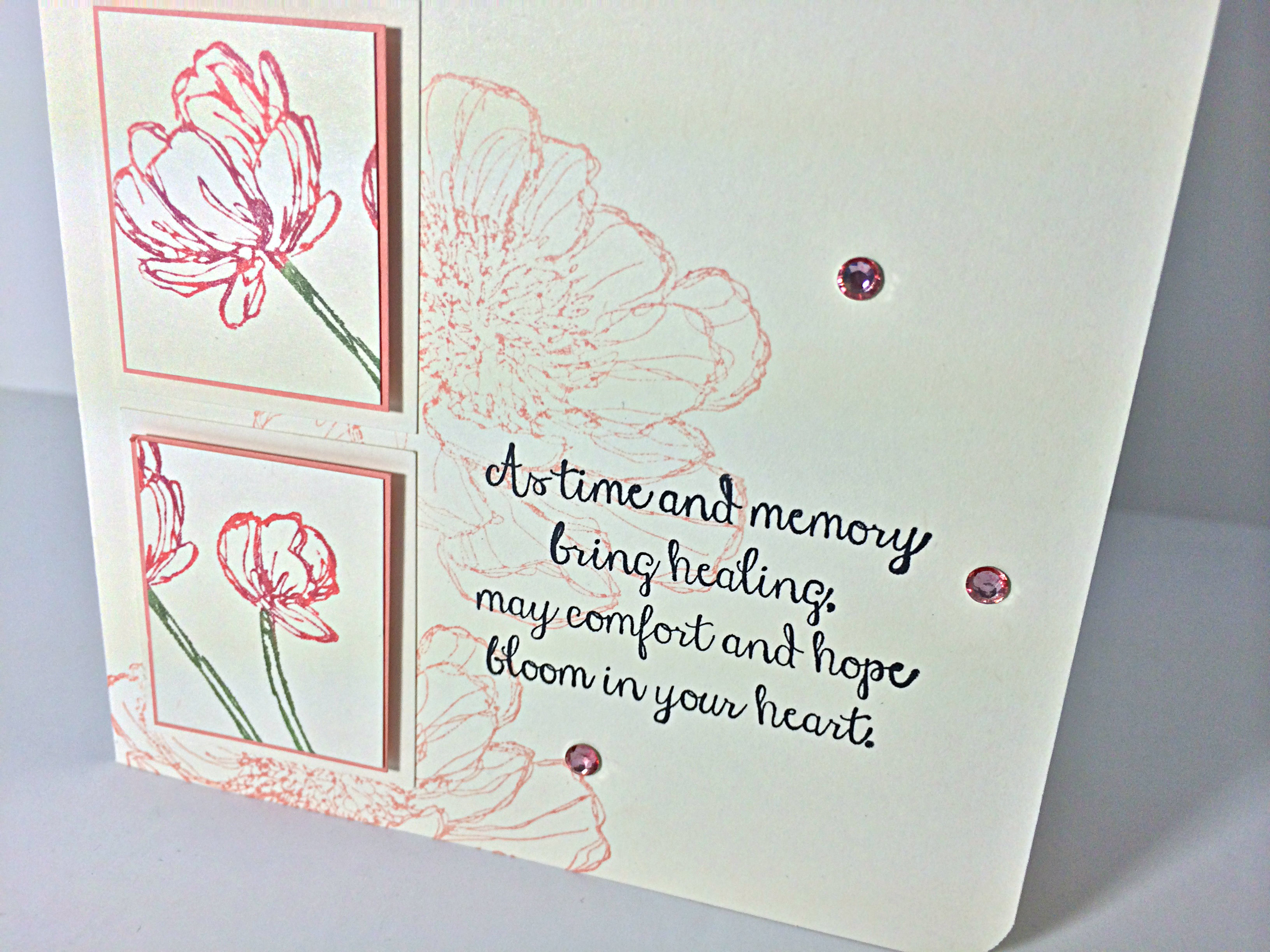 I used Very Vanilla for my base card. I honestly am not drawn to vanilla (well, unless it's ice cream!), but it is much softer than Whisper White and definitely works for a sympathy card. I stamped the large flower on the card base with Crisp Cantaloupe, stamping it off once on a scrap piece of paper so it would be a softer image. Then I used my Stampin' Write Markers to colour my rubber stamps directly before stamping the images that are on the rectangles. I used Crisp Cantaloupe and Wild Wasabi first, then randomly added daubs of Rich Razzleberry to the blooms and Mellow Moss to the stems.  Don't forget, that whenever you colour your rubber with the markers, you should 'huff' on the rubber before stamping your image on your cardstock. This will ensure that the ink is re-moistened and will give you the image quality that you intend.
If you have no idea what I'm talking about, 'huffing' involves a heavy exhale of your breath onto the rubber while it's close to your open mouth. While we take the time to colour directly on the rubber stamp, the areas that you coloured first start to dry.  The slight moisture from your breath that would normally fog a mirror is enough to re-activate the ink's moisture on the rubber. It sounds weird, but is a necessary step with this technique.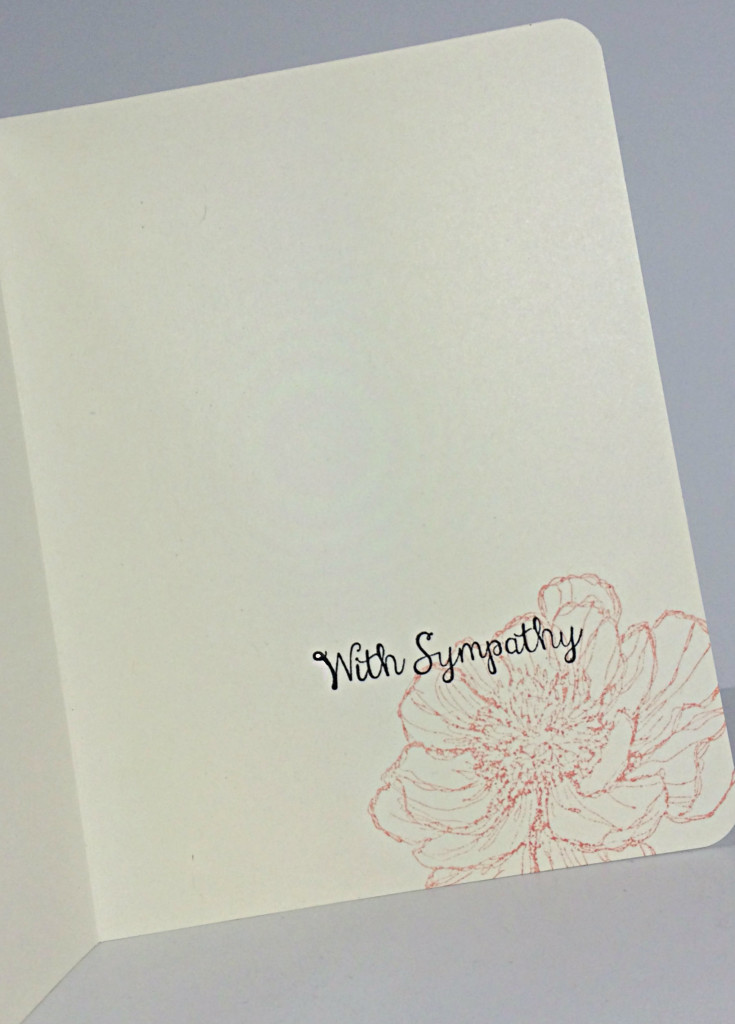 I layered my rectangles with the thinnest mat of Crisp Cantaloupe cardstock as possible, then matted it again with a wider Very Vanilla. You can see I used Stampin' Dimensionals to pop up each of the Crisp Cantaloupe layers.
Finally, I used the corner rounder punch on my Envelope Punch Board to round the corners of my card and I stamped my sentiments with Jet Black Stazon ink.
Don't forget to try this layout for yourself, whether it's for a card, a scrapbook page, or artwork for your wall. You can take a photo of it, load it to a public site (Pinterest works well), then link it to Challenge #50 on the As You See It Challenge blog!
I'm not exaggerating when I tell you that we are inspired by every card that you share with us. Everyone has their own tricks and style to share, whether they know it or not: the way your tear your cardstock, a colour combination that I've never thought of before, little added touches, how you tie your ribbon – I am always learning from other people's creativity. I hope you will share yours with us on the challenge blog!
As a side note: for the first time, I'm having trouble with taking photos with my iphone. I hope it's just the light-coloured card design, but I had to fuss with my lighting and angles more than usual to avoid weird lines and halos. You can see one of those halos in the center of my last photo. Taking a good photo of your card is about good lighting, the right shadows, a crisp image, and quality product (avoiding ink smudges or halos, cutting ribbon and cardstock with sharp blades, and making sure that things intended to be straight on your product are actually straight!) – things to keep in mind when you upload to Pinterest.
Sign up this week to be a Stampin' Up! demonstrator, like me, and join my team!! Stampin' Up! is offering the kit for the usual $125, tax and shipping free, but you can choose $190 in product for your kit instead of the usual $155 of product. The kit is already a great deal, but now it's even better!! Check out the SHORT AND SWEET sign up offer by clicking on the link and learn more about it and other promotions currently available.
Happy Stamping!
Amy.