Welcome back to my weekly blog! One of these days I'll add a surprise post on a different day to shake things up a bit, but for now, Fridays are "blog day".
Do you ever find that day-to-day life gets in the way of really living?
Often, I feel like I'm just jumping from obligation to responsibility and back to obligation again. Life can become a series of "have to's" with very few "want to's" in between. The "have to's" can provide security and a sense of accomplishment in the long term, while "want to's" can provide immediate happiness and satisfaction. I think both are important, but it's often difficult to find a balance of the two. As a mother of three, a wife, an employee, a home owner, and a Stampin' Up Demonstrator, my life feels over-run with schedules and to-do lists; little things that need to be done, add up to big things. I am always trying to keep track of what comes next.  I'm always running behind – And I'm tough on myself. It's a very rare thing for me to say "You did a great job on that! Well done!", because I know that my attention was divided and I can see every mistake or where I should have done things better and where my time could have been spent more wisely. (that's the perfectionist in me. I have frequent fights with her about "good enough" and "why even start?")
At this moment, my "have to" is to write this blog post at 11:30pm. Don't get me wrong, I want to write my blog post each week. It gives me pleasure to share my cards and projects and thoughts with you. I just don't want to do it at this moment when I'd rather be going to bed – and some would argue – I should be going to bed!
I've been reading (very very slowly) Ann Voskamp's book, "One Thousand Gifts". It's all about being thankful. Even for the tough things in life – the "ugly beautiful" things, as she calls them. In all things we can give thanks. This book has taught me that what makes me most happy, is to take notice of the little things that normally go unnoticed. If only I would see them; acknowledge them; pray a prayer of thanks for them – and those little things start to feel like little treasures laid out just for me.
The "ugly beautiful" in my life is found in the obligations that pull me away from the "want to's". But my opportunity to seek joy in my life is in my thanksgiving for the little things; the little gifts that God gives to me within each day. I just need to look.
"God gives gifts

and I give thanks

and I unwrap the gift given: joy."

– Ann Voskamp
I am thankful for the few lovely people who read this blog, even just once in a while. I am thankful for the opportunity to share my love of designing with ink, stamps, and paper. I am thankful that my life is full. I am thankful for the long-term security and sense of accomplishment in my life. I am thankful for my cozy bed that is waiting for me!
Here's the sketch challenge from the As You See It Challenge blog this week: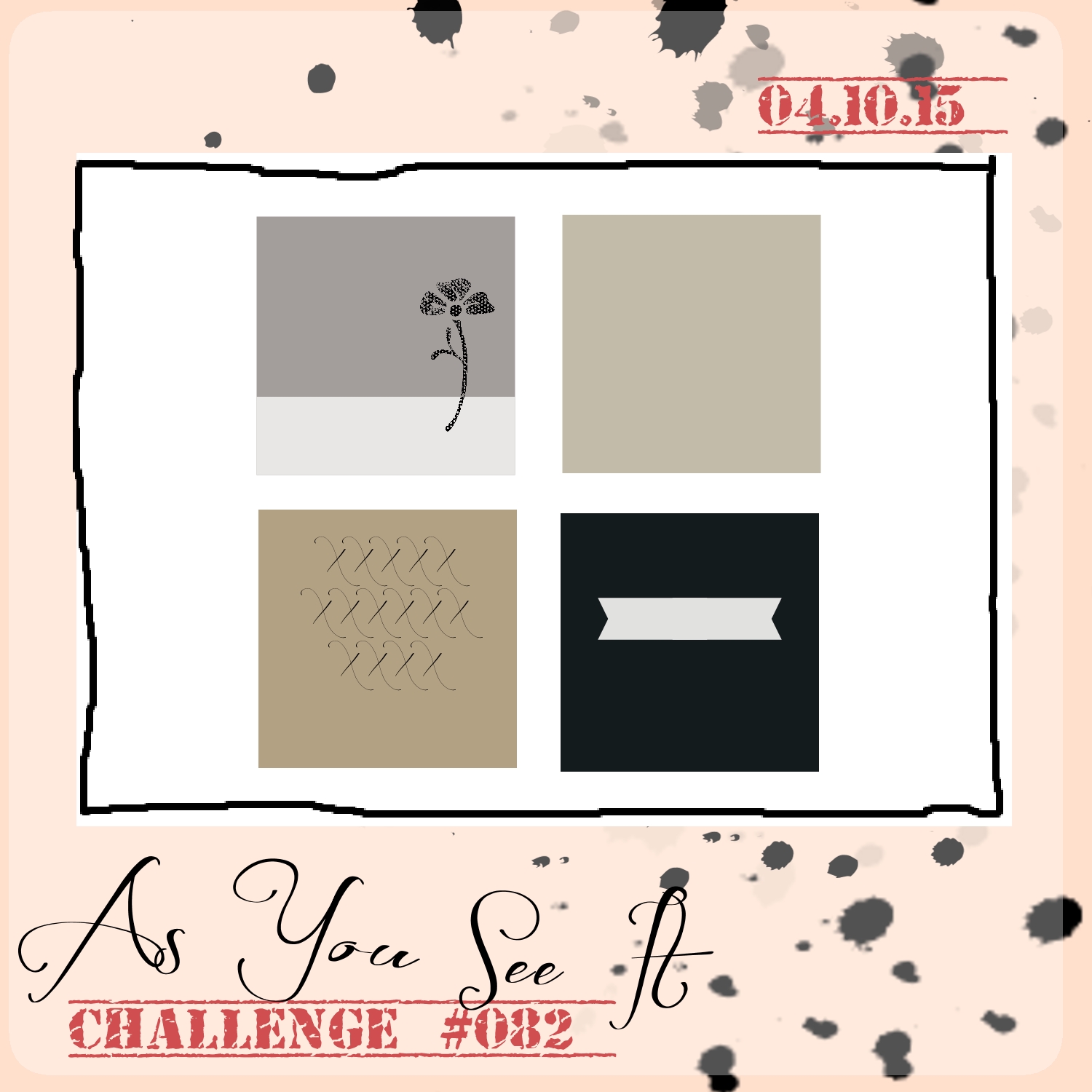 And here's my take on the sketch. Happy colours for a happy thought. My "happy" is in the thankfulness of the little things – God's little treasures laid out just for me.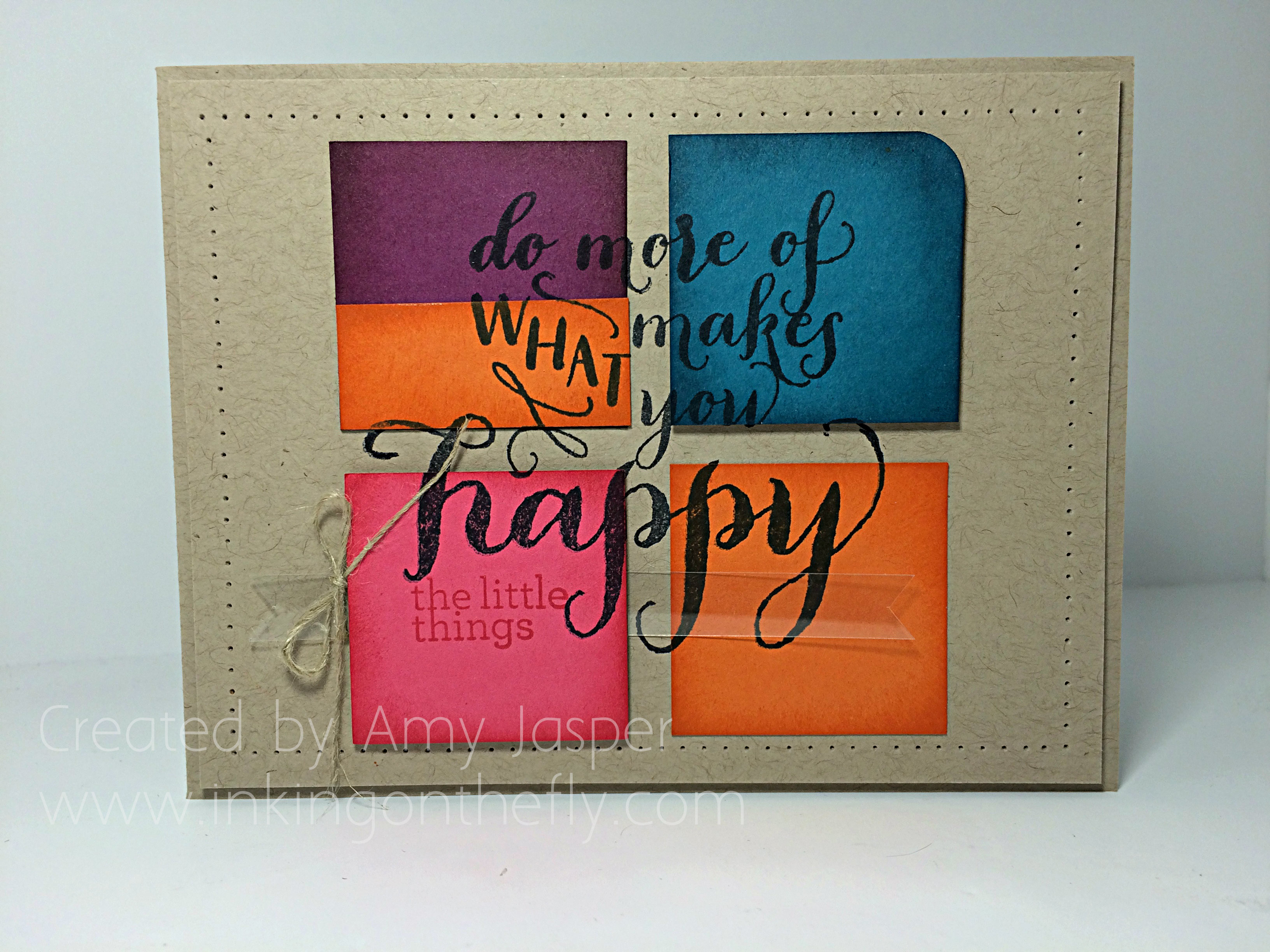 I used a Crumb Cake card base with a second layer of Crumb Cake raised up with Dimensionals and paper pierced all around the edges using the Paper Piercing Tool and the Essentials Paper Piercing Pack to guide me. I first stamped the "do more of what makes you happy" with Tuxedo Black ink on the Crumb Cake cardstock. Then, the four squares (Rich Razzleberry, Island Indigo, Strawberry Slush, Tangerine Tango) were lightly tacked down with a tiny bit of SNAIL under each of them so I could stamp the image again over the previous image, lining it up carefully so that it would match up with the previous image. Finally, I added the rectangular strip of Tangerine Tango cardstock and stamped the image carefully the third time.  I chose to add "the little things" stamp in Strawberry Slush ink to the one square and slipping a strip of Window Sheet as a banner under neath that same square.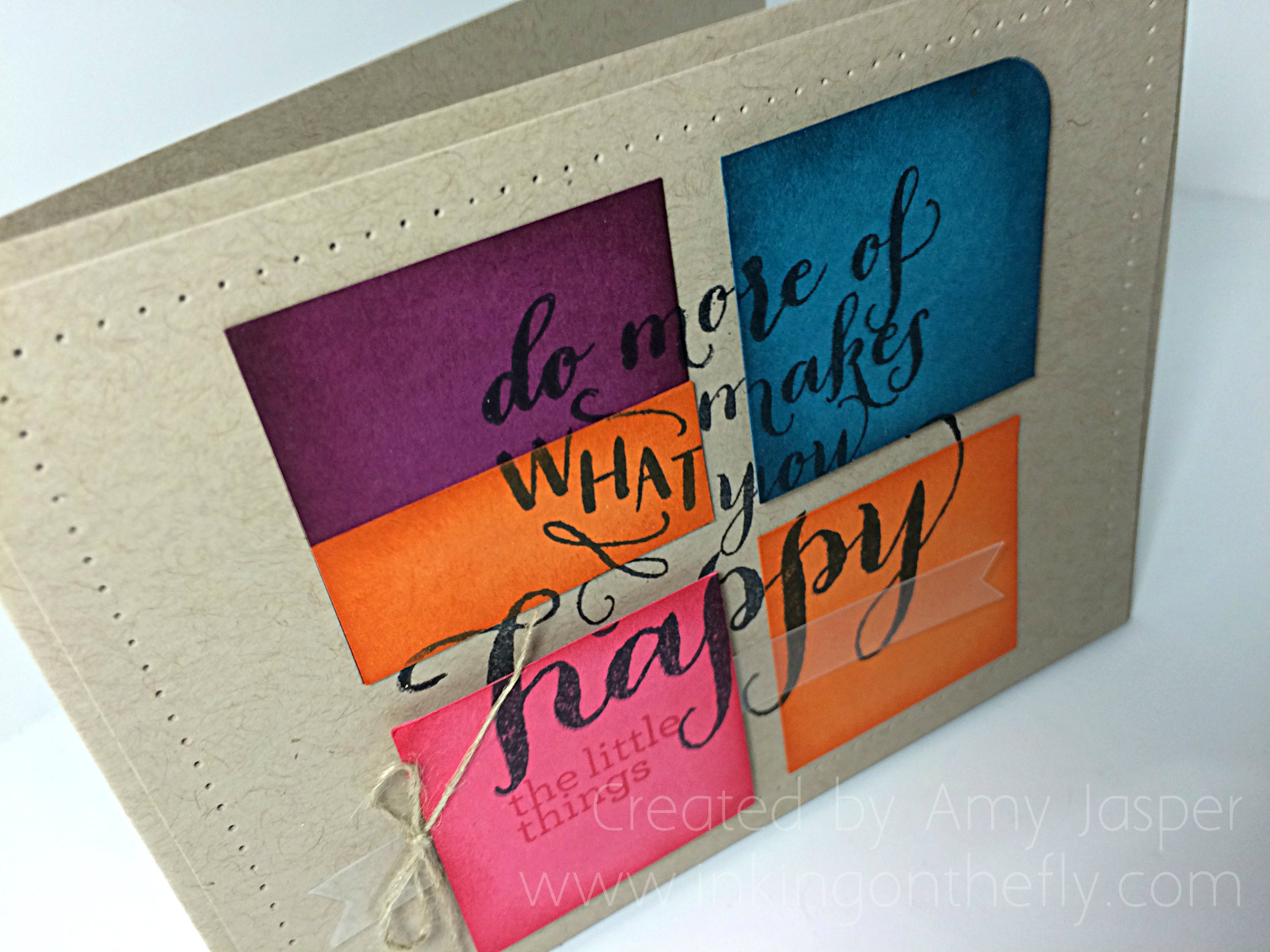 Once I was happy with my stamping and placement, I sponged colour around the edges of each piece of coloured cardstock, using their same ink colours. This adds a beautiful rich depth to the paper. Finally, I adhered the squares. Two with Fast Fuse and two with Dimensionals. The Linen Thread was tied on to add a touch more texture.
And that's it. My take on the sketch. My take on finding my "happy" – to see and to give thanks for the little things.
What will you do for this sketch? Share it on the As You See It Challenge blog!
Amy