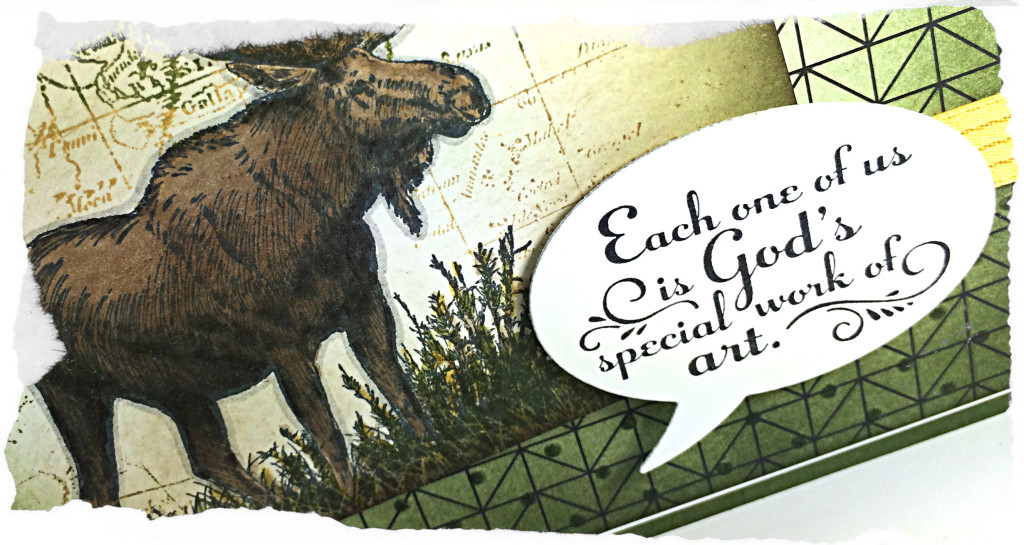 Welcome to my blog where I share my love of designing using Stampin' Up! ink, paper, stamps and tools!!
Today is the As You See It Challenge #47 – a sketch!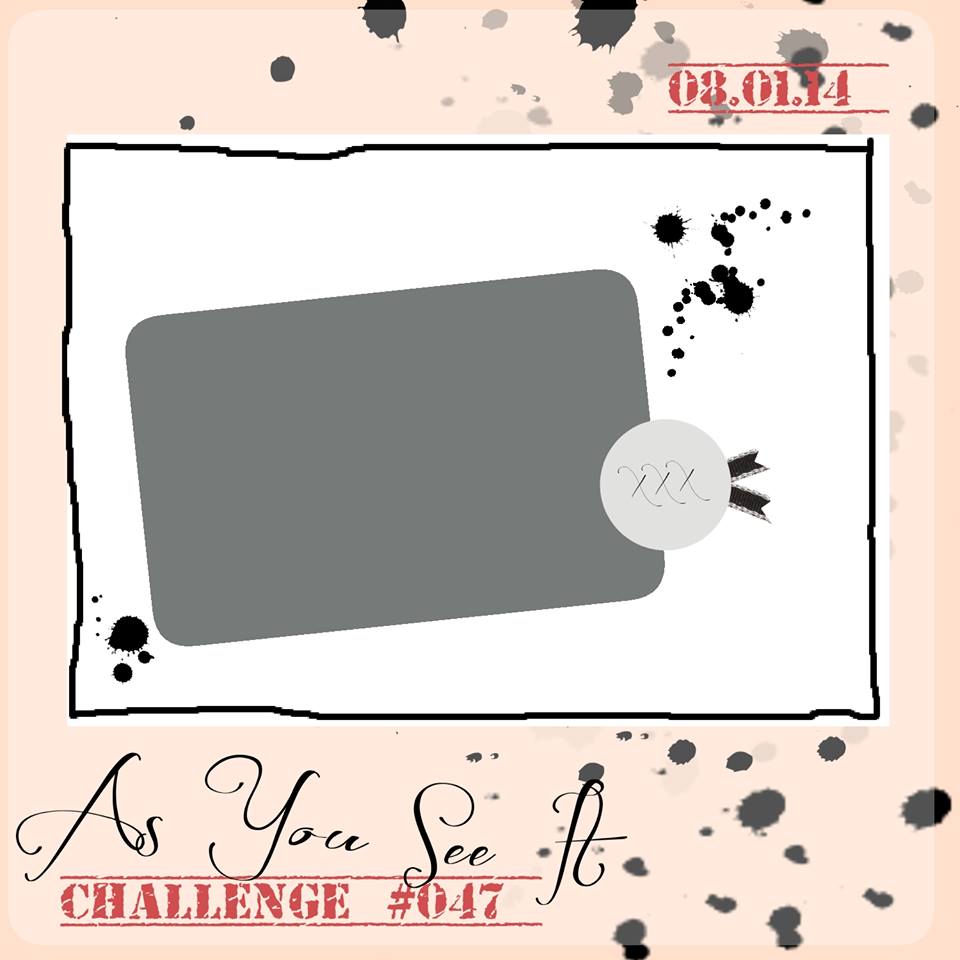 I'm so sorry that I don't have enough time to share my process with you yet. I will edit this post later today and give you the details on this card. For now, you can try to guess all of the steps and supplies involved, lol!
Thank you for your patience! This moose card has a Mossy Meadow cardstock base, then the thin Whisper White mat under the Back to Black Designer Series Paper which I sponged with Mossy Meadow ink. I also added the Gorgeous Grunge splatter in Mossy Meadow AND I used the Perfect Polka Dots embossing folder on the lower portion of that designer series paper.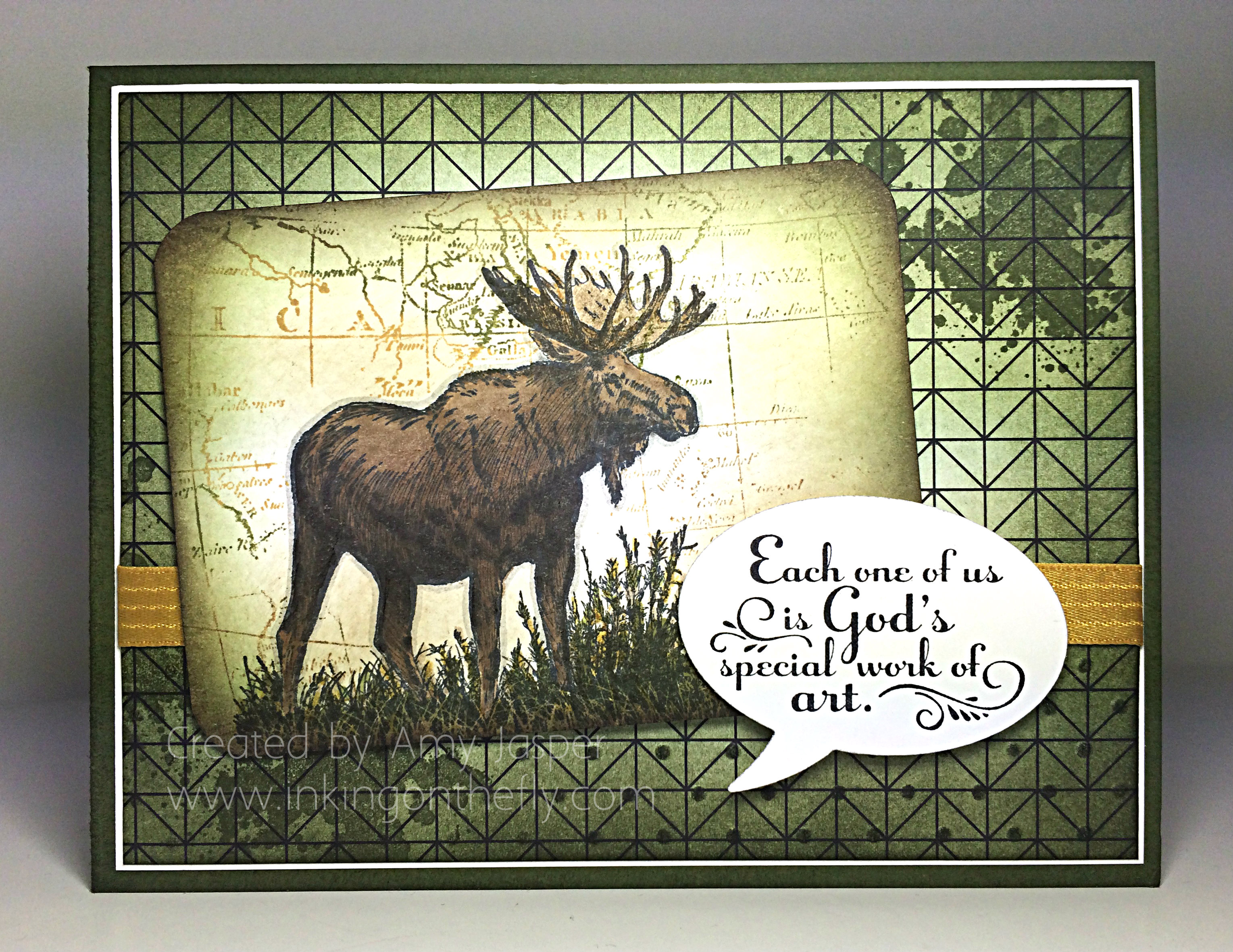 That gorgeous ribbon is the Hello Honey Satin Ribbon. I'm really loving yellow these days and that ribbon has been one of my favourites for a pop of sunshine on my projects!
My moose is definitely the art piece on this card. The image is from the Walk in the Wild stamp set. I stamped it on Whisper White cardstock with Momento Black ink and coloured him with my Crumb Cake Blendabilities (which are much darker than Crumb Cake, working in my favour here). Instead of using the Blendabilities for his antlers, I just used my Crumb Cake Stampin' Write marker and my Baked Brown Sugar Stampin' Write Marker. I used the Old Olive Blendabilities for the grass and threw in some random Crumb Cake and Hello Honey Stampin' Write Markers for depth and a bit of variation in the foliage. I also outlined my moose with the Smokey Slate Stampin' Write Marker to give him a bit more of a 3D look.
The paper that I stamped my moose onto has rounded corners, which I did with the corner punch on my Envelope Punch Board. I used three different colours to sponge the edge of the paper in this case: Mossy Meadow, Soft Suede and a touch of Early Espresso on the very edge. The World Map stamp was inked randomly with these same colours. I didn't want a solid map image, so I just placed the stamp on my table so the rubber was facing up, then laid my cardstock lightly on the rubber and just touched it in a few places with my fingertips. This transfers the ink to my cardstock darker in some places, lighter in others and not in all in others still. It's a great technique for a vintage-style project.
The sentiment is from the stamp set, Trust God, and was stamped on Whisper White with Stazon Jet Black ink. I used my Big Shot and my Word Bubbles framelits to cut out the image. Of course, Stampin' Up Dimensionals were used to adhere both the word bubble and the moose image to the card front.
I think my moose is smiling!!
There are many strange animals on this earth (humans are pretty strange, too). God, the Creator, is the ultimate artist. He must have had a lot of fun designing a moose with it's massive body, huge head and antlers, and it's scruffy scrawny stick legs! I think by the time He created the moose, He was tired of the usual design and wanted to change things up a bit. (things like the Platypus would have been one of His last animals, when He was REALLY bored, lol!)
Don't forget to give the sketch a try for yourself and load it up to share it with us over at the As You See It Challenge Blog!!
Amy