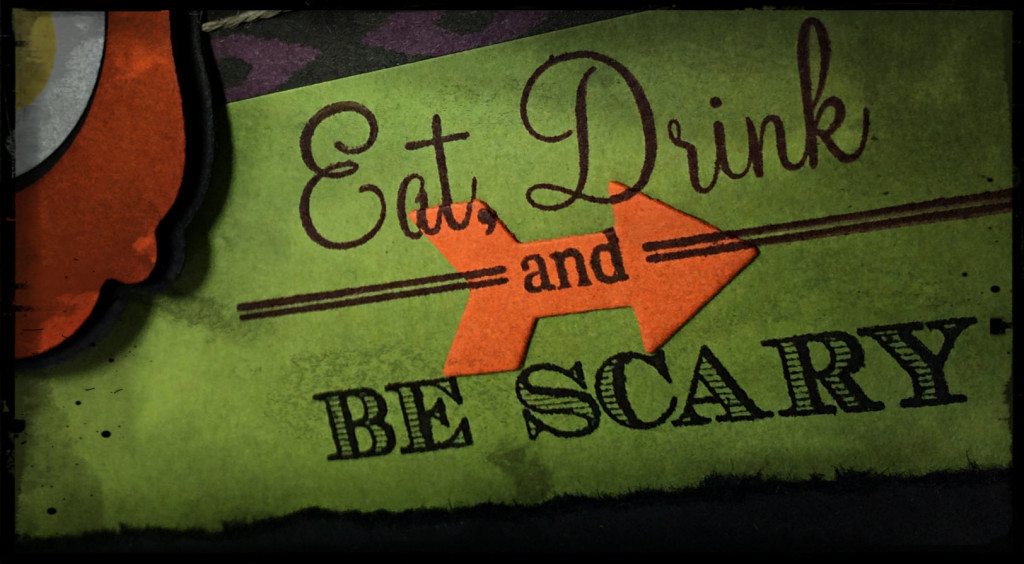 Welcome to my blog where I share my love of designing using paper, ink and stamps from Stampin' Up! I'm always looking for friends to share papercrafting with – let me know if you'd like to sign up with Stampin' Up! and join my team or if you'd like to host a workshop in my area and earn FREE stamping supplies!!
It's time once again for another As You See It Challenge! I decided to play with the Holiday Invitation photopolymer stamp set that Stampin' Up! gave away to everyone who attended Stampin' Up! Convention #InspireCreateShare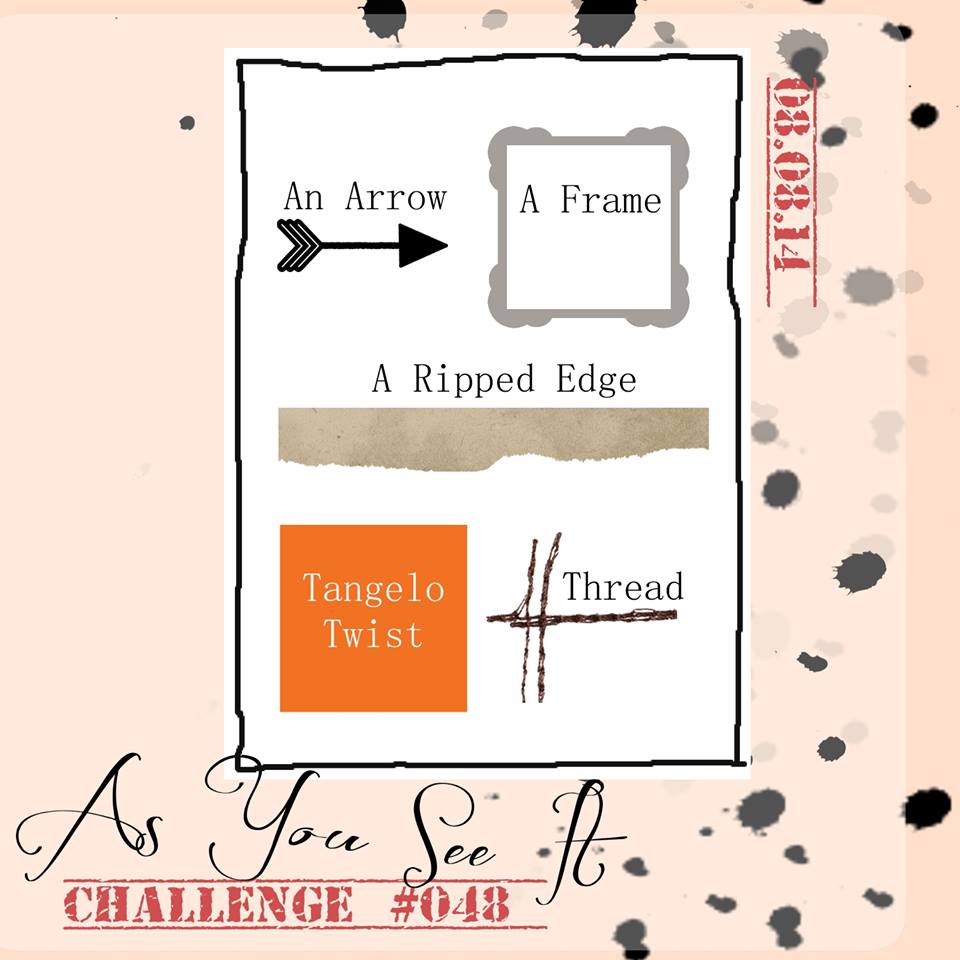 These assortment challenges are a lot of fun because there are so many possibilities!! I can't wait to see what people will do with this one. As long as you have all of the elements listed, your project is good to go! It could be a card, a scrapbook page, a journal cover, a garden gnome, WHATEVER! That's the beauty of an assortment challenge. I hope you'll play along this week!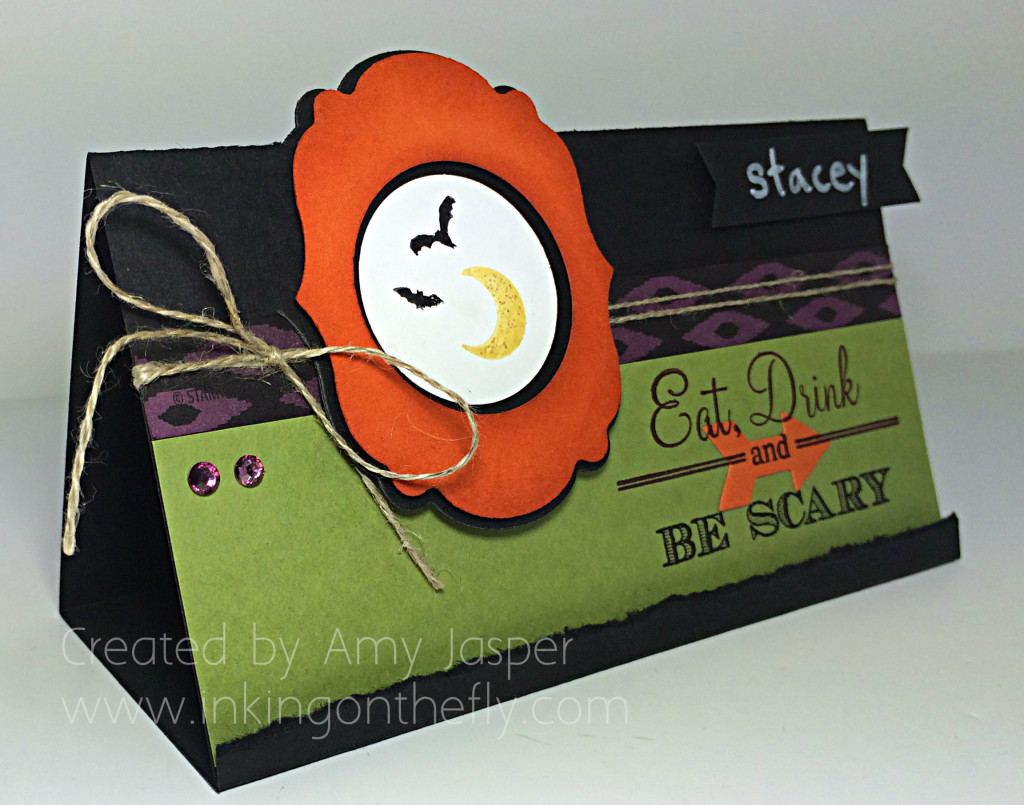 I decided to try making a place card for a table setting. I really love your typical Halloween colours. They are so fun and eery. I would never put these colours together for any other occasion and would think them very odd, in fact. But for creepy, ghoulish, scary fun, these colours are perfect!
I don't do a lot of Halloween decor, but we love dressing up when we can. For the last few years, I keep on telling myself that I'll do more for Halloween. More decor, more food fun for the kids, etc, but life always gets in the way and time runs out on me and we barely manage to have candy for the Trick or Treaters and somehow manage to get our kids dressed up at the last minute. Maybe this year, I'll use my little place cards and host a Halloween party – after all, Halloween does fall on a Friday night … I guess we'll see. Maybe my place card idea will spur on further preparations.
Prepare or BEWARE!! lol!
My table place card was made with the Label Card thinlit die, but instead of folding it twice, so that it flips as it was designed to do, I folded it only in half. Now, I used a longer piece of cardstock to extend the card as is often done with this thinlit, so that I could have a base to give it extra support. (sorry, no pictures to explain this better, but you can google "label card thinlit extended" if you're unfamiliar with this)
You can see a torn edge at the bottom of the place card where I folded the edge up and tore the excess off. I did not adhere this together as I wanted to be able to store my place cards flat. That folded edge acts like a stopper to help my card stand up without the extra adhesive.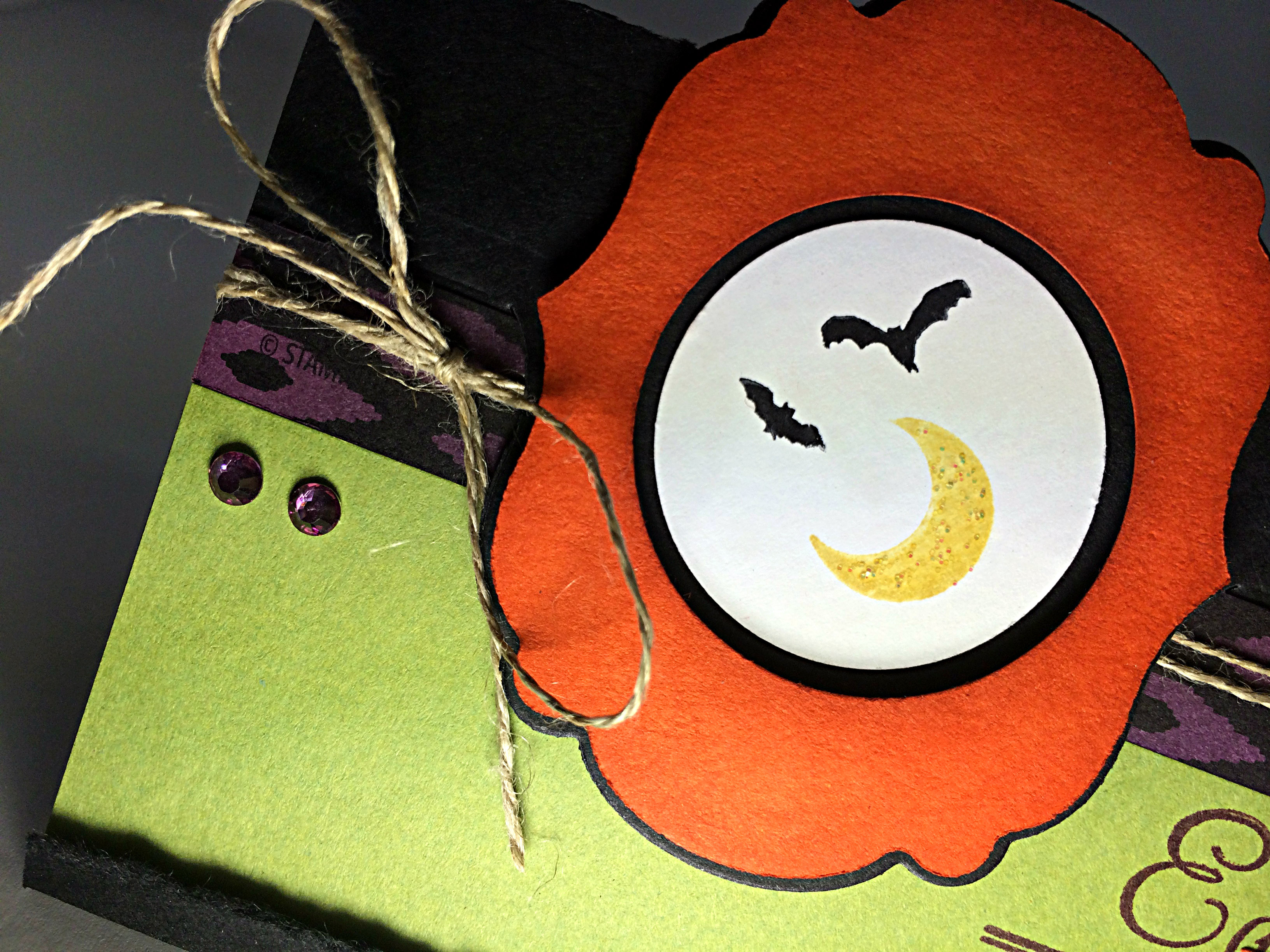 I cut out my Tangelo Twist framelit from the Label thinlit, then used my 1-3/8″ circle punch to make a hole in the center (I actually found that this worked better to punch the hole first, then cut it out with the framelit so that I could center that circle more precisely). This was sponged with Tangelo Twist ink around all the edges then added to the card front with Dimensionals. I stamped my bats and moon after inking up with my Stampin' Write Hello Honey marker and with my Stazon Black ink pad. This was punched out with my 1-1/4″ circle punch and adhered to the center of my frame. A bit of Dazzling Details was added to my moon for effect.
The strip of patterned paper that you see is a piece of Back to Black Designer Series Paper that I coloured with the darkest shade of the Rich Razzleberry Blendability marker. I used the same marker to colour my Rhinestones!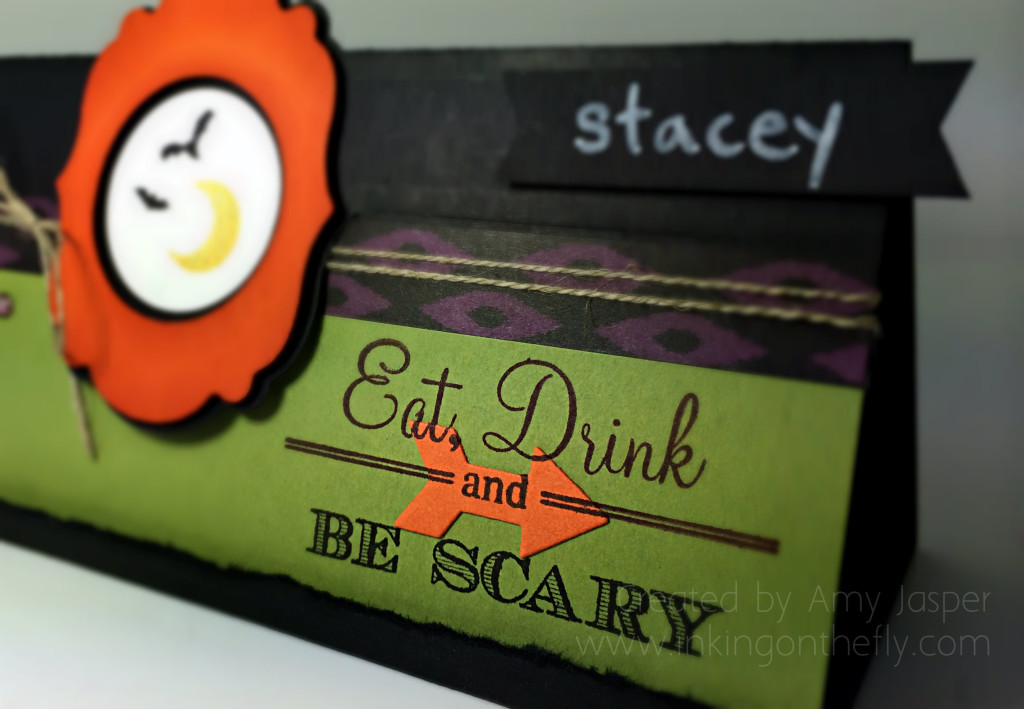 What do you think of my Tangelo Twist arrow? I really like how cool it looks with the lettering stamped over it. All I did was cut out the arrow, then stamped the image on it (you can be very precise with stamp placement using the photopolymer stamps!), then I adhered it carefully to my card so it would line up with the image that I already stamped! Yes … yes … I can be clever sometimes, lol!
I was going to write the name for my place card directly in the black void in the top right of my project, but was too scared I would ruin everything with my bad printing (does anybody actually like their own printing!!?), so. I made a little tag and punched the edges using my Banner Punch in a clever sort of way, then wrote the name with my Chalk Marker and adhered it to the front of my card with … yes, that's right … Stampin' Up! Dimensionals!!
I'm a little long winded today. Sorry about that. If you made it this far, maybe I should give you a prize!! lol! No, no prize for you except the satisfaction of getting through my drivel! YOU DID IT!!
Now go make a project for this assortment challenge and do me proud!! Link it up to the As You See It Challenge #048.
So glad you stopped by,
Amy.