Valentine's Day is coming.
I've never bothered myself much with a day that dictates I should tell someone I love them. However, this year it feels right to brighten up the February drearies with a bit of colour. It's been looking very grey and brown outside our house as the snow has melted a bit (but not enough to show the green lawn) and the sanding truck has left its mark. How about adding a spark of life in the home? I haven't seen any Primrose plants in the grocery store yet, but I might grab a couple to put on my windowsill when they are available. The promise of spring.
What colours would spark some life in your house right now? Pinks and reds seem to be the traditional shades of love, but don't let that stop you from showing off your own flair for colour with some fancy hearts of purple and teal. I just might add some of those myself. My project today is more on the traditional side. I don't like pink much, so I've used the bright of white for my design base today with a flash of shining red.
I'm a designer for the As You See It Challenge Blog, but thought I would design a card that would also work with a couple other challenges that I'd like to play along with.
Just "spreading the love" – fitting, don't you think?
I am playing along with the Global Design Project and their "love" theme. I'm also playing along with the Paper Players and their "clean and simple challenge".
Here are the images for the As You See It Blog sketch and the challenges that I started with: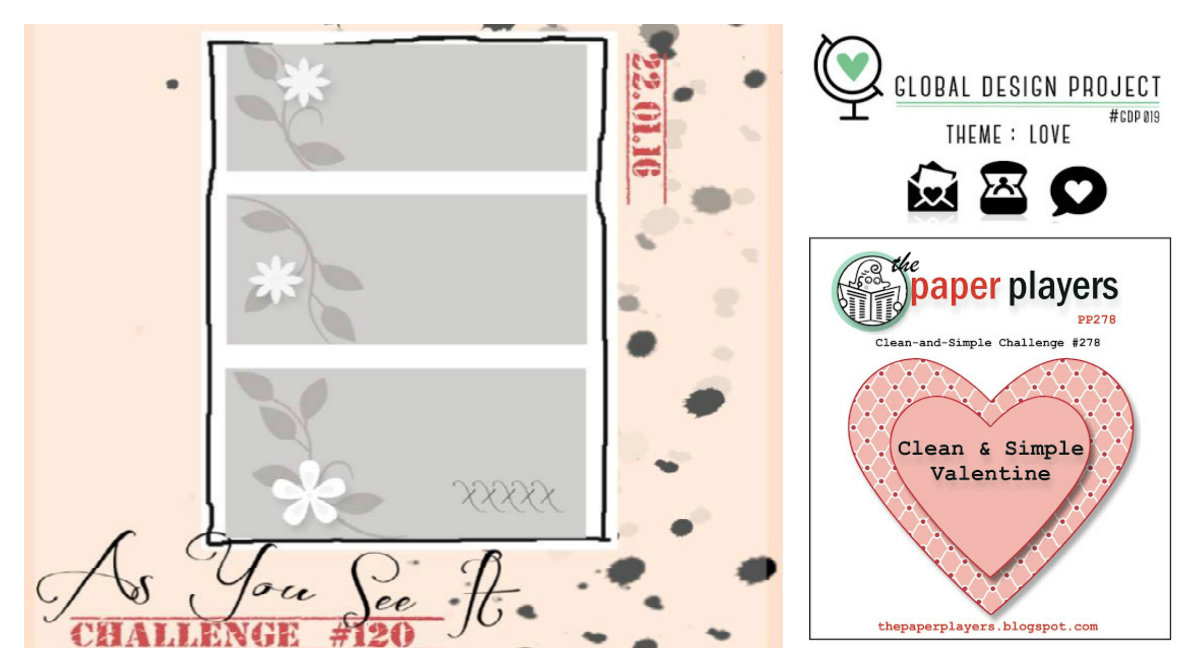 I used the adorable and surprisingly versatile Barnyard Babies stamp set from Stampin' Up for my clean and simple, love-themed card.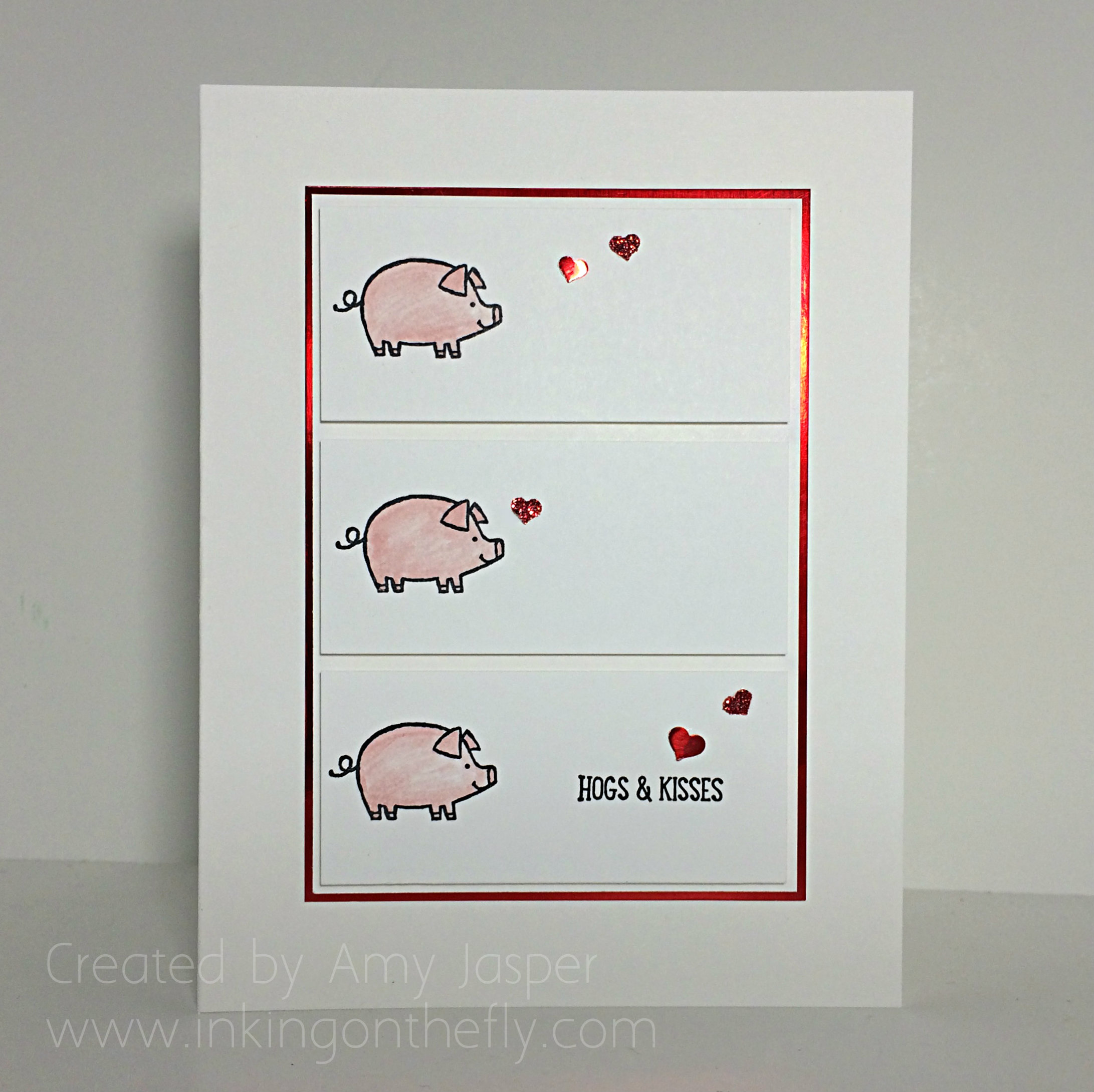 Can you see the shiny!!?
I started with the Thick Whisper White cardstock for my card base (I'm SO glad Stampin' Up has this cardstock now! It's awesome!) I used the Red Foil paper to matte another layer of regular Whisper White cardsock, then added the three stamped pieces with Stampin' Up Dimensionals to pop them up off the page.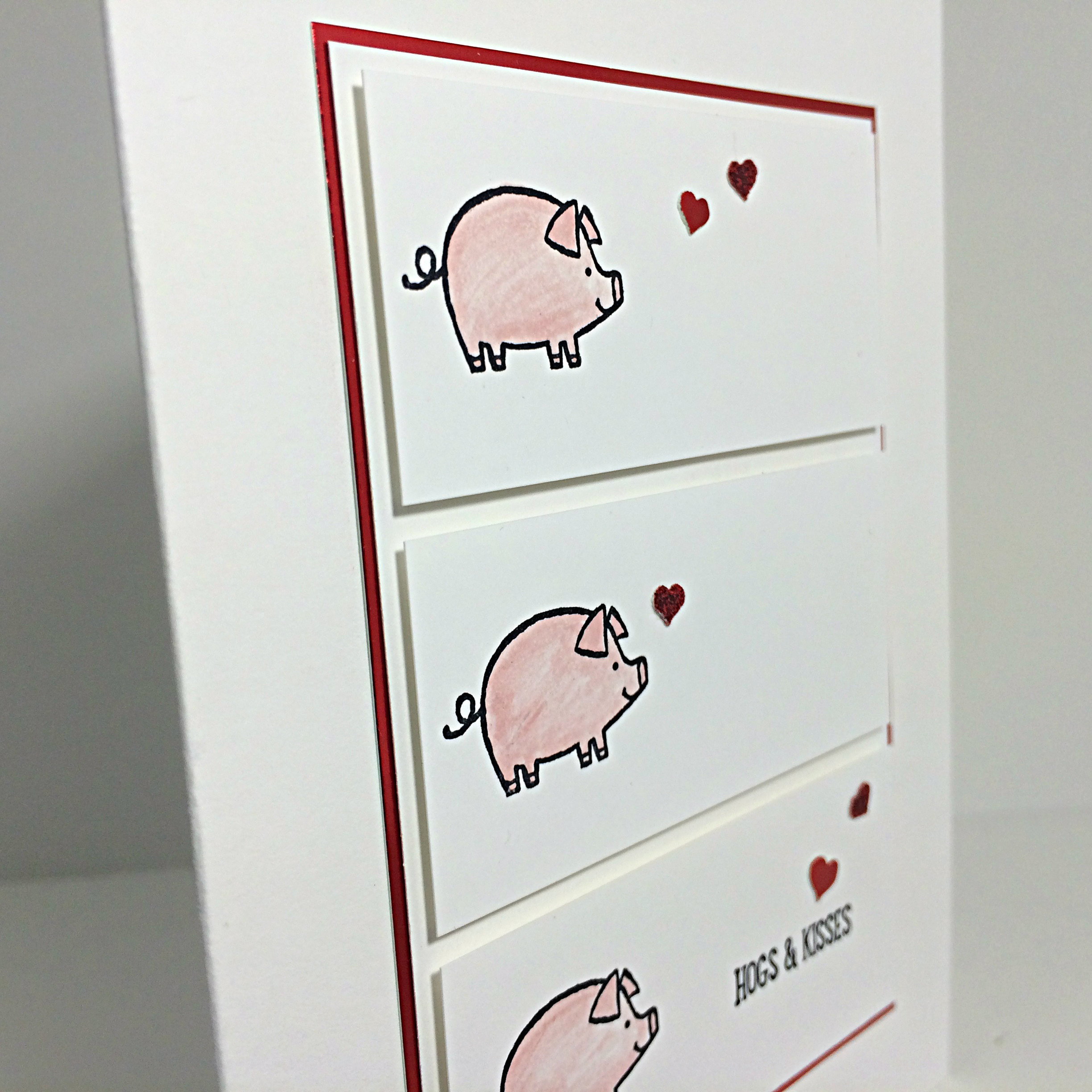 I had to stamp them first of course. For that, I used my trusty and very loved Stazon Jet Black ink with the Barnyard Babies stamp set. After stamping the images, I used Stampin' Up Blender Pens with Blushing Bride classic ink to colour my three wee piggies.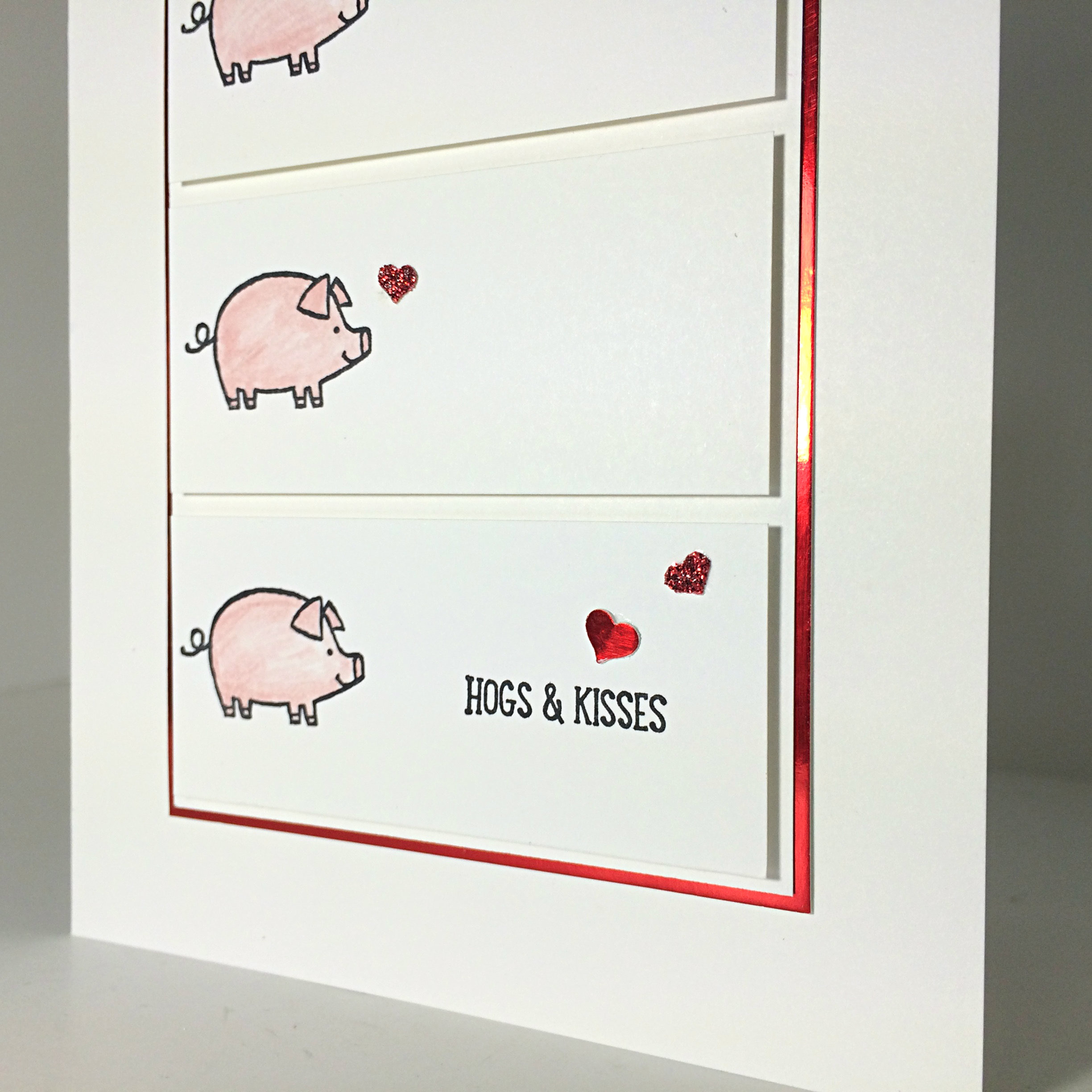 I wanted to create a visual of the kisses that go along with my hogs.
Hogs and Kisses, Baby! That's what it's all about!
I used the Confetti Hearts Punch with more Red Foil paper and some Red Glimmer paper to punch out some pretty little kisses (hearts represent kisses, of course). The Fine-Tip Glue Pen from Stampin' Up was just the ticket to glue these little sweet bits of love onto my card.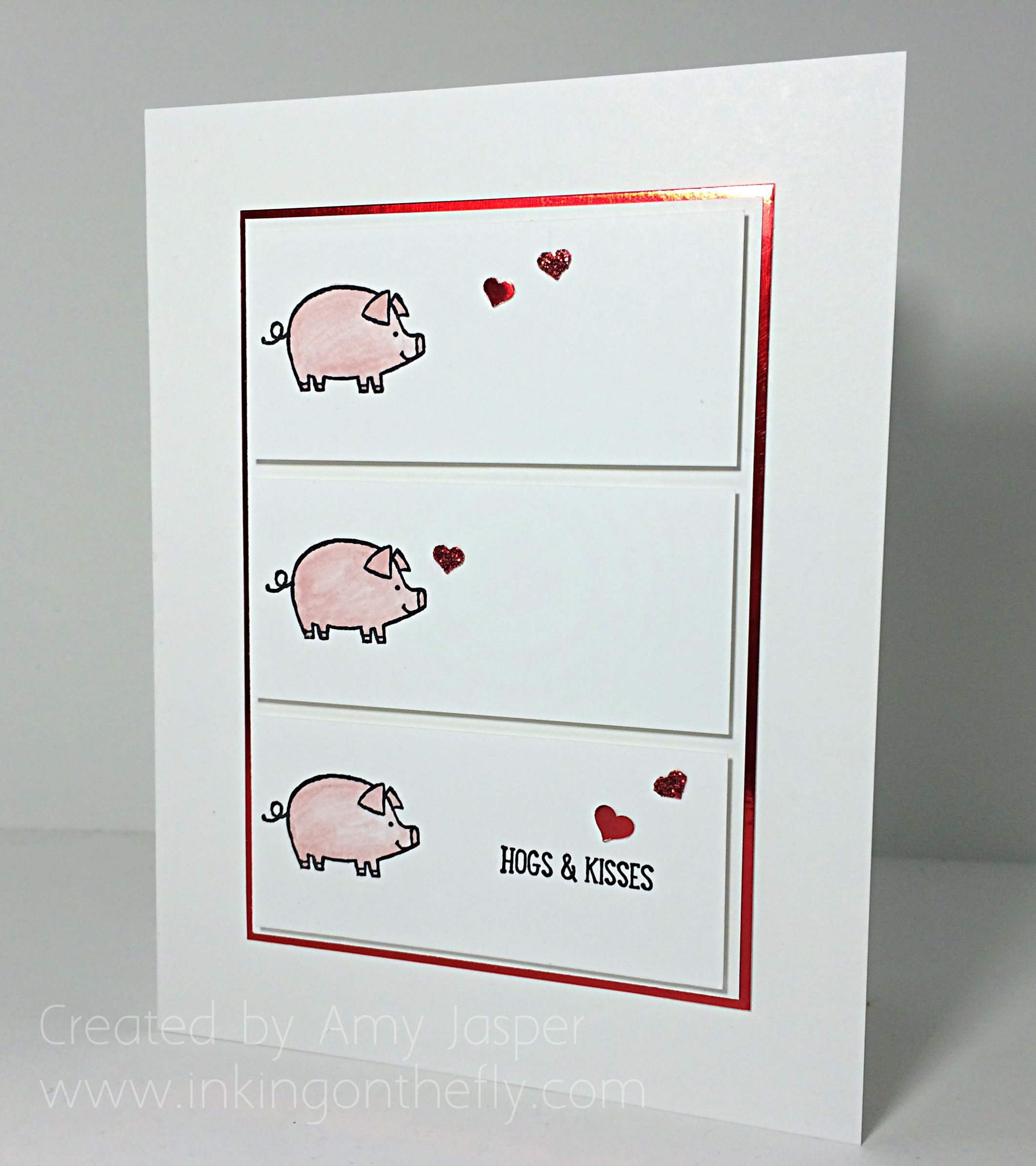 I hope you like it. I look forward to making a couple more and giving them to my co-workers with a yummy chocolate to let them know I care. But maybe I will give it to them before Valentine's Day – just to be clear that I don't need a designated day to show my appreciation.
Ha!
I encourage you to try the As You See It Challenge, but check out the others also, they have some great designers with fabulous ideas!
I'd love to hear how you get through the February drearies. Leave me a comment and share your wisdom!