I've been spending some time online keeping a close eye on the forest fire that is burning just about a 15 minute drive from my home. I video-recorded the belongings in my home for insurance records. I also put aside important documents like birth certificates and passports. People (some of them are my friends) and their livestock have been evacuated.
The wind changed yesterday and our neighbourhood is filled with hazy smoke. In BC, we've had more than 1000 forest fires since April 2017 (that's more than one million hectares of land!) and more than half of them are caused by human carelessness. Often it is cigarettes tossed out the window of a moving vehicle, sometimes is a spark of a hot vehicle on dry grass, sometimes it's from a poorly attended campfire. If you travel to Canada in the summer (it's beautiful here in the Okanagan when the air is clear of smoke), be aware of your smoking habits. It's often the cigarettes out the window that threaten neighbourhoods. That is likely the cause of the fire that could threaten my own home today, if the wind blows unfavourably. So, please be in the habit of butting your cigarettes in your vehicle, don't smoke in our forests or grasslands AT ALL, and don't flick your butt, EVER! You may not have the same risks in the area where you live, but good habits could protect you and the  people you love, wherever you are.
I also ask that everyone be on watch for people who are not being responsible and say something to them. Report them, if need be. It's not worth risking our lives, our homes, our pets, our beautiful forests or the creatures who live in them. It breaks my heart to think of all of those who have been affected by fires over the last few years.
My card design today is not intentionally related to this topic, although, I read the sentiment and realize that it is! LOL! I did not plan this at all!
Here is the As You See It Challenge sketch from which my design was inspired: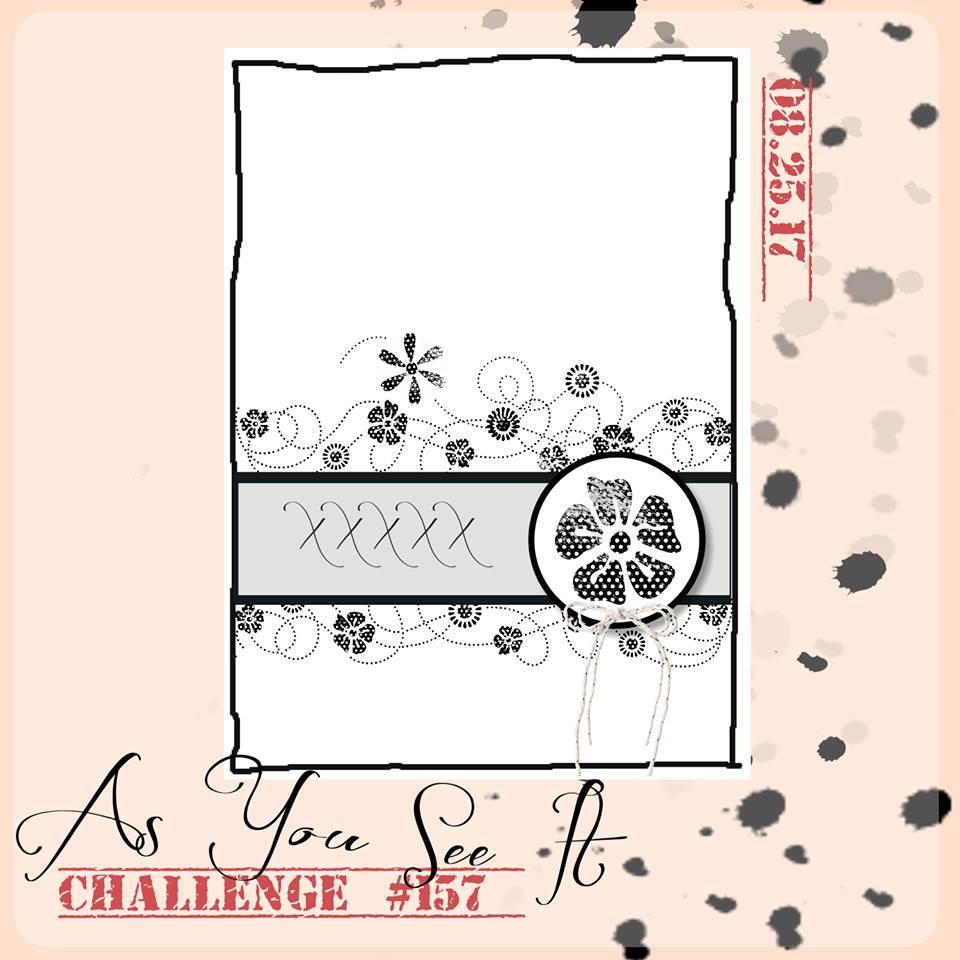 Here is my fire-safety card, lol! The sentiment is from the Birthday Banners stamp set.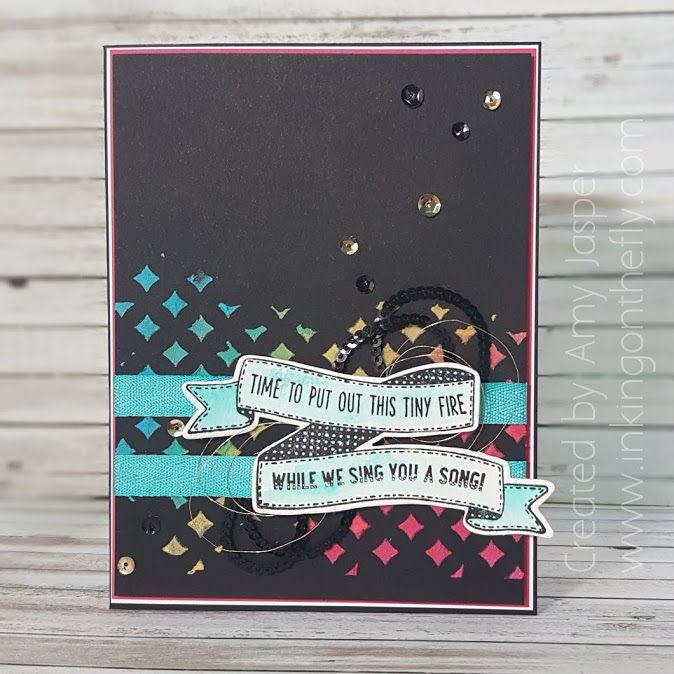 I used a small amount of Embossing Paste from Stampin' Up! in three separate little containers. Then I added a tiny drop of colour to each of them: Daffodil Delight, Melon Mambo, and Tempting Turquoise. I mixed each one until the colour was fully blended into the paste before spreading each colour over the diamond- shaped mask from the Patterned Party Decorative Masks. I love how each colour blends ever so slightly into the next.
The sentiment and banner were stamped in Stampin' Up! Archival Black on Watercolor Paper. I was careful to make sure it was fully dry before adding a Bermuda Bay colour wash over the banner area. I also added some little white decorative dots to the words on the bottom banner using my White Chalk Marker (not sure if I like that as much).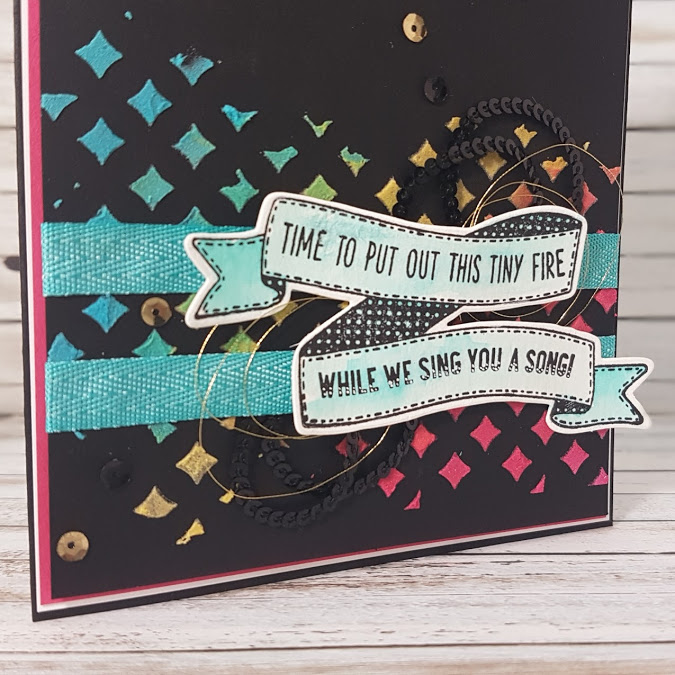 The 3/8″ Mini Chevron Ribbon in Bermuda Bay was added behind the banner along with the Black Mini Sequin Trim and the Gold Metallic Thread. The banner and metallic thread was adhered with Stampin' Up Dimensionals, while the ribbon and sequin was attached on a strip of Tear and Tape.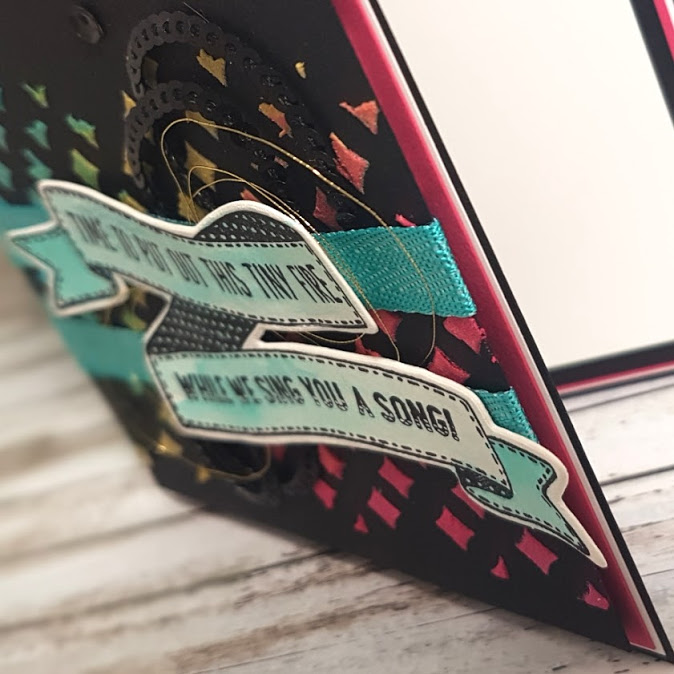 I added the Metallics Sequin using the Fine-tip Glue Pen, then assembled my layers:
Card base is Basic Black cardstock, then a delicate layer of Whisper White and a slightly wider layer of Melon Mambo cardstock. The completed top layer of Basic Black with the embossing paste and sentiment were attached to the Melon Mambo cardstock with Stampin' Up Dimensionals.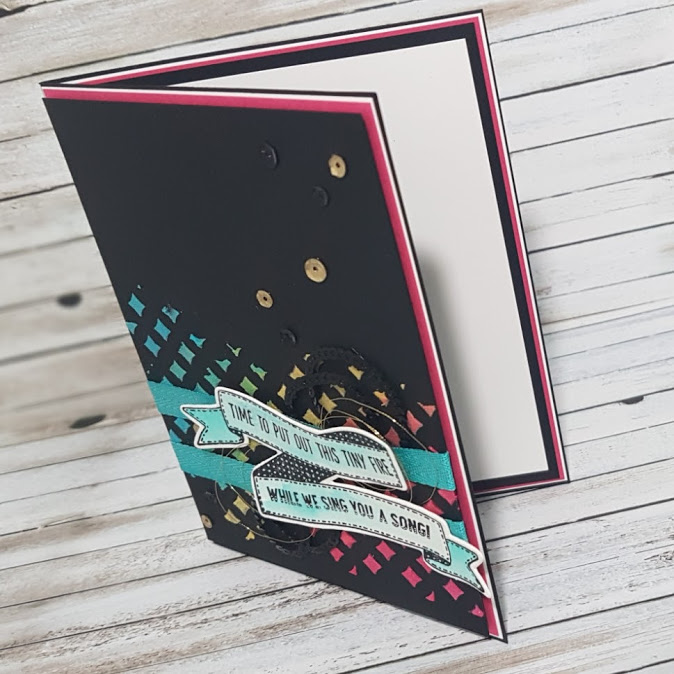 I used the same layering to complete the inside of the card, finishing with a layer of Whisper White cardstock for writing a personal message to the recipient.
I'm writing this late this morning and a bit hurried as I have to take my kids to swimming lessons and I haven't finished video-recording my craft room supplies or my ski equipment. I think I will take my dog to swimming lessons today, just in case (we will have to watch the kids through the windows from outside, of course).
Try this As You See It sketch for yourself and show us what you come up with by uploading it to you As You See It challenge website.
And be fire-safe!! Candles, too!!
Save