I have a card for today's colour challenge that uses the Snowflake Card Die from Stampin' Up! with some atypical snowflake colours and I think it turned out beautifully!
Check out this palette: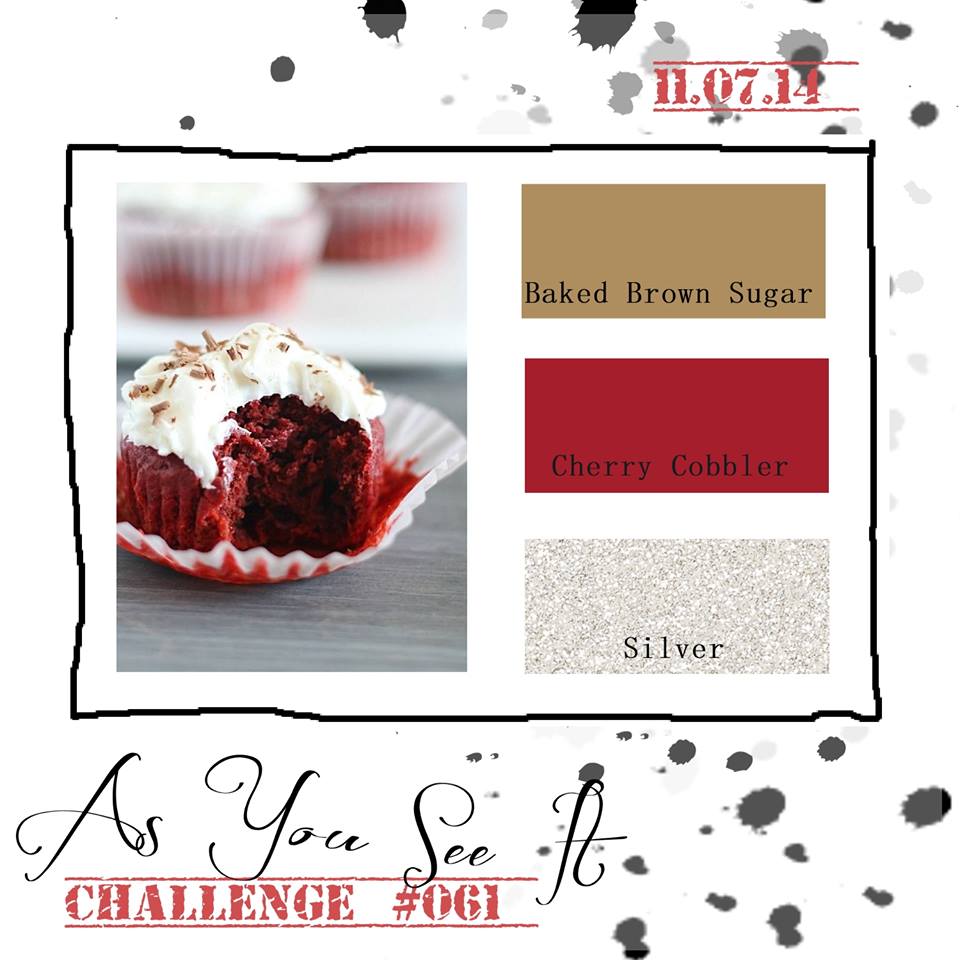 When you think of beautiful snowflakes, do you imagine them in red and brown? Not usually. You probably think of white, silver, or blue if you have snowflakes on an art project. However, these challenge colours: Baked Brown Sugar, Cherry Cobbler, and Silver give a warm earthy feel to something normally cold and crisp. Snowflakes fall slowly and quietly, they dampen the noise in the street, all while you are warm and cozy by the fire in your living room. These are cozy colours of sitting by the fireplace on a cold, snowy day.
I have been aware that I need to slow down a bit lately and have been completely unsuccessful. In fact, I think I've had more going on in the last month than I've had in a long time! The autumn months are always busy in the stampers world with all of the Christmas preparations. It's busier with the kids in the fall as well. I find that whenever I'm able to delete something from my time table, another thing comes along to fill its place. I was asked the other day what I do for downtime, to recharge, and I realized it's been so long that I don't even KNOW what I do for downtime. Part of that is the busy life of a mom of 3 ever-going kids – I'm always one or two (or 23) steps behind everything! It's gotten a bit out of hand lately. The house is a disaster with piles of stuff all over the place, boxes of stamping supplies still waiting to be put away after events long gone, school papers from the kids, clothes in boxes that need to go to charity – I've lost things in the clutter and have found myself forgetting things while attempting to juggle the activities and events for me and my family.
But … I watched a bird today. It wasn't doing anything special – just silently flying above the noise of the cars zipping around on street below, in its own world, just being a bird. I think it was playing on a breeze up there. I wanted to be like that. Just 'in the moment', not caring about anything or anyone. Enjoying 'being'.
So, I take notes from the bird and ponder a snowflake falling slowly and quietly, and I am going to try to be more like that for a while. To slow down. To enjoy some 'being'. And a part of that will be to take a break from my stamping events so I can catch up on the needs of my household and my family. I might even light the fire in our living room and have a cup of tea. Why not? Crazier things have happened before, lol!
I designed my card while I was away at the Creative Escape Retreat at Rockridge Canyon in Princeton, BC. The photo below shows the card closed. I used the Snowflake Card thinlit in the Big Shot to cut the card base but using a full 5.5″ x 8.5″ piece of cardstock so that the thinlit would not cut it on the one end (I'm sure you've seen these sorts of dies used this way before – if not, google 'extended flip card' and you should find a tutorial')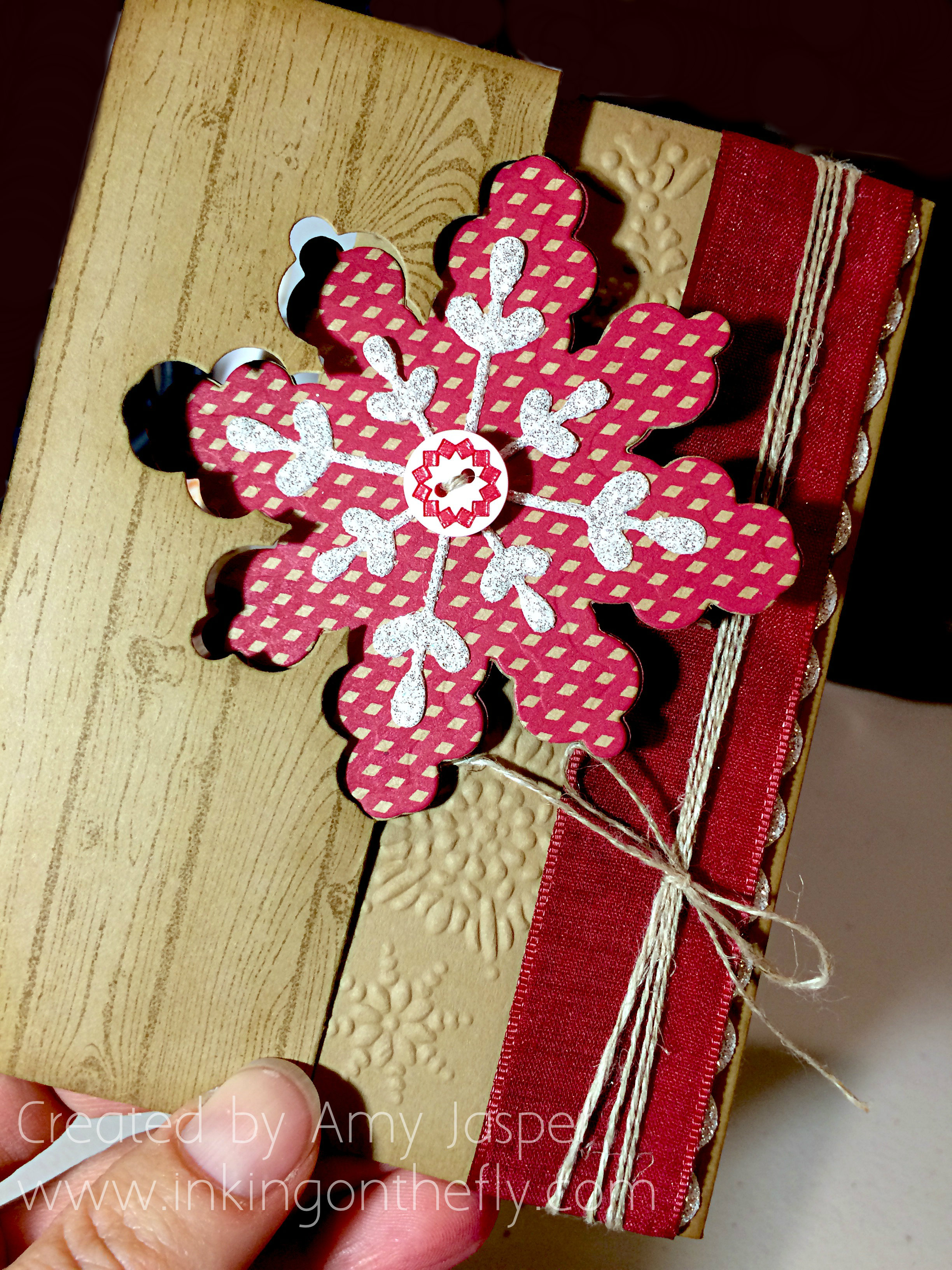 The die set for the Snowflake Card thinlits includes the die for the Silver Glimmer snowflake in the center of this card as well as the Joy and the mini snowflake that are inside the card. It has a bunch of die shapes that are all very useful.
Oh, my goodness, I used a ton of things on this card:
Baked Brown Sugar cardstock, Cherry Cobbler cardstock and Under the Tree Specialty Designer Series Paper. Nordic Designer buttons. Cherry Cobbler 1″ Sheer Linen Ribbon. Linen Thread. Silver Glimmer Paper. Scallop Edge Border Punch. Hardwood Background Stamp with Baked Brown Sugar Ink. Northern Flurry Embossing Folder. Sponging with Baked Brown Sugar ink. 1 3/4″ scallop punch. 1 3/8″ circle Punch. 1 1/4″ circle punch. Snowflake Card thinlit dies. Big Shot (by far, my most FAVOURITE TOOL!!). Sticky Strip, Tombo Liquid Multipurpose Glue, and Stampin' Dimensionals (another favourite supply item.
The photo below shows the card with the snowflake flipped to it's other side as the card is opened.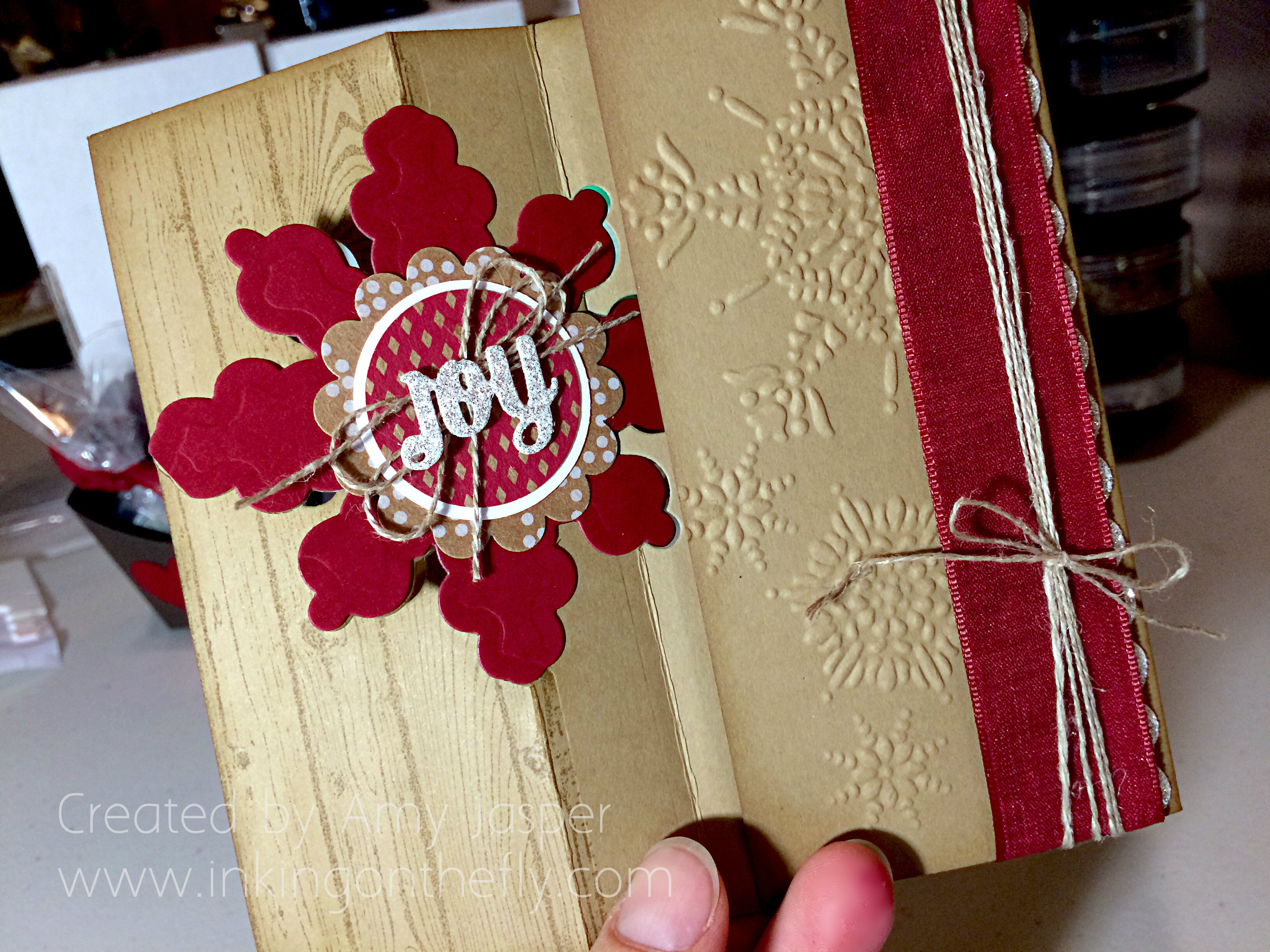 The next photo shows the card fully opened to reveal the available writing space and the entire inside of the card.
You might be wondering how I cut the large Cherry Cobbler snowflake when there isn't a die that fits in that space. I used the full thinlit die for the card base and laid it on a piece of Cherry Cobbler cardstock that was just big enough to fit that section of the thinlit. I ran that through the Big Shot, which leaves you with a partially cut large snowflake. I then removed the partially cut piece of Cherry Cobbler cardstock and repositioned it by 90 degrees so that when I ran it through the Big Shot again, it would cut the areas that weren't cut the first time.  Because the top and bottom of the shape are exactly the same as the sides of the shape, this works! Easy peasy!! (Maybe not as easy to understand with written words, sorry I don't have a quick photo tutorial for you).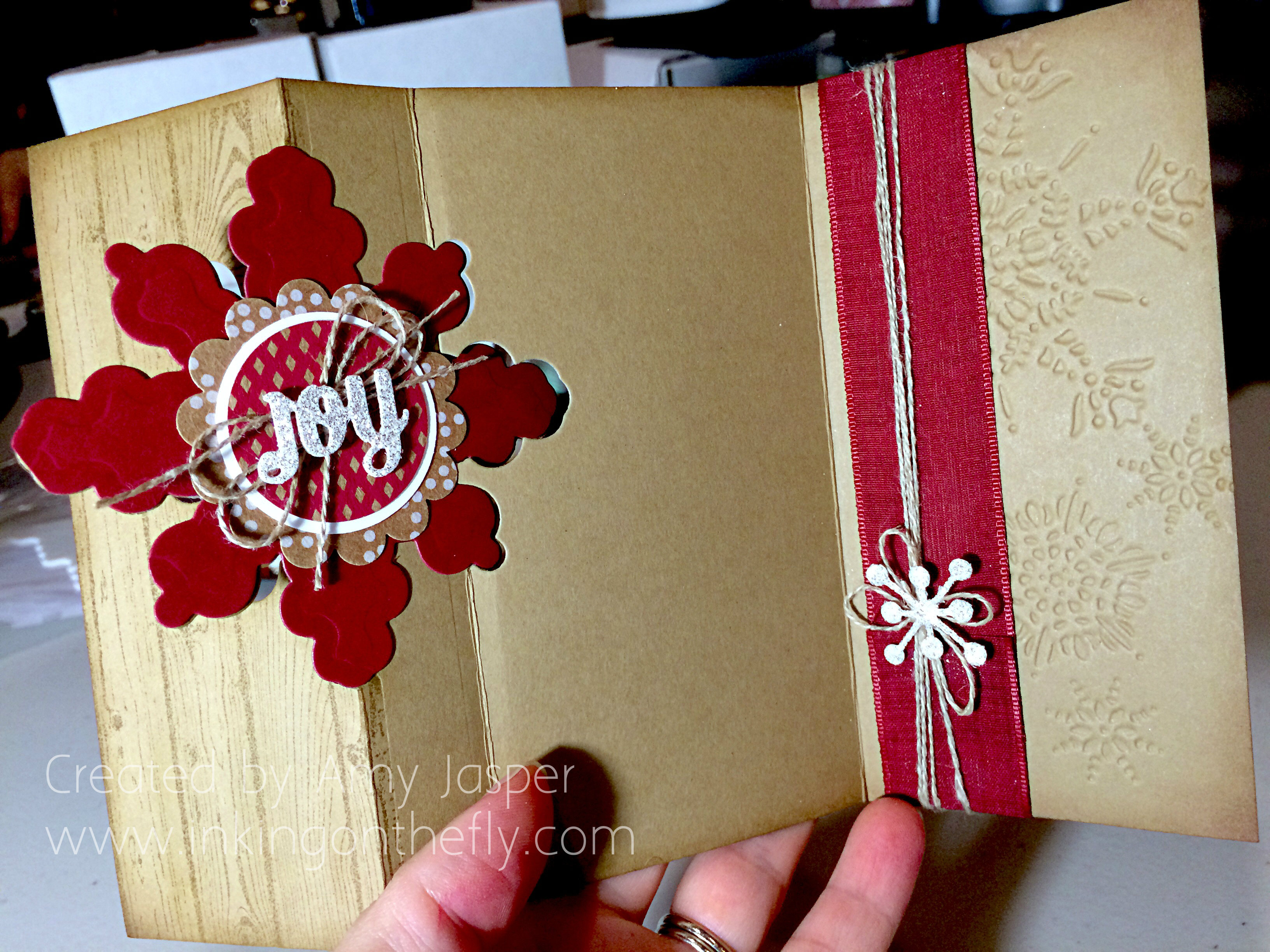 I hope you give this colour combo a try and link it up to the As You See It Challenge blog! I love to see what you come up with!
Amy