There are so many favourite things that are retiring as the 2014/2015 Stampin' Up! catalogue comes to a close at the end of May. They need to make room for NEW favourite things!! I'm purposely featuring retiring product in my next few posts so that you won't miss out on your chance to order these items before they're gone for good!!
My design for As you See It Challenge #85 features the Today and Everyday stamp set, the Top Note Bigz Die, and the Argyle Embossing Folder, all of which are on the retiring list. The Argyle embossing folder also happens to be 50% off! If you haven't seen the retiring list, you should definitely have a look. A lot of items are discounted.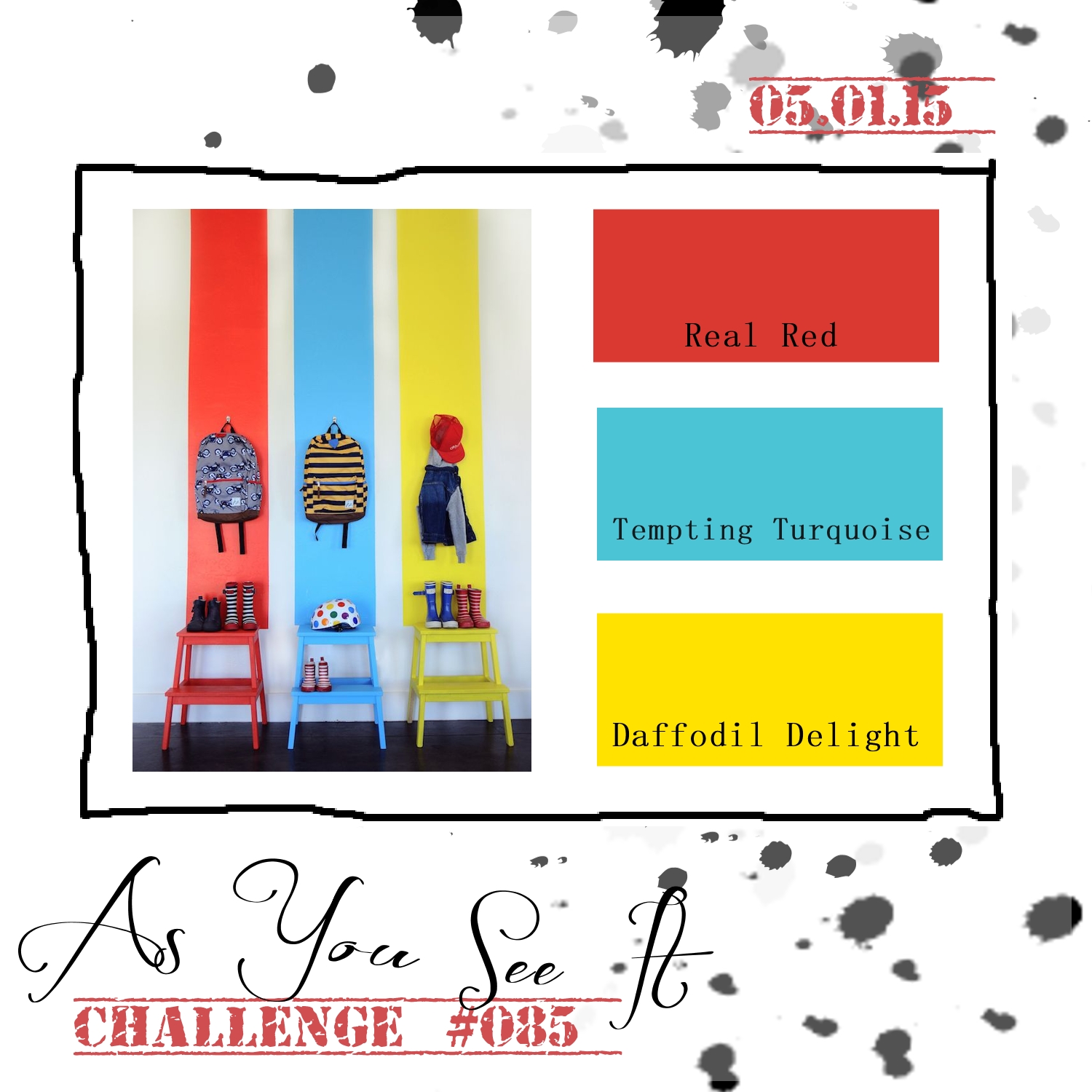 Here are some colours that definitely screamed "FOR THE CHILDREN!!" to me, lol! However, I resisted the urge to make a kid themed card (though these colours are absolutely perfect for that purpose – so crisp and playful).
Instead, I went for bright and happy!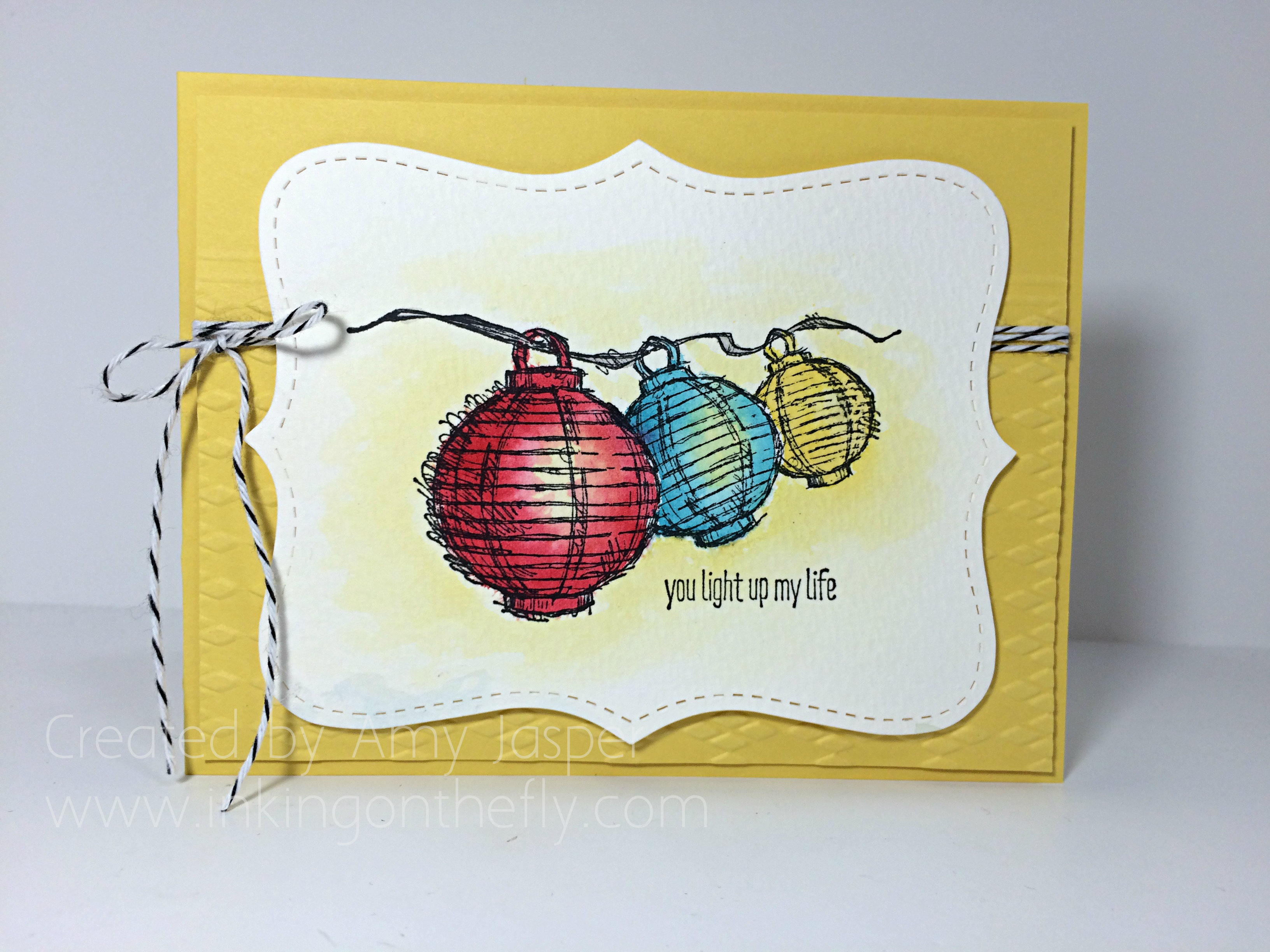 I really wanted to play around with light in my water colouring for this design. I cut my Top Note shape from some Watercolour paper and stamped my image with Jet Black Stazon ink. Starting with Daffodil Delight ink and an Aqua Painter, I highlighted all the areas that I wanted to appear to be glowing with light, focusing on a spot inside the lanterns as well as colour-washing around the lanterns. After allowing that to dry, I went in again with each of the lantern colours (Real Red, Tempting Turquoise, and Daffodil Delight) working around the area where I had already applied the Daffodil Delight highlights and focusing darker, more saturated colour on the edges of each lantern. Less water and more ink allows for greater saturation of colour. I love that I can squish the ink pad when it's closed so that the ink smudges onto the inside of the lid. Then, when it's opened, you can use the inside of the lid as a palette for your colouring. You can also just apply a drop of re-inker in the inside of the lid.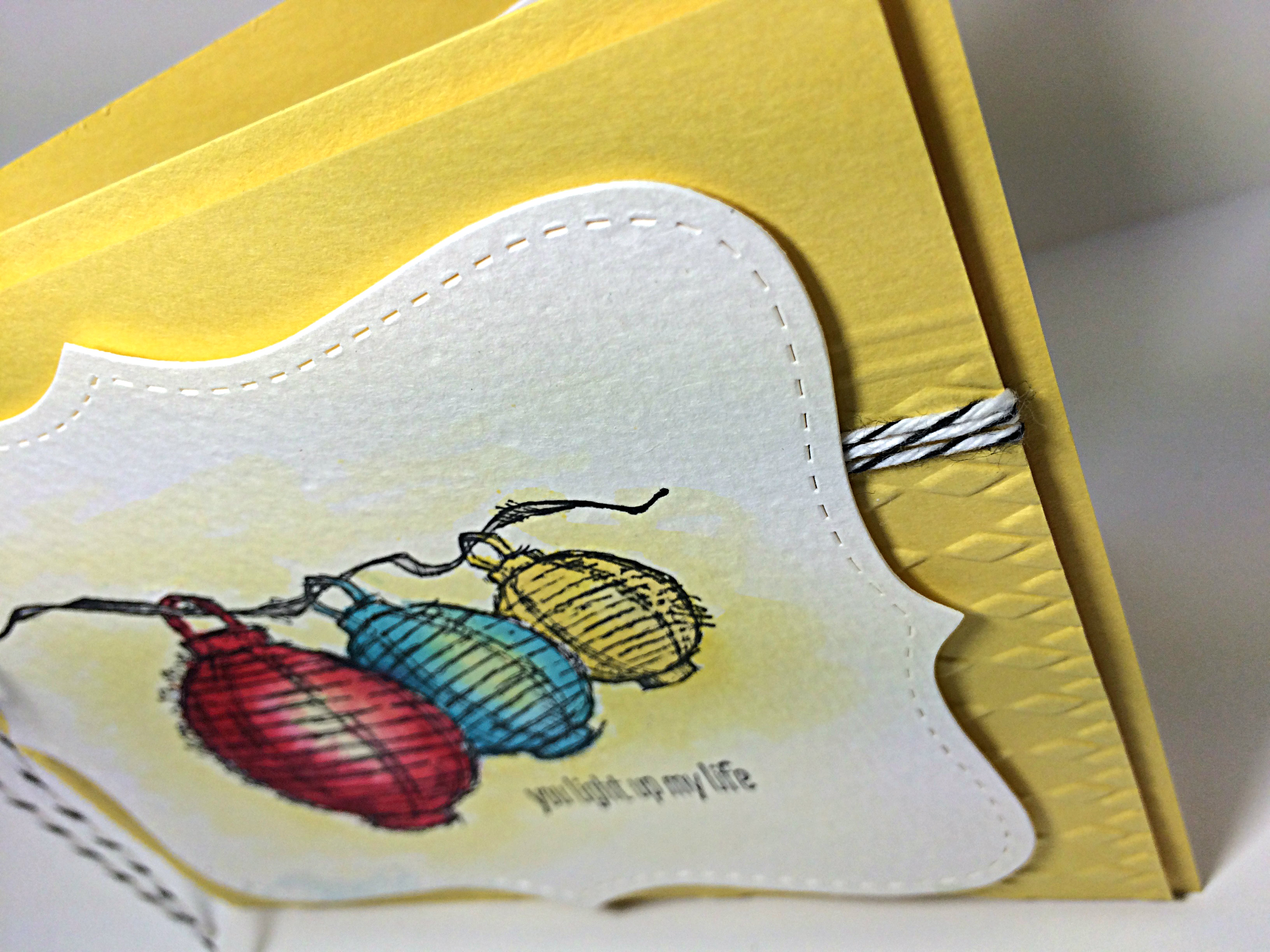 When the colouring was complete, it was time to work on the second layer of this design. I chose Daffodil Delight cardstock for my base and a layer of the same colour over it with texture for added interest. That's where the Argyle Embossing Folder comes in. I only put about 2/3 of the piece of cardstock into the folder, leaving that 1/3 untouched and smooth. I like this look. Sometimes, you can have too much of a good thing, so this eases off on the weight that embossing adds to a project. I did my two line scoring technique at the junction of the embossed and the smooth, just to give it a more finished look. Then, the Basic Black Baker's Twine was wrapped around three times and tied in a bow with lovely long tails.
If you have ever visited my blog before, then you KNOW how much I use and LOVE my Stampin' Dimensionals. This design has them too, of course! Each layer is popped up on these lovely little hexagon shaped foam stickers. Rarely a flat card you will see in my hand-made collection!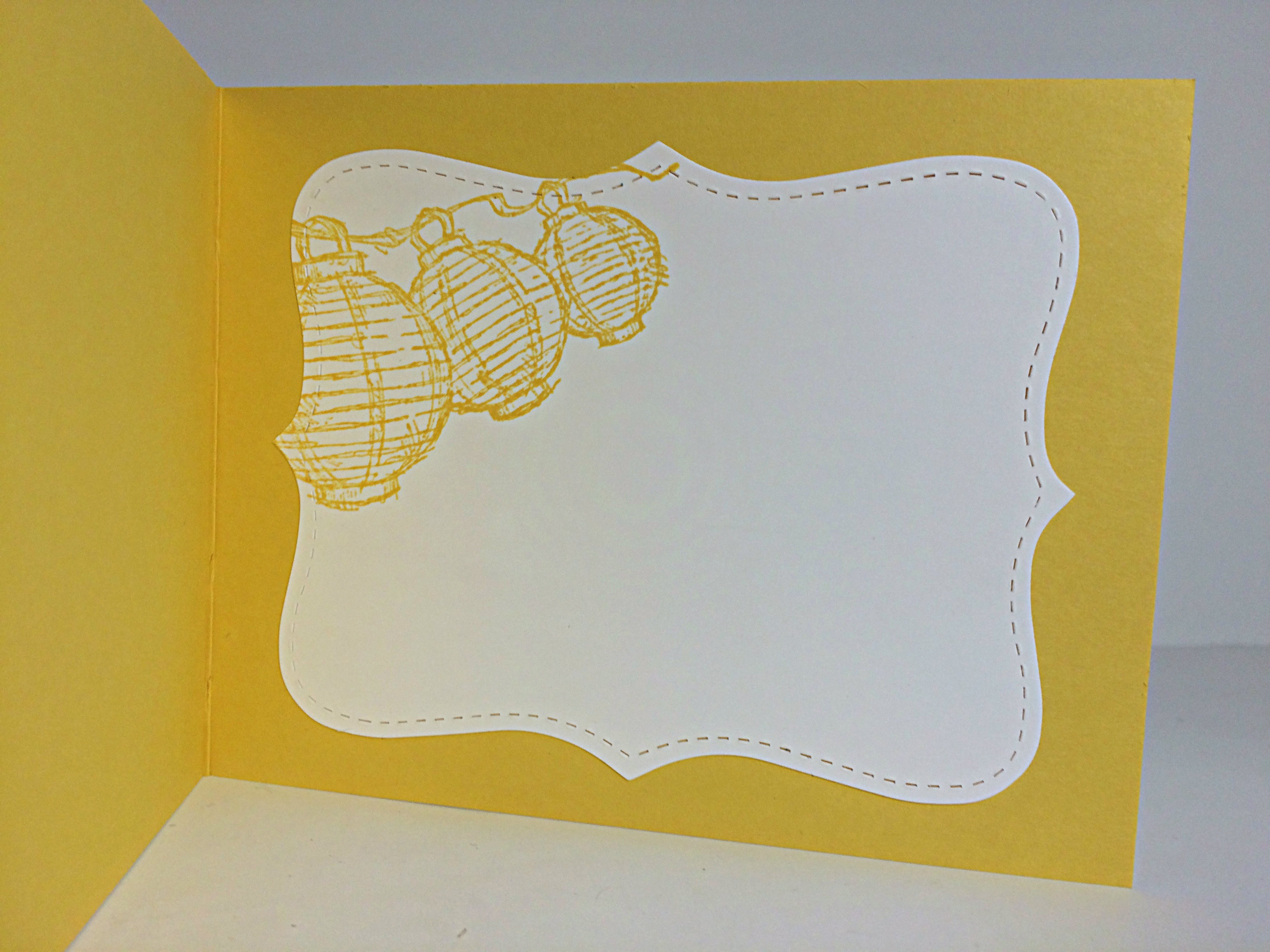 Lastly, one of my favourite things to do with the Top Note Bigz Die: A decorative inside to finish off my design. The same image on the front was stamped with coordinating Daffodil Delight ink onto a die cut piece of Whisper White cardstock and adhered for a pretty little writing space.
What do you think? What's on your list of supplies to buy before June 2nd. Some things are already sold out! Be sure to put your order in sooner than later so you aren't disappointed.
Make sure you give this colour challenge a go. It's fun, cheerful, bright, happy, crisp, and playful, too. Great colours to cheer someone up with – to light up someone's life!!
Amy