I'm so excited to share my card with you today. Because today, I get to show my support for a brave 9 year old girl whom I've never met. Lola has been battling Leukemia since 2011. You can learn more about her on the Team Lola Facebook Page.
The As you See It Blog has dedicated the card challenge to Lola this week. I hope you will show your support to her and her family by making a card for her, too. Just imagine the smile on that beautiful face as she sees all of the cards and projects created just for her!
Lola, I chose to use pink and to put a fairy on my card for you. Not everyone knows that Gold is the colour to represent childhood cancer, so I have lots of gold on my card for you, too. I hope you like it!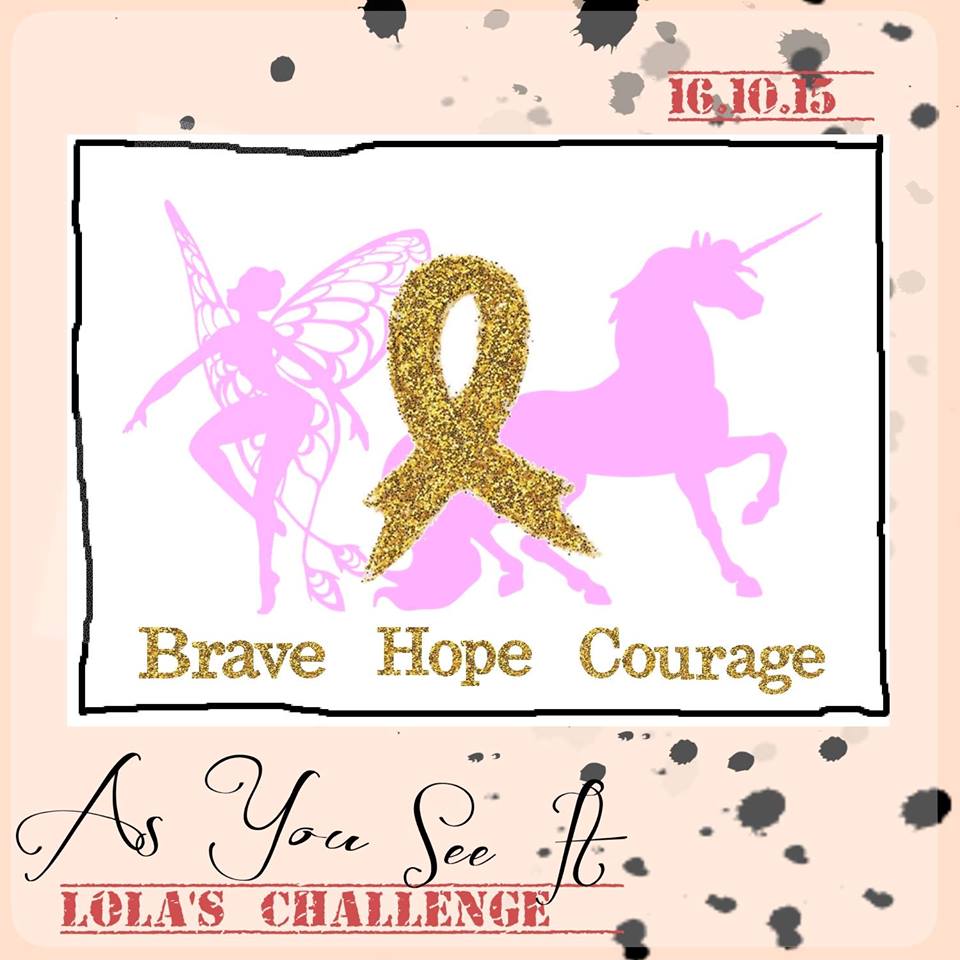 I love fairies, so of the images for this challenge, I decided to do a fairy card.
Only problem was that I didn't have any fairy stamps – I have butterflies (lots of butterflies), I have dragonflies, I have dinosaurs, I have robots and I even have gnomes, but no fairies and no unicorns anywhere. But I did have a retired stamp set that I've loved forever that had images of people – specifically, of the girl variety of people.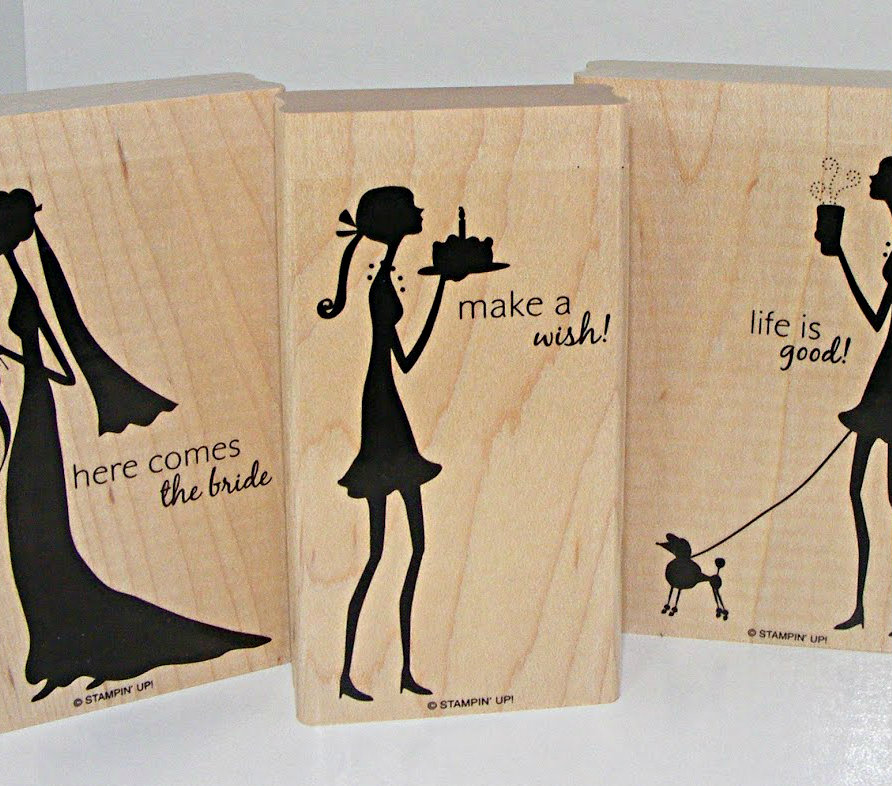 The set is called "She's All That" and, though it's not available from Stampin' Up anymore, you can actually purchase it on Ebay.
Now, the image wasn't perfect for my needs; as you can see, she was originally walking upright and holding a cake! However, I was able to do a bit of crafty work to stamp the image without her cake and with her legs bent to give a bit of the impression that she was not touching the ground. All I'm going to say is that it involved some scotch tape and the Stamp-a-ma-jig from Stampin' Up.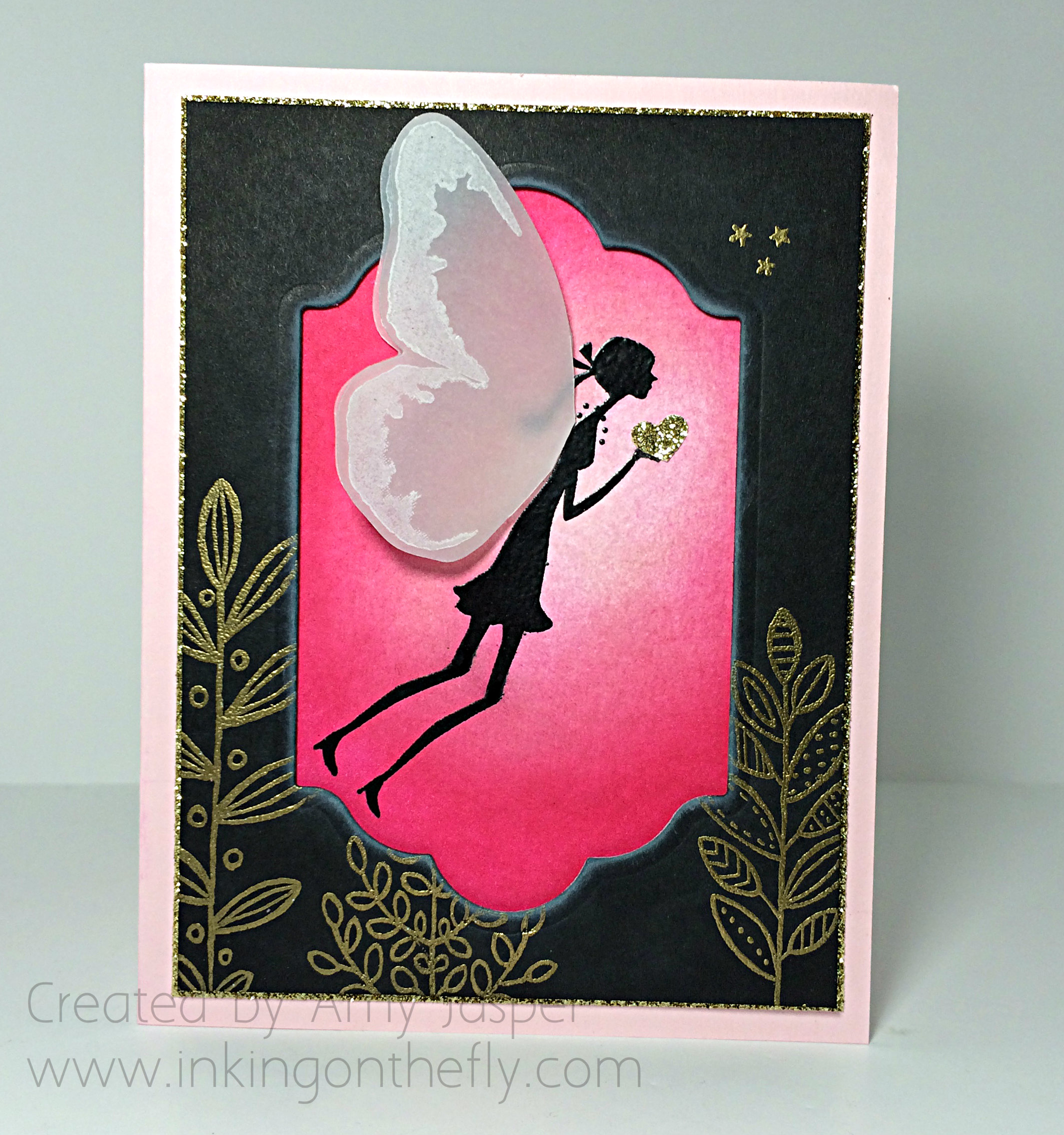 If I had the Confetti Hearts border punch, I would have had multiple little hearts blowing off her hand like kisses in the wind.
I don't have that punch.
Instead, I used the Hearts Border Punch and took one of the little hearts from that for my fairy to hold.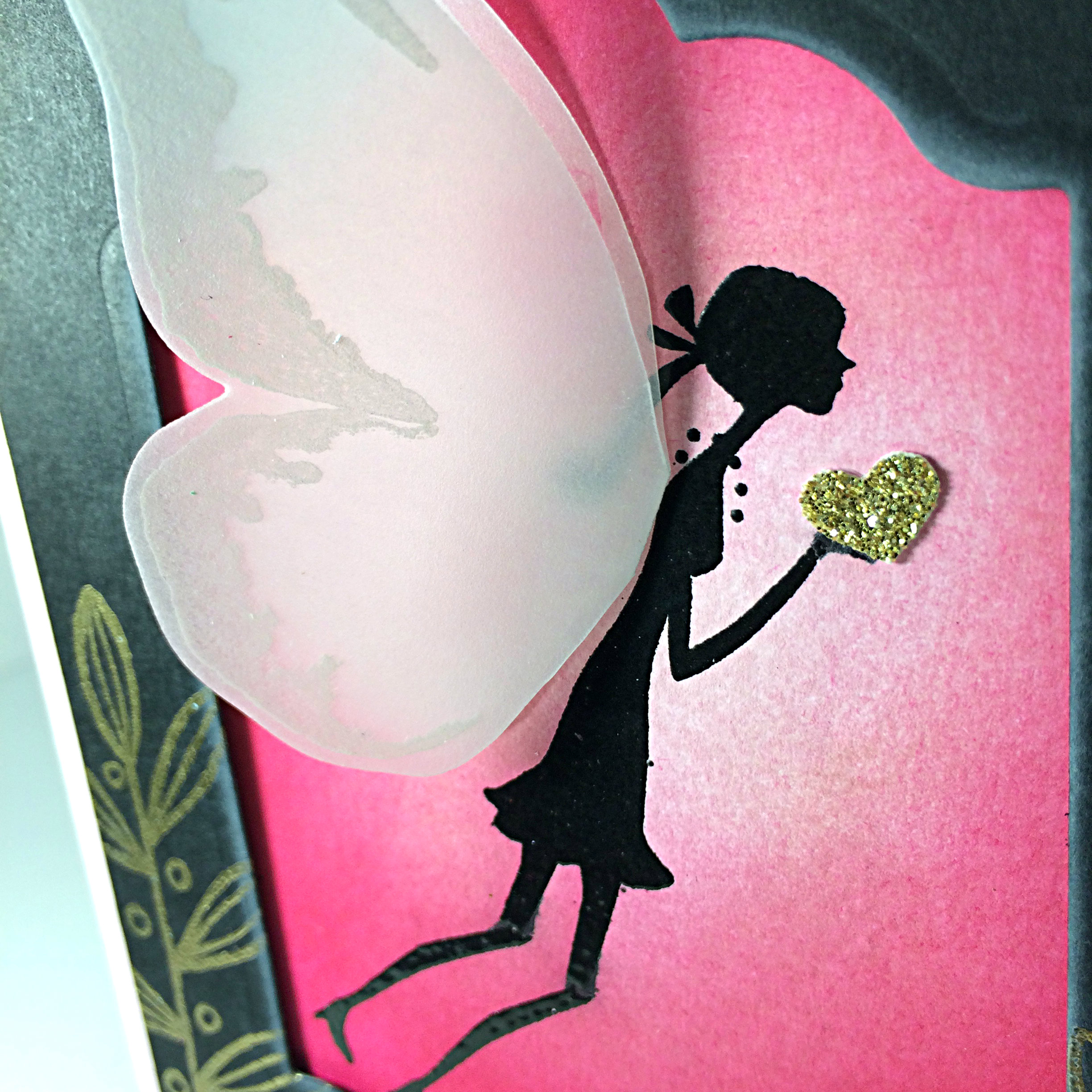 There are a lot of artistic elements to this card (which means I was having a lot of fun!). I first stamped the girl on Whisper White cardstock with Versamark ink so I could heat set Black Embossing Powder over the image so she could be very black and shiny. Then I got to work with a sponge and three pink inks (Pink Pirouette, Blushing Bride, and Melon Mambo) to sponge my background.
The fairy wings are created with Vellum Cardstock, White Stazon ink, the Watercolour Wings stamp set and my Big Shot with the Bold Butterfly framelits. The butterfly die cut image was then folded in half and the body of the butterfly was trimmed away before adhering the wings to my wee lassie. I used Fast Fuse, but you can totally see it if you lift that top wing out of the way.
My black frame was created with Basic Black cardstock, the Big Shot, and the largest of the Lots of Labels framelits. After cutting out the center of the cardstock, I used my Lighthearted Leaves stamp set with Versamark ink (by the way, I always use my Embossing Buddy before I stamp for heat embossing!) and stamped them on the card, heat setting them with Gold Embossing Powder. I also added the three wee stars from the Jingle All the Way stamp set and embossed them with gold.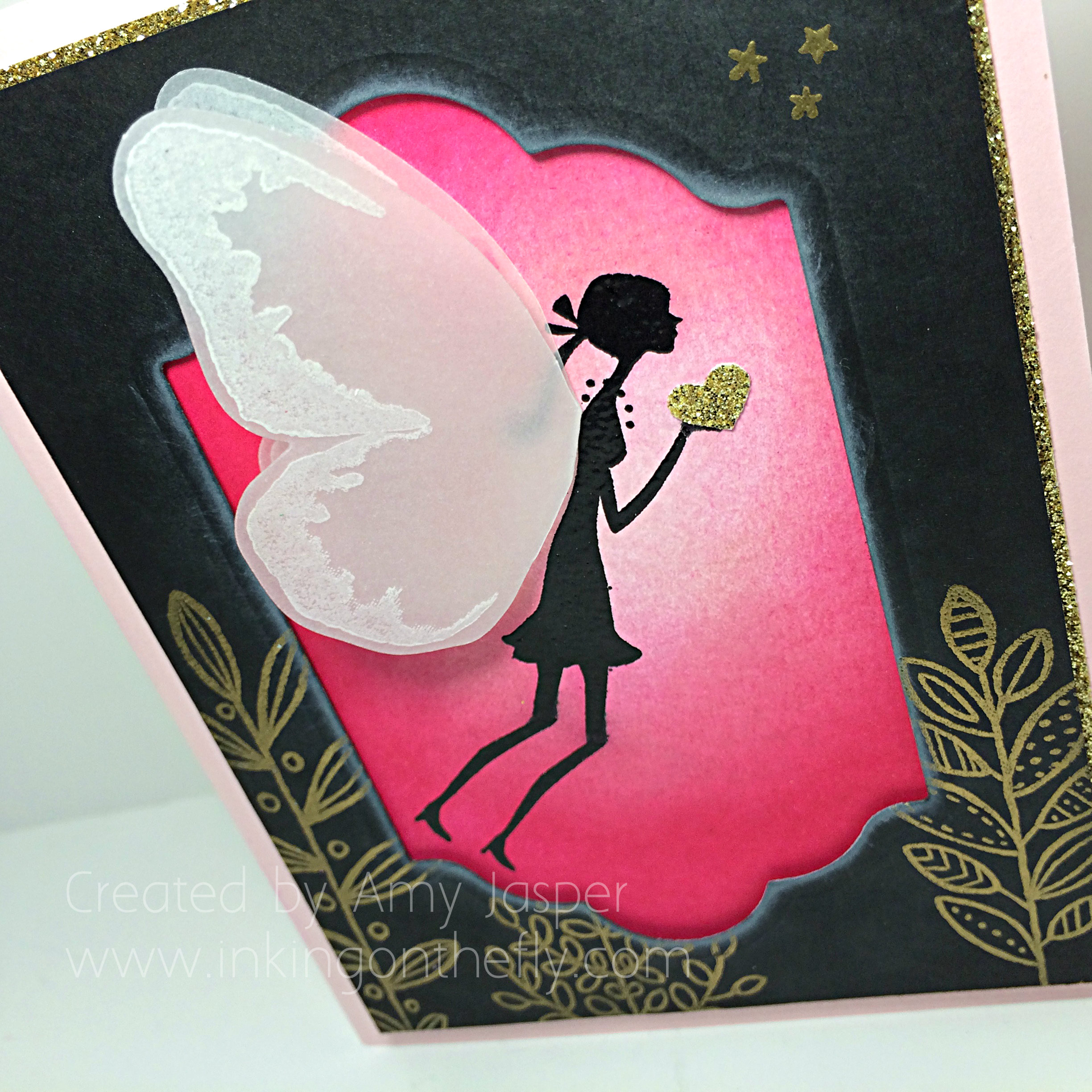 Whisper White Craft ink was lightly sponged around the inside edge of the frame, which was then adhered over the fairy image using Stampin' Dimensionals. All of this was matted with Gold Glimmer paper before adhering it to the Pink Pirouette cardstock card base.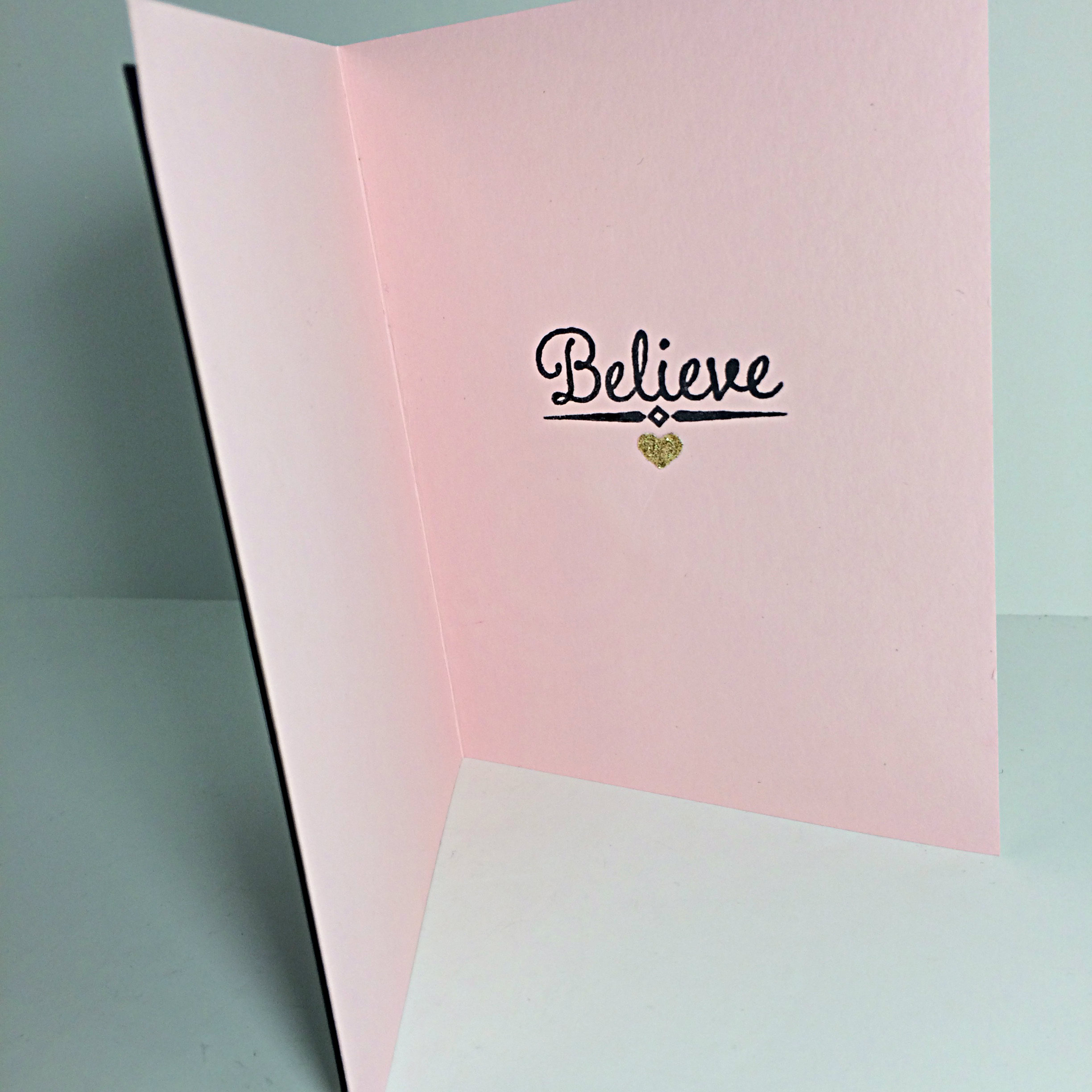 On the inside of this card, I stamped the 'believe' sentiment and added another Gold Glimmer heart to embellish it.
I do believe in fairies, I do, I do!
Hang in there, Lola. We're all rootin' for you, praying for you, and sending love your way.
And, dear readers, don't pass on the opportunity to bless a brave girl with digital cards of support and encouragement. Do the challenge this week and share your finished project on the As You See It Challenge blog so Lola can enjoy your gift to her!