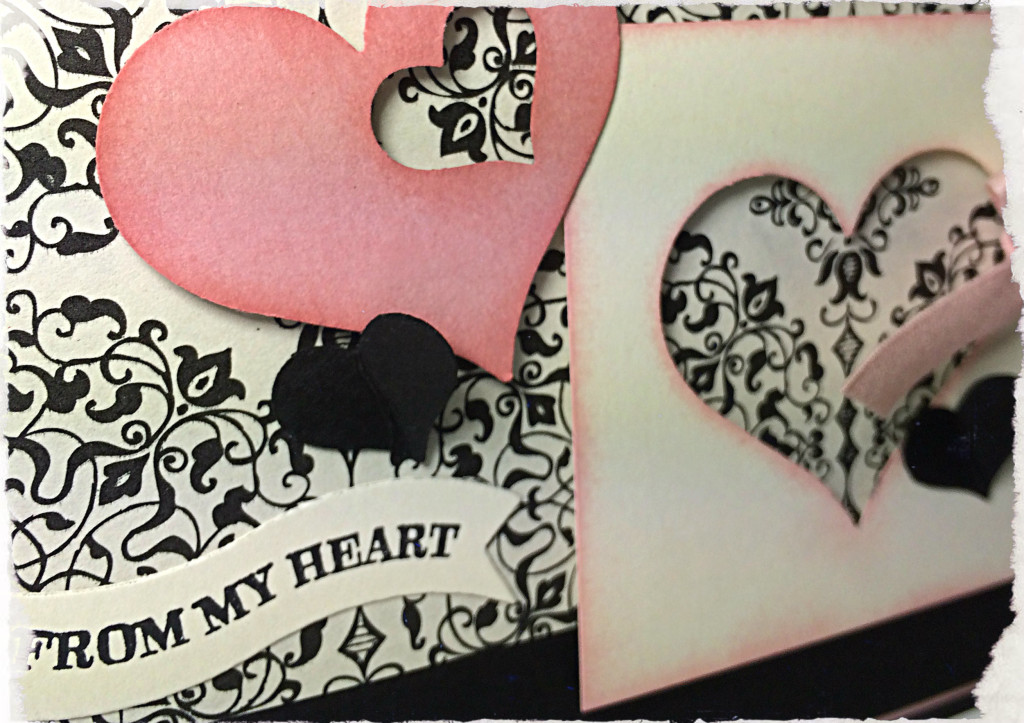 Welcome to my blog where I share the creations that I have designed using the tools and supplies from Stampin' Up!
I don't know if I ever explained why I call my blog "Inking on the Fly". It all started with ladybugs.
I love ladybugs.
They represent the complex beauty of the great outdoors (which I also love). I have a tattoo on my right hip of a ladybug that was etched in all it's permanency about 18 years ago and I still love it and it still suits me. My first blog was called "Ladybug Landing", but I decided that it did not have a descriptive element to it that had anything at all to do with paper crafting and rubber stamping! So, I thought of "inking on the fly" and then dropped the "ladybug landing" part altogether when I started this new blog.
As a busy mom of 3 kids (10, 8, and 5) who also works part time and tries to maintain my stamping business, my yard, my house, and my family's well-being, I don't have a lot of time for creating with my craft supplies anymore. When I do have time to design, I find that it is brief and rushed more often than not. So, when I "ink", I am often doing it "on the fly" … how does this apply to ladybugs, you ask? …. Well, they fly, too, silly!!
Here's the challenge this week. As you See it Challenge #42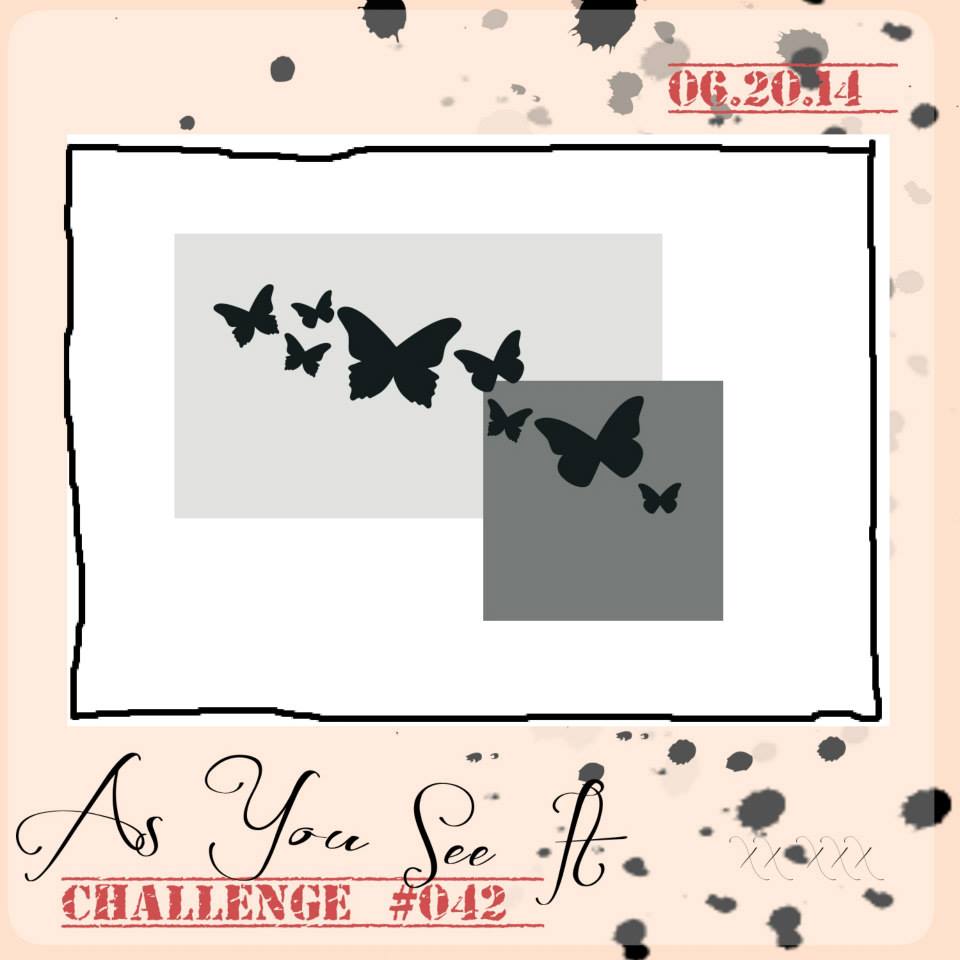 I was definitely inking on the fly when I created my card for this one. We have a camping trip planned for which I have done NOTHING to prepare. I have washed a few clothes and made a grocery list and menu. I have not packed ANYTHING! I guess inking isn't the only thing I do on the fly, lol!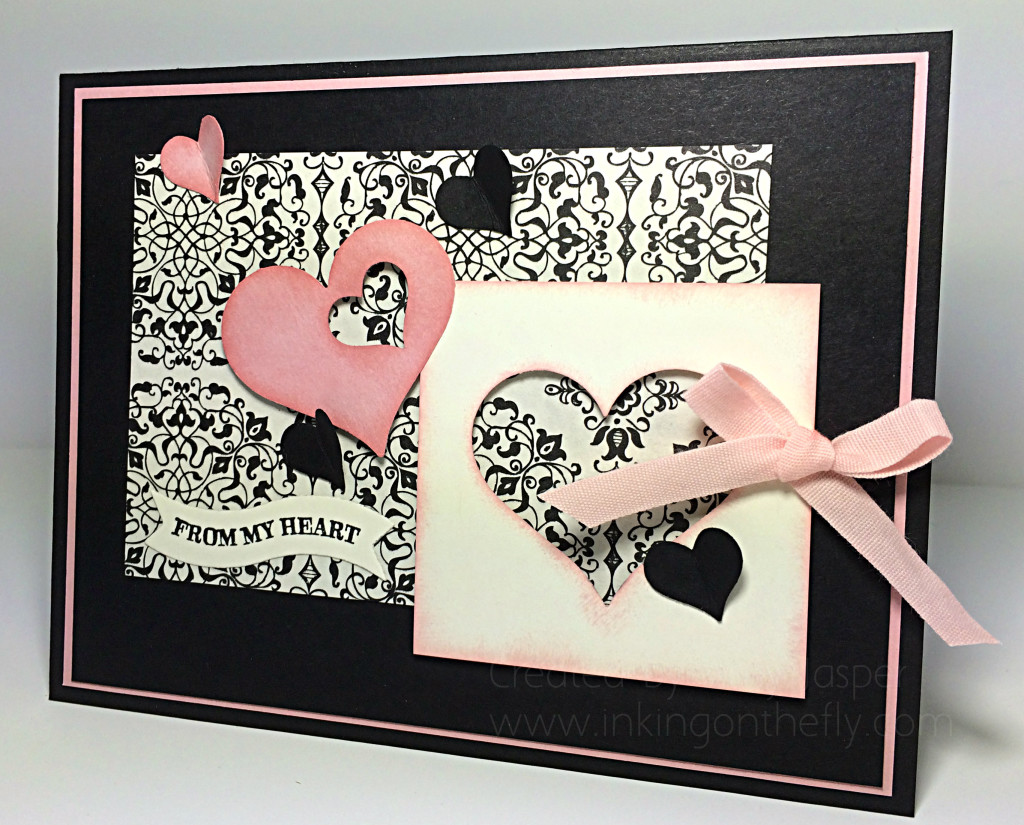 Ain't it purdy!!
Notice the new 1/4″ Blushing Bride Cotton Ribbon and the new Sweetheart Punches? The little punch is from the Itty Bitty Accents Punch Pack. The big heart is all on its own. Both have that sweet little curved tip on their tails – I guess that's the "sweet" part of the sweethearts.
I used Basic Black cardstock for my card base, then a layer of Blushing Bride cardstock to thinly frame another layer of Basic Black. Over this, I placed a rectangular piece of the fabulous Typeset Specialty Designer Paper. Then I played with the hearts!
I punched a Sweetheart from the square piece of Very Vanilla cardstock and sponged lightly with my sponge dauber and Blushing Bride ink around all the edges. I tied the ribbon through the punched out heart and attached the Vanilla cardstock piece with Stampin' Up Dimensionals to the card front.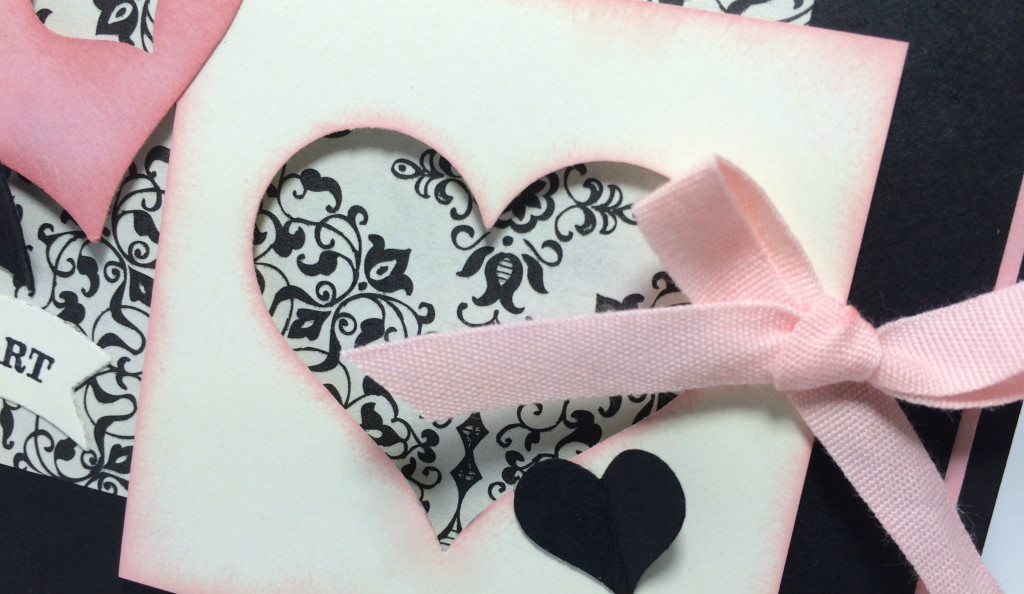 The small heart punch from the Itty Bitty Accents punch pack was used for all of the small hearts. I sponged Blushing Bride ink over the edges of those that were punched from the Blushing Bride cardstock. The large Blushing Bride heart is attached with Dimensionals while the small hearts were each creased in the middle and only attached to the card by the left lobe of the heart.
Finally, I added the sentiment from the Groovy Love stamp set. I stamped it on Very Vanilla cardstock with Stazon Black ink and die cut it in my Big Shot with the Bitty Banners framelits that matched the shape.
I hope you like it.
I'm sorry that I haven't posted what the winner receives for her prize from my draw. I will have to post that after the weekend. I'm doing too many things on the fly these days, lol!
Go on over to www.asyouseeitchallenge.com and have a look. There is a new challenge every Friday for you to stretch your creative muscles on. See what you can come up with for the sketch this week and follow the directions to link it before Wednesday night. We want to be inspired by the way you see it!
(do you sometimes ink on the fly, too?)
Amy