The day has finally come to pick a winner to receive the Stampin' Up! product care package!
Are you excited!!??
I want to make sure I remind you that just because the contest is over, doesn't mean you don't need to bother commenting. A quick note of acknowledgement from you might be the determining factor for whether I show my next project with you or just put it off another day and go to bed early, lol!
To be as random and objective in picking as I possibly could, I entered all of your names to a Random Name Picker. No hats, no writing names on fiddly little pieces of scrap paper, and none of my silly throw-it-in-the-air-and-pick-it-up-off-the-floor techniques. I went with pure technology on this one.
So, without further ado, here is what the Random Name Picker came up with: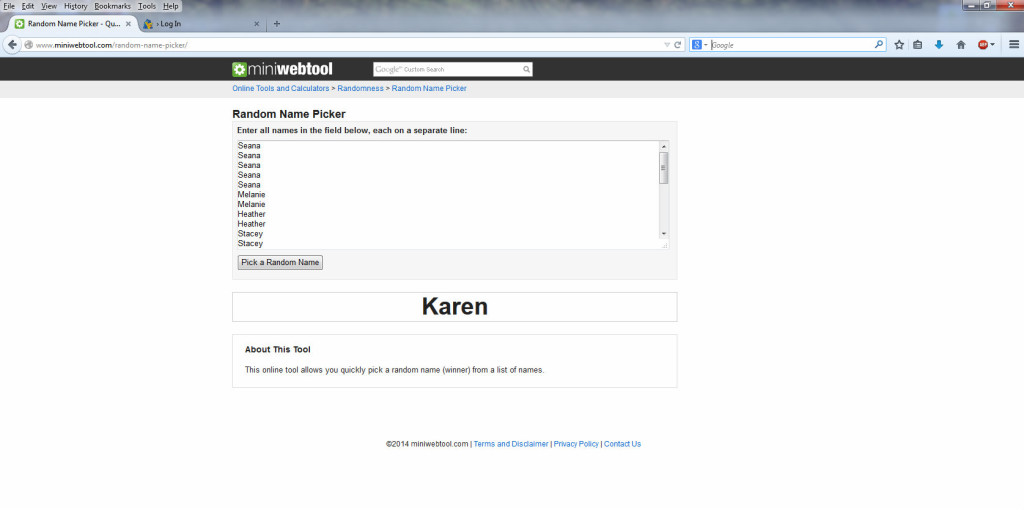 That is pretty small, can you read it, lol! I've never used a computer screenshot before. I'm very proud!
Congratulations to ….
Karen!!
(whom you are all probably well aware, also happens to be my mom!), which somehow is well suiting because she is my BIGGEST FAN!! LOL!
I will deliver your Stampin' Up! care package this week and will post what you won tomorrow for all to see.
Hope you will all play again next time, and keep those comments coming!! Just because there isn't a contest and a prize to be won, doesn't mean you should stop the love. I am so encouraged by your comments as they show me that you do, in fact, visit my blog, and that you have an opinion on what I've shared with you.
Thank you for visiting!
Amy.