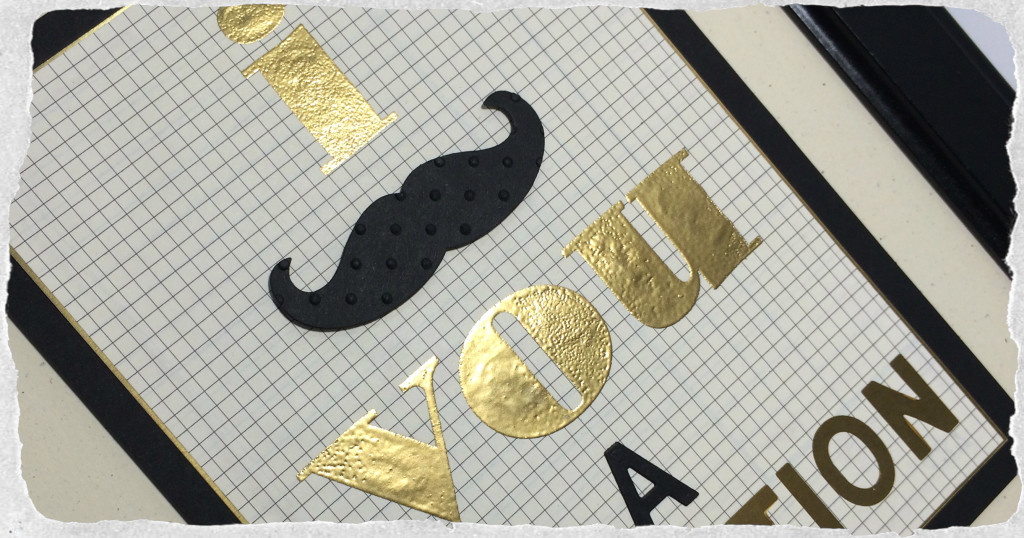 Welcome to my blog where I share my love of designing using Stampin' Up paper, tools, inks and stamps! I wanted to share what I recently did with my new Mustache Framelit and Little Letters Thinlits! All this for the As You See It Challenge blog for which I am one of the designers.
It is time for another challenge from the As You See It Challenge Blog!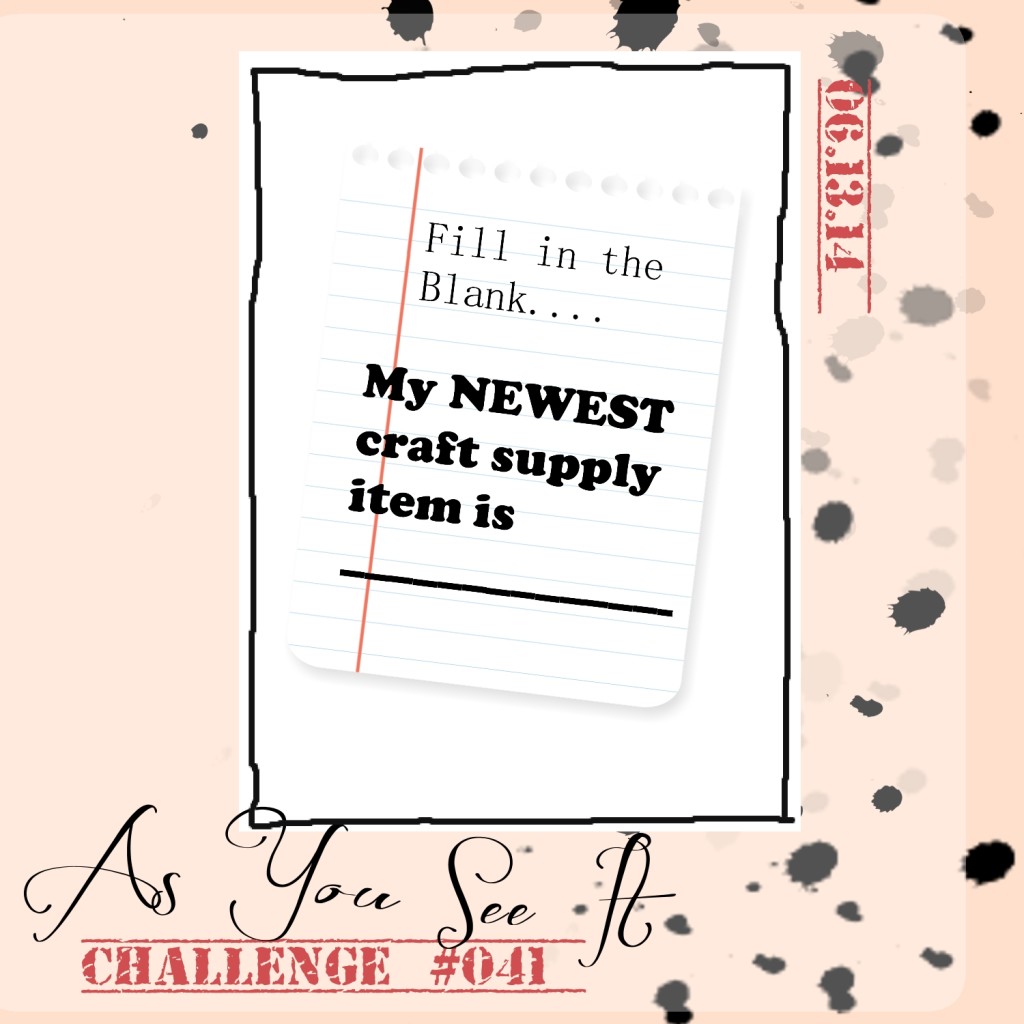 I really like challenges like this one because it's left WIDE OPEN!! Because of the recent new catalogue, I actually have a lot of new craft supplies, but in my last box received from UPS were a few things that I was particularly excited about trying: My new Little Letters Thinlits dies and my Larger Than Life Alphabet & Numbers Photopolymer set. I really love all alphabets because they provide so many possibilities! These are also quite cost effective alphabets in comparison to getting them in alternate forms. The thinlits are much much less costly than they would be if they were offered as a Bigz Die set (though Bigz dies do offer the cutting of many more materials, while thinlits are limited primarily to paper products). The photopolymer alphabet sets (as in the case of the Larger Than Life set) is less costly than the red rubber stamps in either the clear mount or wood mount options.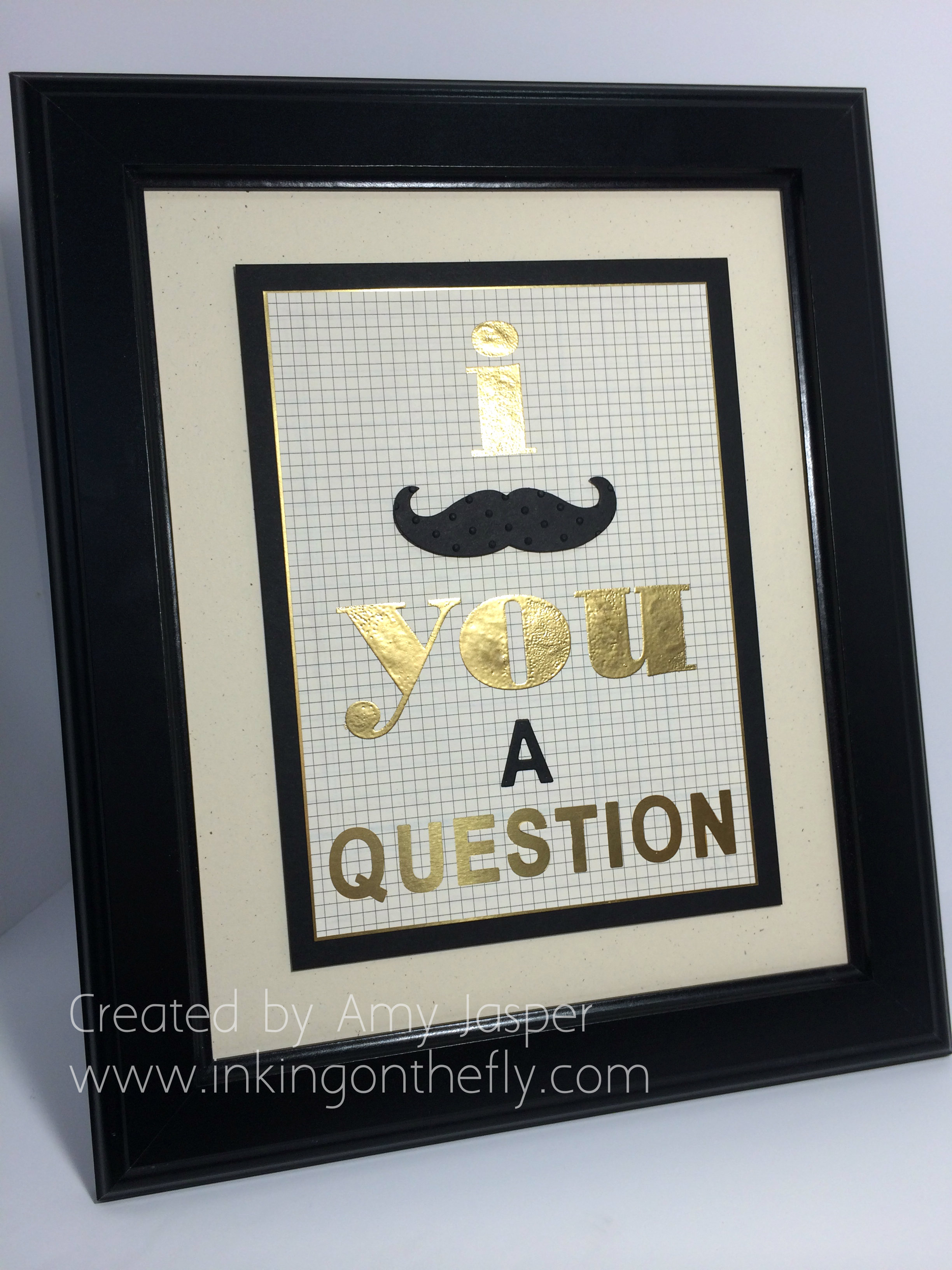 I love how the Little Letters thinlits can also be lined up on a piece of paper to cut one word – ALL AT ONCE!! This framed art showed how the thinlits can be used to add the letter A in black cardstock, but it also shows how they can be used to take away the shape of the letters from the grid patterned paper (from the new Typeset Specialty Designer Series paper) to reveal the Gold Foil Paper underneath.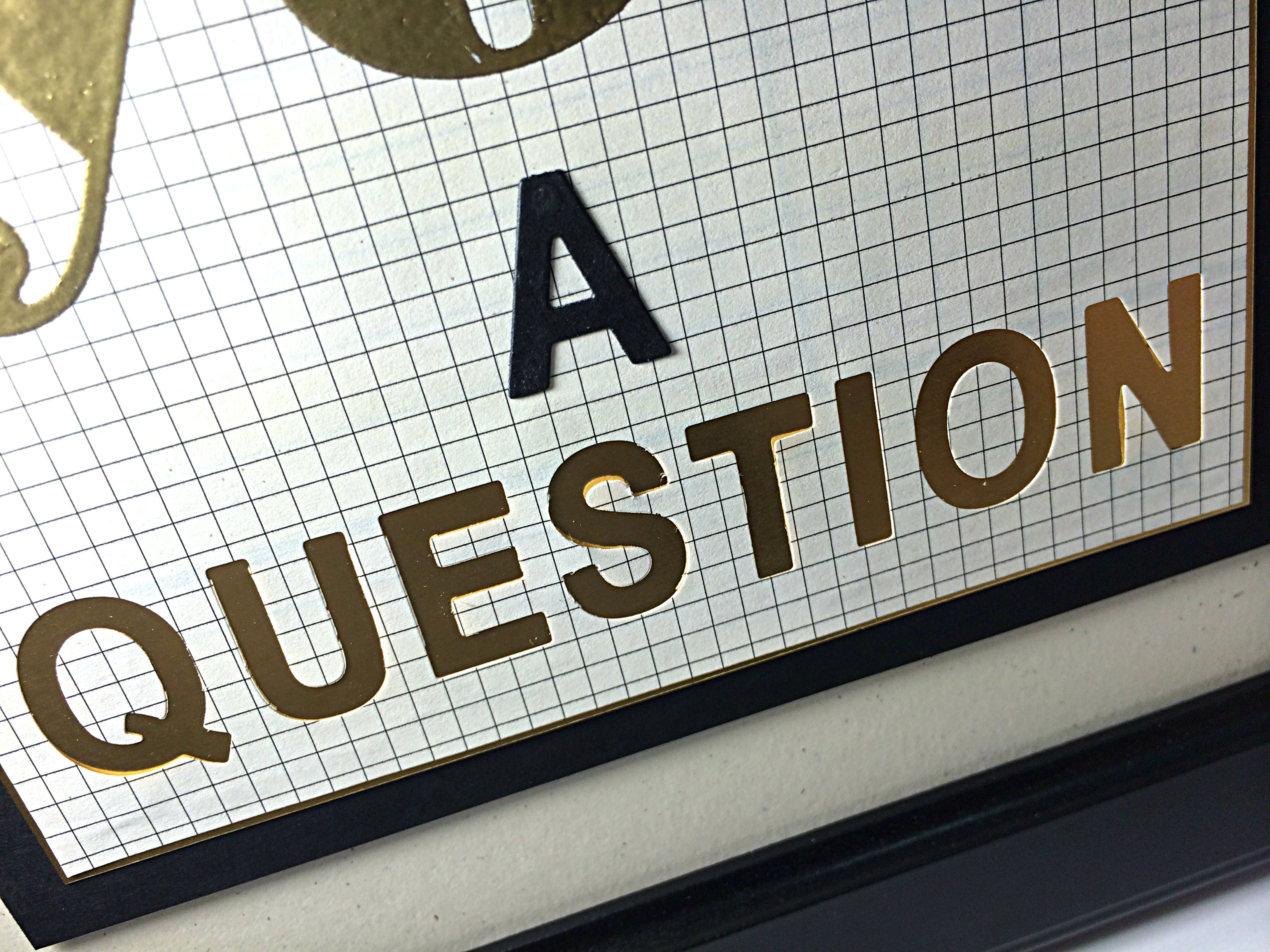 I lost the center of my letter "Q" for a bit there, but had a little party when I found it on the window ledge where I'd "put it away where I would find it"! The entire time that I was creating this framed project, I kept saying "I mustache you a question" at random moments to my friend, Gwen who was stamping with me at the time. I even made up a song (oh if only I could write music, it would open up so many fun possibilities!):
---
 "I mustache you a question,
It won't take very long.
I mustache you a question,
I mustache it in song"
---
I should have paid more attention in piano lessons, lol!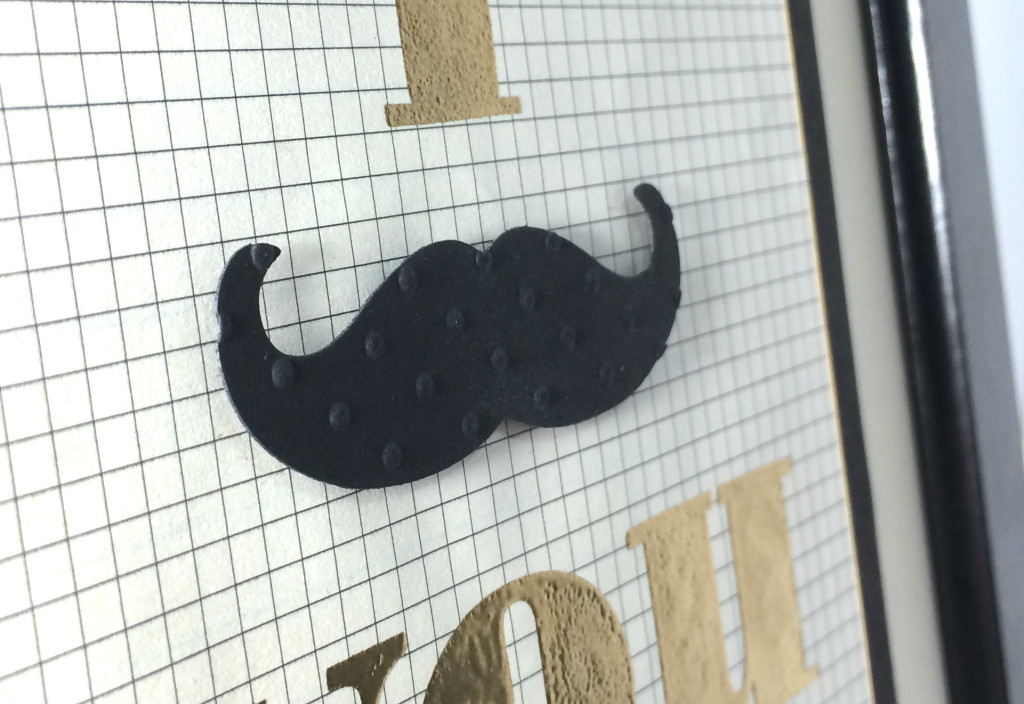 The adorable Mustache Framelit was one item from the new Catalogue that I just couldn't pass up. I used Basic Black cardstock and, after cutting it out with the mustache framelit, I used my Perfect Polka Dots embossing folder to add texture and make it even more fun. The mustache is, of course raised up with Stampin' Up Dimensionals.
Those beautiful gold embossed letters are from the Larger Than Life Alphabet and Numbers set. I love the boldness of these letters!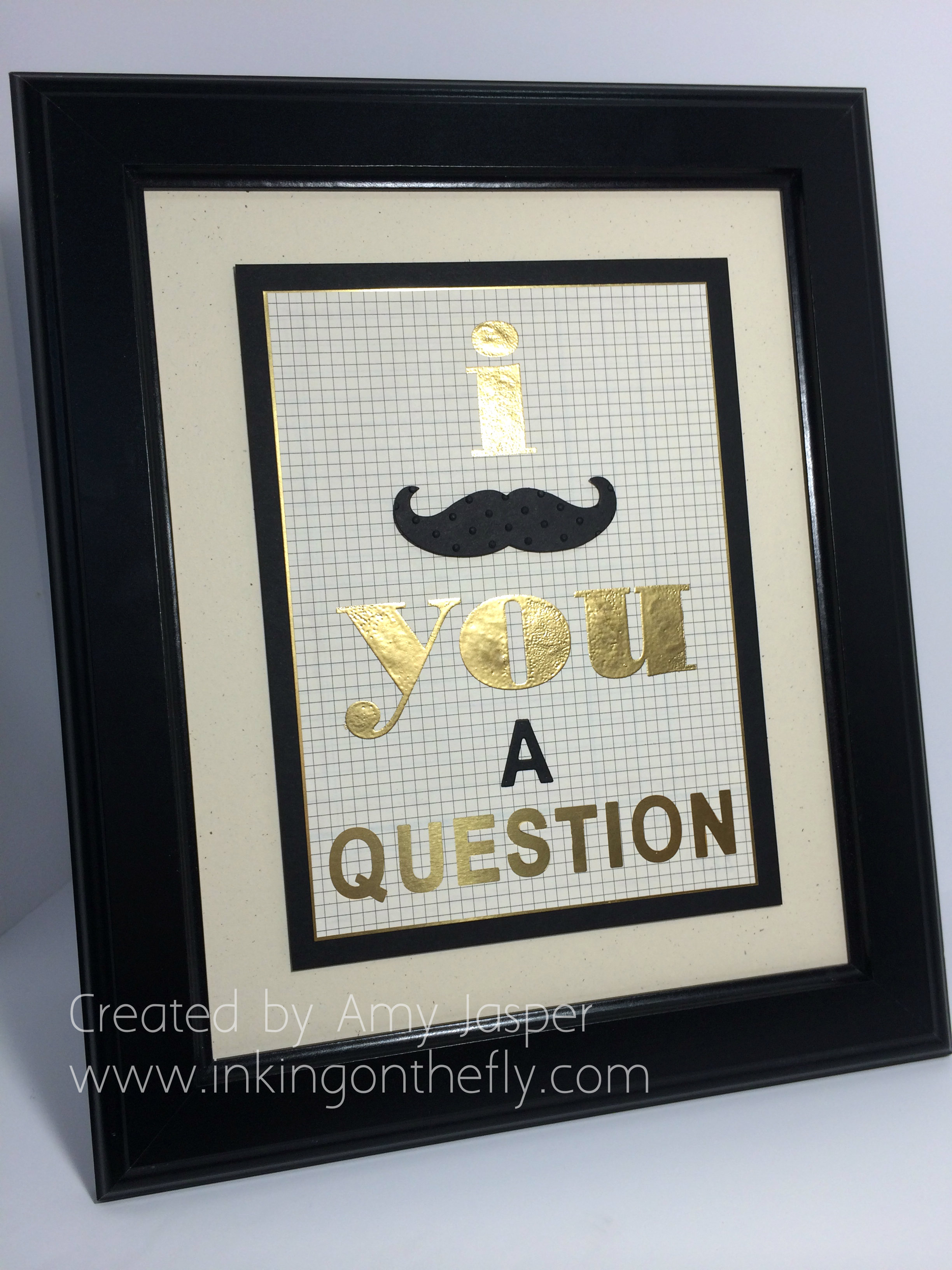 Now the entire is framed with a thin mat of Gold Foil paper that also shows through the cutout of the letters spelling "question". Then I have it matted with Basic Black cardstock and finally matted again with the 8×10 piece of Naturals Ivory cardstock so that it would fit in the black frame.
I love it and it makes me smile! I hope it does the same for you!
What is your most recent craft supply item? This is an easy one for you to submit to the challenge blog! Who doesn't want to create something with their new supplies?!! All you have to do is put it on Pinterest or your blog and link it up to the challenge!
Don't forget to leave a comment and have your name entered into the draw. Only a few days left before the draw date on Sunday, June 15th!
Thanks for stopping by!
Amy