Welcome to the place where I get to share my love of stamping and creating with the wonderful people of the internet. Yes, that's you fine folks! lol!
My 11 year old son gave me the inspiration for the card today. I was short on time and told him the theme of the challenge for this week on the As You See It Challenge blog. He said, "stamp a bunch of the word, 'celebrate', lots of times in lots of colours on a square piece of paper (like you often do) and stick it on a card. Then add balloons and confetti." BRILLIANT!
Here's the challenge today: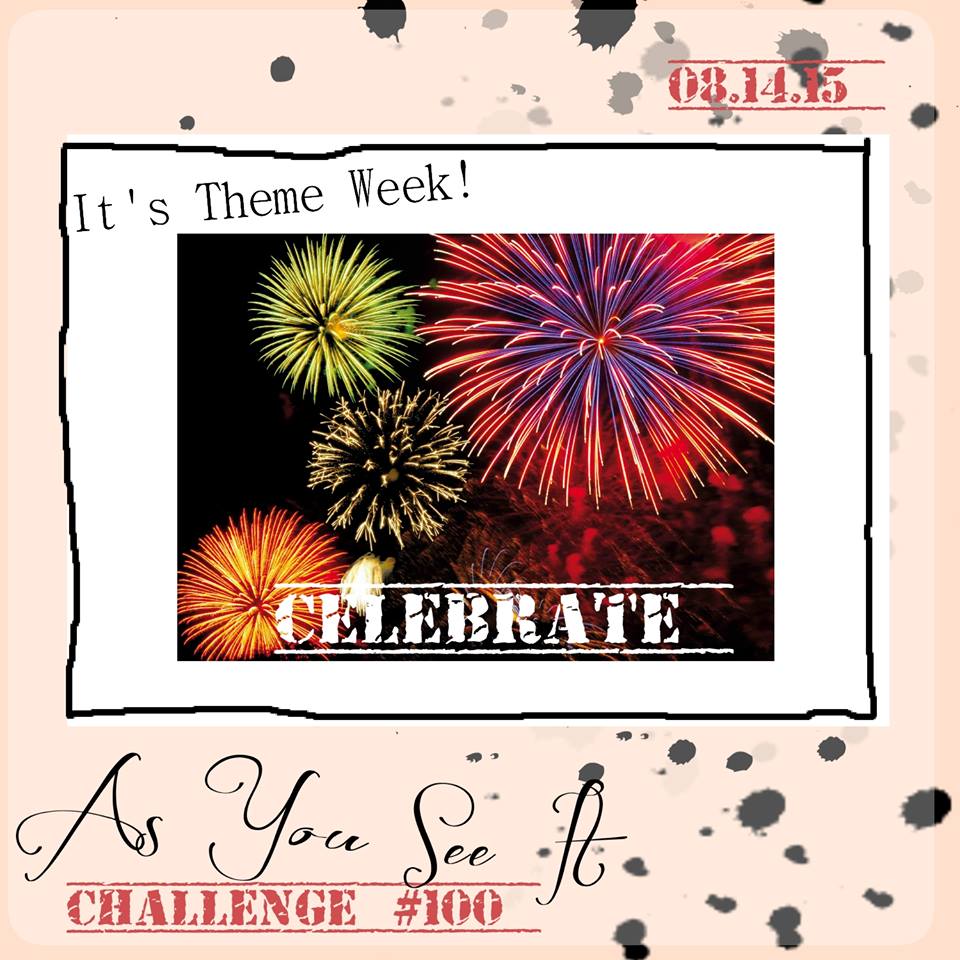 So, I didn't do all of those things, but he definitely had a great idea and got my mojo going! I started with my Alphabet Rotary Stamp and stamped the word 'celebrate' all over a Tempting Turquoise piece of cardstock and the design for today's challenge card just pulled together from there. Thanks, bud! Love that kid!
Here's our finished card: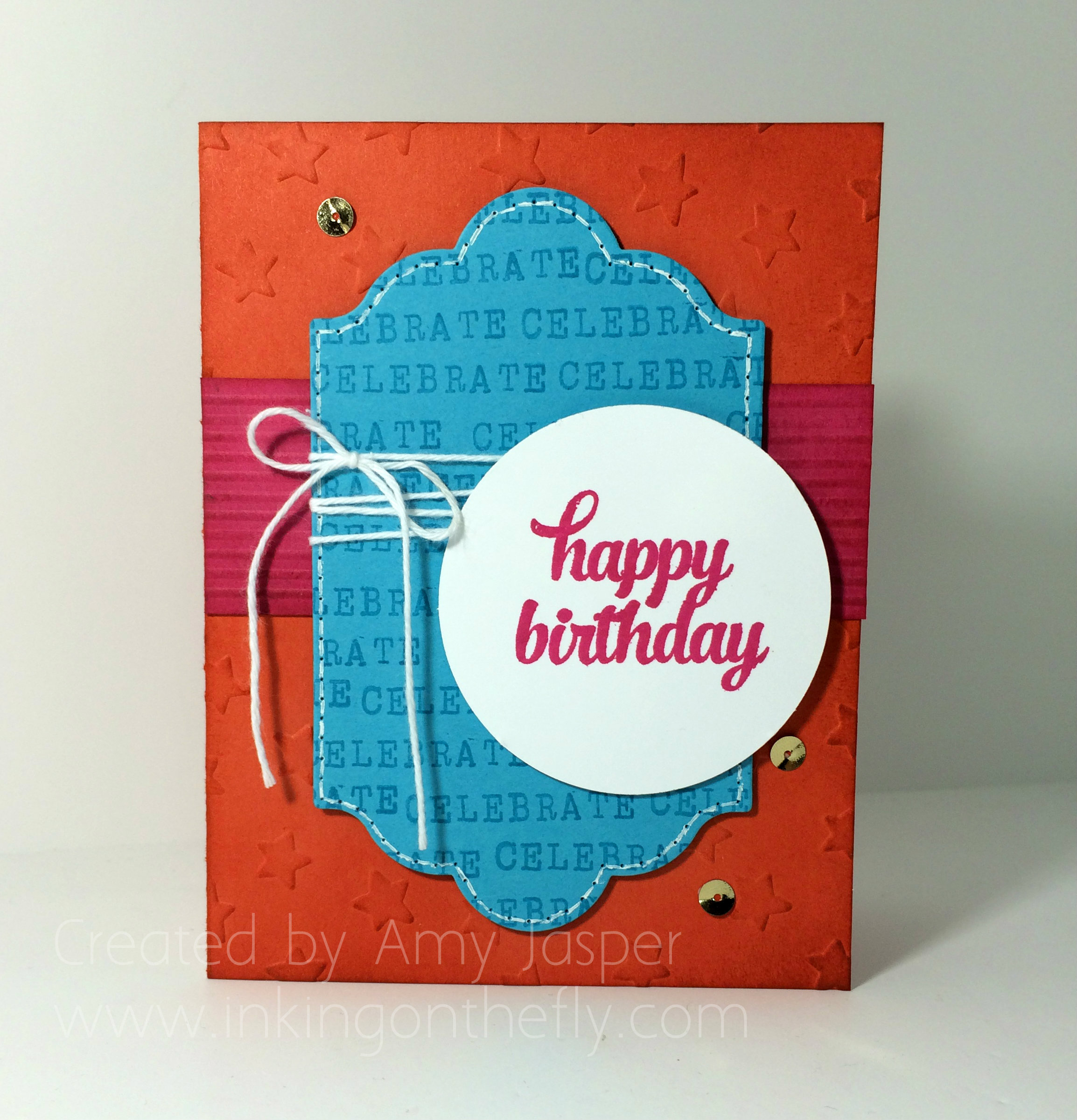 I decided to go with a set of bright colours and am trying to move away from my white card bases that I have been leaning toward so often lately. I just love that look! But I'm realizing I need to branch away from that and work with some different colours. Here, I chose to start with a Tangelo Twist card base, which I ran through the Big Shot with the Lucky Stars embossing folder. I sponged the edges with Tangelo Twist ink, just to add some richness to the card base.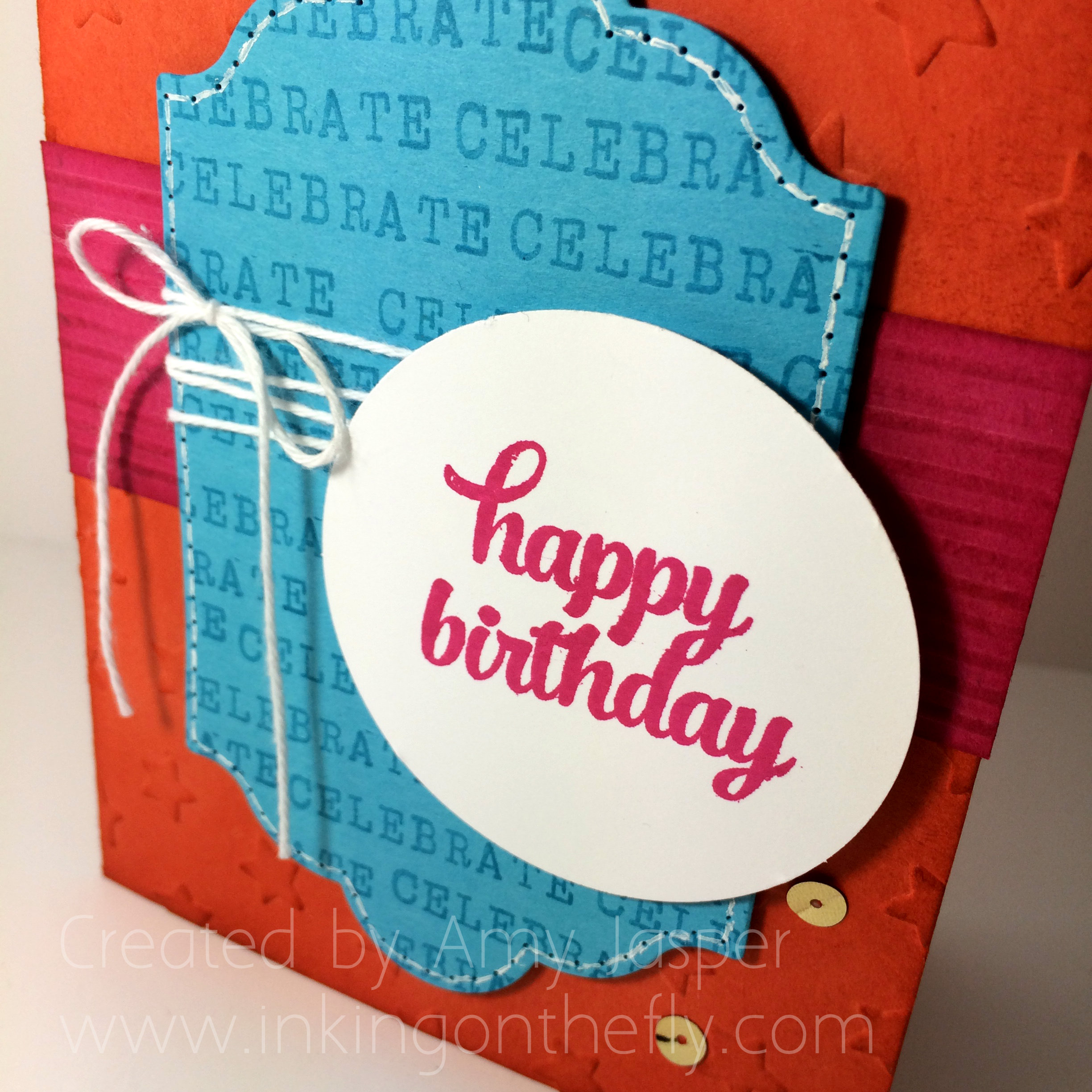 There is a strip of Melon Mambo that I scored parallel lines on with my Simply Scored tool, then sponged around the edges with Melon Mambo ink.
I chose to do some paper-piercing with my new Updated Essentials Paper Piercing Pack as it has the coordinating shapes to go with the Lots of Labels framelit that I used to cut the Tempting Turquoise cardstock. My White Signo Gel pen allowed me to create the faux stitching. Love it!
Of course, the Tin of Cards stamp set came in handy for the Happy Birthday sentiment, which is stamped in Melon Mambo ink (though I think I stamped it a little too quickly and made the image a bit smooshy – mental note: don't stamp quite so vigorously next time).
And with my son's confetti in mind, I added the sparklies: the gold sequin pieces for an added celebratory feel.
You might not have my fabulous son to give you inspiration, but you do have this great theme idea from the As You See It Challenge this week. Try this one and load it up on the challenge blog to share it with us!
Amy