I decided to try a new blogging site as I know that many people are unable to access my previous blog properly on their tablets and phones. This blog shouldn't give you any trouble! … I hope …
To celebrate my new blog, I decided to open up with a little contest! For the next 4 weeks, I invite you to comment on my posts. Every time you comment, your name will be entered into a draw (so be sure to let me know your name or at least your email address).
On June 15th, one lucky winner will be drawn to receive a stamping care package. If you love to craft with Stampin' Up products, then I know you'll love this!
So, let the commenting begin! Give me a little encouragement, your thoughts on a project, or maybe what you hope to see on my blog in the future.
I will be developing and improving this new website, but if I'm missing anything, just go back to www.amyjasper.stampinup.net or contact me for the info you're looking for.
And because I don't want to leave you without a project to see, here's a wall art piece that I created. I will eventually put it in a cool frame and display it in my craft room.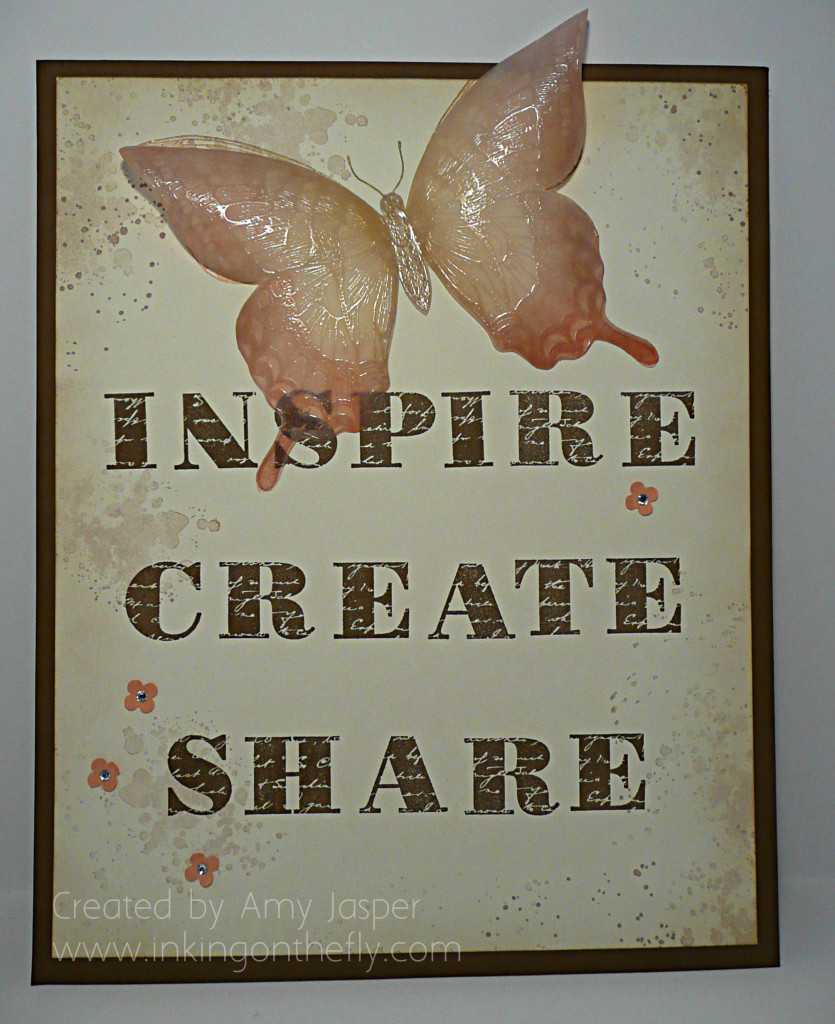 That Swallowtail butterfly is gorgeous, isn't it! I have used her on many projects. This time, I stamped her with Versamark ink on Vellum and heat embossed with clear embossing powder. I then coloured the back with Calypso Coral, Crisp Cantaloupe, and Daffodil Delight. I stamped the Swallowtail image onto the Very Vanilla cardstock as well, so that I could layer the vellum over top. The vellum is attached with strategically placed Multipurpose Liquid glue so that her wings still have some shape.
I have used the Gorgeous Grunge stamp set, the little flower punch from the Itty Bitty Punch Pack, and I've used the Morning Post stamp set for the lettering. Unfortunately, the punch and the alphabet set are both on the retiring list. Not sure if they are still available. But be sure to snatch them up if they are, because I love them both and I'm sure you will too!
The base layer and the lettering of this project are actually done in Soft Suede. They look a little Early Espresso in this photo, which looks not too bad either, lol!